ANN ARBOR, Mich. – Mercifully, Ohio State's January slate of games has concluded.
The Buckeyes entered the new year with a 12-1 record, having nearly locked up an NCAA tournament appearance with an impressive performance in their non-conference portion of the schedule. A month later, they have nearly slipped all the way out of the field of 68. 
A 65-49 loss to Michigan capped off Ohio State's month of reckoning that tested the resolve of the team. Michigan State, Iowa, Rutgers, Maryland and Purdue handed the Buckeyes consecutive losses before the team got back on track with a win at Nebraska. Ohio State held the lead for the majority of the first half on Tuesday, but collapsed in the second half, trailing by as many as 20 points.
Not only has the month placed the Buckeyes on the edge of NCAA tournament contention, but it threatened to disrupt a youth-filled locker room. Six losses in seven games across a little more than three weeks aren't necessarily easy to deal with mentally. But Chris Holtmann emphasized his lack of worry about potential issues within the team.
"I really don't have concerns," Holtmann said. "I like this group. I like coaching this group. I believe in this group and believe that we're going to continue to find a way to improve. I've not heard one moment of guys complaining about each other or complaining about this or that. I really haven't. I have not heard that. Our locker room's disappointed and frustrated, the normal feelings that a young team would go through going through a difficult stretch. But it's in a pretty healthy place outside of just frustration and disappointment."
C.J. Jackson didn't see any different version of Holtmann after the game, either.
Holtmann's message to the team immediately after the game, per Jackson? "Get ready for another great challenge on Saturday." No different than after any other loss. 
Though Holtmann admitted he didn't necessarily deal with the five-game losing streak very well, leading to his daughter needing reassurance that her father would be OK, he hasn't changed his message about his team very much. Both he and the team have understood the issues that have plagued the team the entire season, and similar issues bothered the Buckeyes on Tuesday.
"Everybody comes in for the most part with the right mindset understanding what our mistakes are, and pretty much in each game we're continuing to make the same mistakes," Jackson said. "But we understand that we can't do that or we're going to keep getting the same results."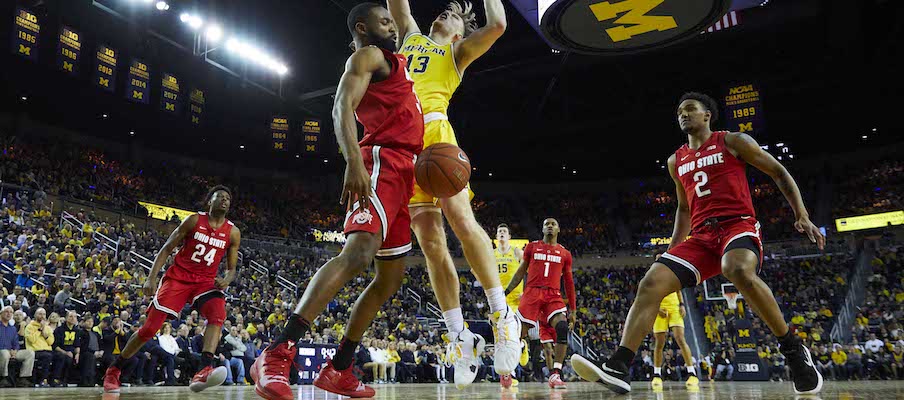 Turnovers, which have bothered Ohio State for the majority of the season, proved to be an issue once again. 
Michigan had 11 steals, forcing 19 turnovers. Ohio State, coincidentally, made just 19 field goals. As has been the case for months, the turnover issue was exacerbated by the Buckeyes not having a reliable, go-to ball-handler who controls the ball well. But the entire team fumbled it away at different times with nine different players committing at least one turnover. Keyshawn Woods coughed the ball up four times, and Luther Muhammad and Andre Wesson each had three turnovers.
"The first half, we had 11 (turnovers)," Jackson said. "We can't do that, especially on the road against a really good team. We had a couple defensive lapses when we were supposed to be switching, and we just wouldn't, weren't communicating. Just little things like that, things like that get you beat."
Those "little things" certainly got the Buckeyes beat on Tuesday.
Ohio State jumped out to a 12-6 lead and didn't turn the advantage over to Michigan until 13 minutes into the game when Jordan Poole hit a 3-pointer. At the beginning of the first half, the Buckeyes had a chance to get back into the game after trailing by six points at halftime, but turnovers quickly reemerged as a problem.
Plus, when Michigan made tough shots, Ohio State didn't respond with tough makes of their own. The Buckeyes had been an inconsistent shooting team the entire season, and that didn't change on Tuesday, especially in the second half.
"I think they did a really good job being active with their hands and being physical in some wall-ups and creating, as you mentioned, their length and activity, creating some missed shots and some turnovers," Holtmann said. "Give them credit for that. I thought we had some open looks that we just missed, and then there was a stretch where they made some open looks that we didn't make, and that kind of broke the game open a little bit."
Had Ohio State not opened the season with a 12-1 record, a 1-6 record in January certainly would have been viewed as disappointing, but it would not have been quite as shocking.
At this point, though, surprise no longer is felt after a loss, especially to a team the caliber of the Wolverines. Ohio State is still a young, inexperienced, ever-growing team. Thus, the team isn't panicking.
"I wouldn't say (the loss was) a step back," Jackson said. "We knew that even though we won on Saturday, we have to continue to get better. We're nowhere near our capabilities. Just in the first half, we're down six against a team that's going to have a really good season. That shows we can compete against the best when we're at our best."