Kaleb Wesson used to look up to Nick Ward.
Both Ohio State's and Michigan State's starting big men grew up in Columbus. With Ward one year older than Wesson, the youngster heard all the hype around Ward when he was in fifth and sixth grade.
| Who | Where | When | TV |
| --- | --- | --- | --- |
| Michigan State (12-2) | Schottenstein Center | 12 p.m. | FOX |
"I used to go over there all the time and everybody was saying Nick is the best big in the city," Wesson said. "He was older than me. I was watching Nick almost like a role model at that time because me and him had the same body type."
Both Ward and Wesson were big for their age, continued to grow and now each stand 6-foot-9. Ward is listed at 245 pounds, while Wesson is listed at 270 pounds.
There's no looking up for Wesson any more.
"They're definitely battles," Wesson said. "Me and Nick are almost like looking Spider-man to Spider-Man. We have the same body type, low-key play the same."
Wesson and Ward will face off for the second time in their collegiate careers – and for an innumerable time in their lives – when No. 14 Ohio State plays host to No. 8 Michigan State at the Schottenstein Center at noon Saturday. Neither team has lost in at least their past seven games, and both teams are unbeaten in Big Ten play.
Wesson had eight points, five assists and four rebounds in Ohio State's 80-64 upset of top-ranked Michigan State last season. Ward had three points and 10 rebounds. Both players have increased roles this season, so their matchup will be a focal point, especially considering the Buckeyes' complete lack of size beyond Wesson, Kyle Young and Jaedon LeDee.
Opponent Preview
Chris Holtmann should be a fight promoter. UFC's Dana White could learn something from him. Before every game, Holtmann has the ability to talk up Ohio State's upcoming opponent, even if it's not actually a stiff challenge. That's actually where he shines, pointing out anything and everything that the opponent does well.
That happened against on Friday when discussing the Spartans, calling them as impressive as a team he has seen since arriving at Ohio State before last season. He rattled off a few statistics, too, noting how high Michigan State ranked.
"They're really efficient on offense," Holtmann said. "They're really hard to score on when you're trying to score on them. They protect the rim. They guard the 3-point line. They do all the things that really good teams do."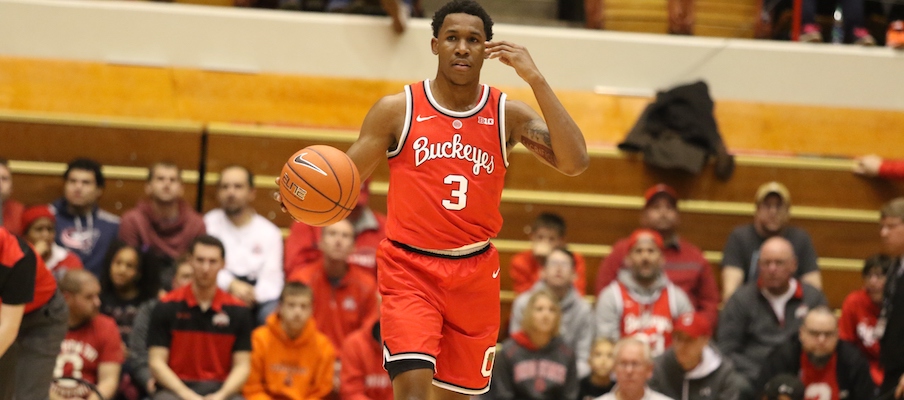 This time? He's right.
There isn't much that Michigan State doesn't do well.
Here's a list of statistics in which Michigan State ranks within the top 10 in the nation: Points per game, scoring margin, offensive efficiency, shooting percentage, effective field goal percentage, 3-point percentage, true shooting percentage, defensive rebounds per game, rebounds per game, rebounding rate, assists per game, assist-to-turnover ratio, assists per made field goal, assists per possession, opponent shooting percentage, opponent effective field goal percentage, opponent two-point percentage and opponent true shooting percentage.
Is that enough? It sure is for Holtmann.
"That's obviously a byproduct of having really good players, a really good coach, a great system and then also being much older than they were this time last year with so many veteran guys," Holtmann said.
Cassius Winston leads Michigan State's offense with 17.1 point per game, hitting 47.7 shots from the field and 45.7 3-point attempts. He also averages 7.8 assists per game, which is three times more than any other players on his team.
"He kind of does it all for them," C.J. Jackson said. "He's like the head of the snake. He scores well, assists well, defends well. When you look at the Big Ten, he's one of the premier guards. It's always fun matching up and kind of seeing where you are in yourself personally when you see one of those types of guards."
Ohio State Preview
In the past month, Ohio State has played just four games after playing nine games in the first month of the season. A not-so-fast-paced schedule during the period with heavy off time allowed the Buckeyes to focus on themselves, working to improve and continue to learn everything possible about the team. Holtmann said rebounding and turnovers were two areas of focus.
The next month will feel much more like the first month than the second month of the season, with games against Michigan, Purdue, Nebraska and five other teams during the timespan.
"I think we'll obviously learn a lot," Holtmann said. "But I really feel like we're going to learn a lot in these next two to three, four weeks."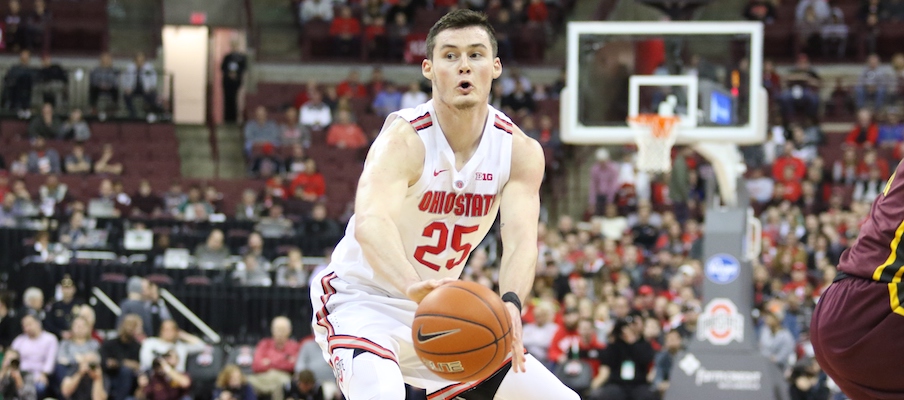 That learning process continues Saturday afternoon against Michigan State, one of the top teams it will play the entire season.
The Buckeyes took on Cincinnati and Creighton on the road earlier this season and played at home against Syracuse, but Holtmann believes things change entering the heart of conference play.
"I'm going to be interested to see how ours guys respond in that game for the first time, or like Kyle (Young), in increased roles in that kind of a game," Holtmann said. "All of our guys, really, outside of maybe C.J. and Kaleb, are really increased roles in these types of games as we move forward in league play."
How it Plays Out
My mind is looking at this game in two different directions, pulling me in both ways.
Ohio State has lost just one game and is on a six-game winning streak. But during that time, the Buckeyes have looked significantly more mortal than they did at times earlier in the season. Both High Point and Youngstown State stuck around longer than they should have been allowed. Ohio State beat Illinois by just two points. So, sure, the Buckeyes are 12-1, but they haven't played well in a while and are about to face one of its top-three opponents of the year.
On the other hand, there aren't a ton of reasons to doubt Holtmann. Heck, his team beat Michigan State just last season. There's little doubt that the Spartans have more talent than the Buckeyes, but if that was the only factor in wins and losses, then Holtmann's team wouldn't have just a single loss.
Ultimately, I'm going with a one-point win for the Buckeyes. My confidence in the pick isn't high, but this team has had time to make adjustments and improve, and I think it'll be tight for much of the game.
---
Prediction: Ohio State 82, Michigan State 81