Ten days were enough of a break for Chris Holtmann.
It might seem on the high end of an game-less stretch, but Holtmann believes Ohio State needed the rest. Players underwent final exams during the off time, and they also got to rest after playing a competitive early season schedule that included road games against Cincinnati, Creighton and Illinois.
| Who | Where | When | TV |
| --- | --- | --- | --- |
| Bucknell (4-3) | Schottenstein Center | 12 p.m. | BTN |
The Buckeyes will return to action against Bucknell on Saturday, hoping to extend their two-game winning streak that began 13 days ago. The game is scheduled to tip off at noon at the Schottenstein Center.
"You are always anxious as a coach coming off a 10- or 11-day layoff," Holtmann said on Friday. "You're worried about rust and conditioning. There will always be a significant layoff around finals because of how important that time is."
Despite having a double-digit layoff, Ohio State somehow didn't have the longest stretch without any action.
The Bison haven't played a game in 11 days since beating La Salle, 92-79, on Dec. 4. They have won three of their past four games.
"I'm interested to see what kind of rust we have from the layoff," Holtmann said. "Bucknell has had some layoff, as well. So, we'll see here."
Opponent Preview
At first glance, Bucknell might not seem like an imposing opponent.
The Bison have a 4-3 record with all their losses coming to unimposing mid-major opponents. Two of their losses, though, came to Fairfield (60-58 loss) and Canisius (82-73 loss) without their top scorer, Nate Sestina.
"When we were looking at putting our schedule together, you're looking to have games like this where you're playing teams that maybe the common fan may not know about, but are consistently NCAA tournament teams."– Chris Holtmann on scheduling Bucknell
Holtmann wouldn't stop gushing about Bucknell on Friday. He noted its 16-2 record in the Patriot League, its four-point loss to Michigan State in last year's NCAA tournament and its six-point loss to West Virginia the year prior.
"They are what you would expect in a really good program," Holtmann said. "Their player development has been good and their recruiting has been good. They've lost three games and two of those they were without their leading scorer. They are having another good year. It's a sign of good programs that they graduate good players but because of recruiting success they have guys stepping into key roles."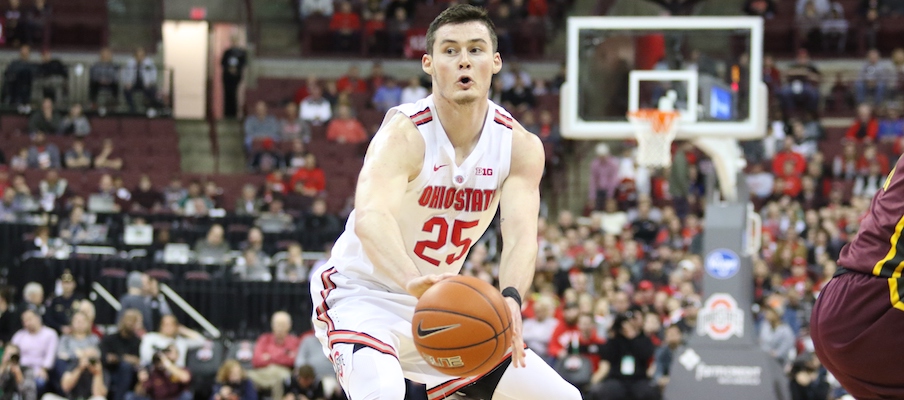 The Bison lost three starters off of last year's team, but have a pair of players averaging at least 16 points per game.
Sestina, a 6-foot-9, 245-pound post player, will challenge Kaleb Wesson. He averages 17 points per game and has hit 56.9 percent of his shots. Sestina's range extends beyond the 3-point range, where he has hit 6-of-15 shots. Sestina also averages nine rebounds per game, more than twice as many as any of his teammates.
Kimbal Mackenzie, a 6-foot-2, 190-pound guard, has put up 16.1 points per game. He exploded for 28 points in the season opener against St. Bonaventure and has hit 34 percent of his triples. However, he hasn't been an efficient shooter, hitting just 38.4 percent of his shots from the field.
The upperclassman-laden Bisons have played relatively stout defense thus far, though they haven't taken on any team as talented as Ohio State. Opponents have shot just 41.7 percent from the field and 33.1 percent from 3-point range.
Bucknell made the NCAA tournament each of the past two seasons and four times in the past eight years.
"When we were looking at putting our schedule together, you're looking to have games like this where you're playing teams that maybe the common fan may not know about, but are consistently NCAA tournament teams," Holtmann said.
Ohio State Preview
Holtmann doesn't want to give too much praise just nine games into the season, but he admitted Ohio State's defense has come along well thus far. It ranks No. 16 in the country in defensive efficiency, No. 13 in scoring margin and No. 6 in opponent effective field goal percentage.
Not all has been great, despite the 8-1 record. The Buckeyes average a turnover on 18.4 percent of their possessions, which ranks No. 165 in the nation. Ball control worried Holtmann entering the year, and his worries have come to fruition.
On the 10-day off stretch, Ohio State worked on both what have been positives and negatives early this season.
"We always focus on our defense because that's big for us," Kyle Young said. "We have to be a defensive-minded team. We also have to be tough. Turnovers and cutting those down were a big thing we focused on during this break."
How It Plays Out
Bucknell is a sneaky mid-major team that some groups might overlook, but Holtmann typically has his teams prepared for that level of opponents.
The Buckeyes should have enough talent to hold off the Bison, who will look to get hot shooting from the outside to remaining in the game while feeding Sestina.
Prediction: Ohio State 79, Bucknell 60