Just two minutes and four seconds into the 2018-19 season, Chris Holtmann subbed out Kaleb Wesson. The 6-foot-9 center had just picked up a foul, and Holtmann had to ensure he didn't quickly pick up a second foul in the opener against Cincinnati on Wednesday, so he went to the bench.
Holtmann did not opt to replace Wesson with another post player, though. Nor did he even decide to go with a forward. Instead, he tabbed 6-foot-3, 205-pound guard Keyshawn Woods to take out the 270-pound man in the middle.
The substitution immediately shrunk Ohio State's to three guards. Woods joined Luther Muhammad in the backcourt. Andre Wesson, the fourth-tallest player on the team at 6-foot-6, shifted from small forward to power forward, while 6-foot-8, 205-pound Kyle Young moved from power forward to center. All three guards on the court were 6-foot-3 or shorter.
The Buckeyes played just 28 seconds with that lineup before Kaleb Wesson subbed back into the game, but that quick peek offered a glimpse at the guard-heavy lineups Holtmann will rely on this season.
"I've always been a believer that you're trying to put your best players on the floor as much as possible," Holtmann said last week. "So, you've got to figure out a way to make that work. We'll try to do that within the team, whatever that looks like with our team. If that looked like five post guys, we would try to figure out a way to do that."
This season, even if Holtmann wanted to play five post players, he wouldn't have the ability to do so. Ohio State has just four players taller than 6-foot-5 and doesn't have anyone taller than 6-foot-9. Kaleb Wesson is the only true post player on the team.
With a roster full of guards and wings, Ohio State will frequently play – and already has played – smaller lineups than it did last year.
"I think the rotation will be fairly fluid throughout the season," Holtmann said. "Definitely different than it was last year."
Though the Buckeyes lost length and defensive versatility with Keita Bates-Diop heading to the NBA and Jae'Sean Tate graduating, they still have a fairly interchangeable group of wings and guards. C.J. Jackson is a pure point guard and Kaleb Wesson only plays center, but they might be the only players on the team locked into one position.
Luther Muhammad and Woods can play three guard positions. Duane Washington Jr. can play both spots in the backcourt. Musa Jallow plays shooting guard, small forward and even power forward. Andre Wesson fits in at small forward and power forward, but could even play center in a pinch. Young can play small forward, power forward or center, but he will exclusively play the two post positions this year. Jaedon LeDee can play both power forward and center, but he might be more suited for center early in his career.
When Kaleb Wesson heads to the bench, the biggest transition when going with smaller lineups entails moving Andre Wesson or Jallow to power forward, while sliding Young to center.
"We've got a bunch of versatile pieces that can play a lot of different positions," Andre Wesson said. "Me and Musa going into the season, we know that with some of the losses that we had, that we were going to have to play some more of the four and some different roles. It's something we've just got to adjust to and take up."
Jallow said Ohio State's offense is "a little more fluid than other teams," which helps with the transition between small forward and power forward. Young also downplayed the difficulty of moving to center.
"I think the four and the five in our system are pretty interchangeable with how we run flow and a bunch of our plays," Young said. "Just really knowing our sets and staying along with that, it should be good."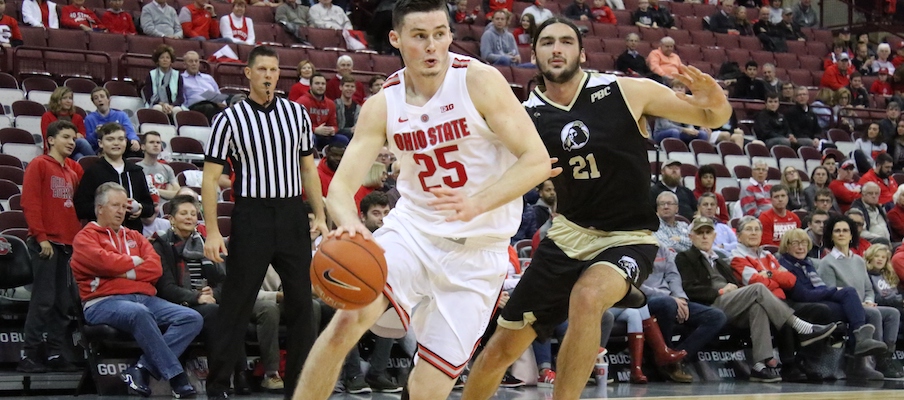 Micah Potter's decision to transfer increased Ohio State's propensity to play smaller lineups, though Holtmann downplayed the effect, saying, "That might have impacted it a little bit, but not dramatically."
Without Potter, Young's role becomes more important, since he will play two positions more often, which will lead to more minutes. LeDee didn't play in the season opener but had 16 points in 13 minutes against Purdue Fort Wayne. He will likely spell Kaleb Wesson when the big man needs a rest and Ohio State can't afford to move Young to center while playing Andre Wesson or Jallow as undersized power forwards.
Ohio State won't be an outstanding rebounding team with three or four guards in its lineup and it could have negative effects on defense against certain teams, but that's just a natural consequence of going small.
"There are plenty of teams that play four guards, three guards, whatever you want to look at," Holtmann said. "In a lot of ways, it's four guards."
The Buckeyes have become of those teams, and don't expect that to change any time this season.