The players in scarlet and gray when Ohio State's season opener against Cincinnati tips off at 6 p.m. Wednesday will be significantly different than the players who took the court the last time the Buckeyes took the floor.
No Keita Bates-Diop. No Jae'Sean Tate. No Kam Williams. No Andrew Dakich. In their place, the Buckeyes have four new freshmen and a graduate transfer.
Ohio State's roster experienced a drastic shift in the offseason, losing more than 40 points of production, key leaders and defensive length from last year's team. The Buckeyes returned two starters – C.J. Jackson and Kaleb Wesson – but mostly rely on many players who haven't played large roles in the past.
Here's what you should know about each of Ohio State's scholarship players who are eligible to play this season.
C.J. Jackson (senior guard, 6-foot-1, 175 pounds)
What he's done
In his two years at Ohio State, Jackson has surpassed the expectations of many people and made significant improvements each year. Jackson, who landed at Ohio State after a season at Eastern Florida State, shot 39.5 percent from the field and 32.1 percent from beyond the arc en route to averaging 5.6 points and 2.9 assists per game as a sophomore. The next year, though, he averaged 12.6 points in 30.5 minutes per game, adding 3.9 assists and 3.9 rebounds per contest. His efficiency also improved, and he hit 41.6 percent of his shots and 37.9 percent of his 3-point attempts. He became a defender Chris Holtmann can rely on.
What to expect
Before Micah Potter opted to transfer, Jackson was arguably the most important player on the Buckeyes. He's joined in the backcourt by two freshmen, a graduate transfer and a former walk-on. Jackson will be relied upon to, once again, take significant steps offensively. He, Duane Washington Jr. and Keyshawn Woods will do most of the scoring in the backcourt, but Jackson has to be the most reliable of the three. In order to be consistent on offense, he needs to increase his efficiency as a shooter. He's also expected to step into a role as the team's go-to leader, but he's a quieter person, so that could be a challenge for him.
Quotable
"I work with C.J. Jackson and one of the things I've been saying to him constantly is "set the temperature in the room, man. You're a guy now. He's got to set the temperature in the room," assistant coach Ryan Pedon said on Oct. 25. "That's not something that he was called upon to do a year ago. Quite frankly, he's a mild-mannered, airs on the side of being a quiet, gentle young man. Those are phenomenal qualities, but the fact of the matter is we need his voice."
Joey Lane (senior guard, 6-foot-1, 180 pounds)
What he's done
Joey Lane played 11 minutes as a freshman, 12 minutes as a sophomore and 27 minutes as a junior. He hasn't been an integral part of the on-court product, but he's a staple on the bench and a fan favorite. In blowouts, the home crowd at the Schottenstein Center chants his name, and some of the loudest cheers during games come when he makes 3-pointers. He has five career triples and 22 career points.
What to expect
Give him a towel, let him choreograph celebrations and watch him bring the energy from the bench. He won't step foot on the court unless the Buckeyes have a big lead. However, he's content with that. Lane knows his role and, given the youth and inexperience of the team, it could be more important than many would credit.
Quotable
"At the time, it was the hardest decision I'd ever made. I was basically giving up my playing career to go to a school I've always dreamed about going to. Who knows what was going to happen," Lane said in September. "Now, looking back on it, it was the easiest decision I ever made. It's been incredible."
Luther Muhammad (freshman guard, 6-foot-3, 185 pounds)
What he's done
Luther Muhammad was the highest-rated recruit in Ohio State's four-person 2018 recruiting class. He was the only top-100 prospect Holtmann's staff signed, which led to high expectations for the freshman. He became known for his defense at the high school level, which isn't particularly common.
What to expect
Muhammad started in the exhibition game against UNC Pembroke, and is expected to take the court alongside C.J. Jackson to begin games this season. Holtmann made the move to pair Jackson and Keyshawn Woods up with freshmen. Holtmann believes Jackson and Muhammad combine to form Ohio State's best defensive backcourt. He's an athletic, lanky guard who can be a positive for the Buckeyes on both sides of the ball, though he's sure to fall victim to some of the mistakes that freshmen typically make. Coaches have talked up his ability to drive the the hoop off the bounce, and Muhammad is a willing passer.
Quotable
"I've been known for my defense, so that comes first," Muhammad said after Thursday's exhibition. "So, be a high-intensity guy and try to set the tone with C.J. and the rest of the three other guys that are on the floor, and basically just be yourself. Like, I don't try to be any particular guy. I just be myself and I just play to the team's strength."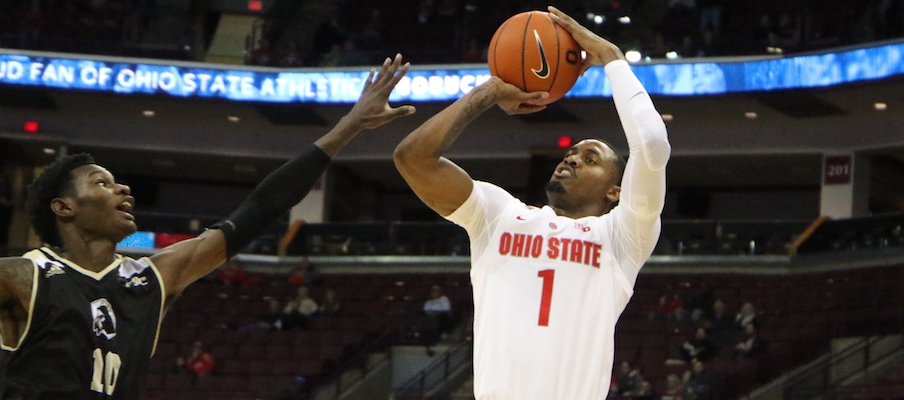 Duane Washington Jr. (freshman guard, 6-foot-3, 190 pounds)
What he's done
Sometimes overlooked due to his ranking as the No. 168 overall prospect in his class, Duane Washington Jr. had more high-level offers than the average three-star prospect. He chose Ohio State instead of Butler, UCLA, Michigan, Oregon and others. He's a native of Michigan, though he went to California to play basketball for his final year of high school.
What to expect
Washington will shoot a lot, and he has the touch to have many of them fall. He's a fearless shooter and will put the ball up often. He'll be one of the first guards off the bench, along with Woods. Since Ohio State doesn't have a ton of depth at guard, he'll factor into the rotation. He wasn't nearly as highly ranked of a recruit as Muhammad, but don't overlook Washington. He's going to play substantial minutes and could develop into a key scorer with the second unit. Even the coaches question where points will comes from, and he could be a good source.
Quotable
"My teammates do a great job of giving me confidence every day in practice, even just walking around being a regular guy and just telling me the next one's going in," Washington said. "They tell me I shoot the ball pretty well, so I'm just grateful to have them. And obviously I'm going to come in and I'm going to be aggressive and confident."
Keyshawn Woods (redshirt senior guard, 6-foot-3, 205 pounds)
What he's done
Keyshawn Woods is about to embark on his his fourth season in his fifth year at his third university. Did you get all of that? He began his career at Charlotte, where he averaged 8.4 points, 2.3 rebounds and 1.2 assists. The past two years, he played for Wake Forest and averaged at least 11.9 points each season. He came off the bench last season, but was primarily a starter the year before. As a redshirt sophomore, he had 3.5 assists per game, but that dropped to 1.9 last season.
What to expect
Had Holtmann not landed Woods, Ohio State would be severely lacking backcourt depth. He offers the ability to play point guard, shooting guard and small forward, and he has the ability to play with the ball or off the ball. Woods might become the team's most important player because his versatility gives the Buckeyes significantly more options than they would have had he not opted to join them. Holtmann has complimented his versatility and said Woods can play both alongside Jackson and can spell Jackson at the point guard position. He's a veteran in a team in search of experience and leadership.
Quotable
"His maturity was very appealing to us," Pedon said on Oct. 25. "If you get to know Keyshawn, he's a mild-mannered young man. Very high character. He stands for the right things. We didn't feel like there would be any sort of separation there, if you will, coming in the door. He's our kind of guy. He'll bring a maturity. He's got an old man's game to him, as well. Our players would never know this name, but I say he reminds me of John Bagley, used to play for the Cavaliers. He moved like he was about 53. Keyshawn, he's an old man around here. Keyshawn, he's a great kid. I think he's going to provide a lot of things to our team this year on and off the court."
Musa Jallow (sophomore guard, 6-foot-5, 200 pounds)
What he's done
Last year, Musa Jallow should have been in his final year of high school. Instead, he played for Ohio State. He began the year as a starter and racked up 10 starts, but faded as the season dragged and eventually played much more sparingly off the bench. He was primarily a factor due to his defensive ability and impressive athleticism. He shot just 39.2 percent from the field and hit 1/4 of his 3-point attempts, averaging 2.5 points per game.
What to expect
Jallow wasn't able to work out for a substantial chunk of the offseason due to ankle injuries, which hindered him. It wasn't an optimal time for him to battle injuries, since Ohio State needed him to make a jump. This season, Jallow's role might not increase too much, though. He's still largely a defender and energy provider off the bench. He could get minutes at shooting guard, but expect to see more of him at small forward or even at power forward if the Buckeyes choose to go small.
Quotable
"He played such a big role for us because on the defensive end, he can be pretty elite," assistant coach Mike Schrage said on Oct. 25. "He can guard a lot of positions. Defensive versatility at the highest level right now is such a key, and he can provide that. And then offensively, he continues to get more confident. I think he's been better with the ball, taking care of it, getting it where it needs to go, getting ready for his open (jumpers). He's got a chance definitely to establish a big role with us."
Justin Ahrens (freshman forward, 6-foot-5, 180 pounds)
What he's done
Coming from Versailles, a small town in Ohio, Justin Ahrens was the lowest-ranked prospect in Ohio State's 2018 recruiting class. He was the No. 249 overall player in the country and the seventh-best player from Ohio. However, he headed to Ohio State with high expectations from his hometown, which hopes to see him make a major impact during his career at the state's flagship university.
What to expect
Given the step up in competition, it would be a surprise if Ahrens garnered many minutes. He's an impressive shooter, but Holtmann has referenced Ahrens as needing some time to adjust to the collegiate level after coming from a smaller high school. Physically, he might take a bit more time than his fellow freshmen to develop. A redshirt season might be possible, but Potter's transfer could open up some minutes for him in the frontcourt.
Quoteable
"I'm not sure how much I'll play this year, but no matter what, whenever my name is called, I promise to give 100 percent effort and fulfill my role for coach Holtmann and for the university," Ahrens said after Thursday's exhibition game.
Andre Wesson (junior forward, 6-foot-6, 220 pounds)
What he's done
In his first two seasons at Ohio State, Andre Wesson has been an important defender, but hasn't been too much of a threat on offense. He averaged 2.3 points per game as a freshman and 2.9 points as a sophomore. He has scored at least 10 points just once in his two years, and he has shot worse than 38 percent from the field both seasons. However, he has still made significant impacts on the other end of the court. Plus, he's a steady yet quiet leader who players can follow.
What to expect
Once again, Ohio State will count on Wesson to provide the team with consistent defense. But with Bates-Diop and Tate departing, Holtmann said the team needs him to become a more involved offensive player. Wesson said he has been working to improve the playmaking aspect of his game. It's yet to be seen whether he can combine a defensive prowess with an increased offensive output, but the team needs him to do so. He'll start at small forward, but expect him to get minutes at power forward when the Buckeyes opt to go small.
Quoteable
"Andre's become a big key because, again, our guards may have to create more offense for us this year," Schrage said on Oct. 25. "But we played through (Jae'Sean Tate) and Keita (Bates-Diop) so much at the three and four. That becomes Andre now, where last year he was a role player. His value was defense, taking what the defense gives him. This year, we're going to need him to step up more on the offensive end. He worked really hard this offseason and we've seen certainly some great glimpses."
Kyle Young (sophomore forward, 6-foot-8, 205 pounds)
What he's done
Playing behind Bates-Diop last season, Young played relatively sparingly. He was the top recruit Holtmann had ever landed, though, so he entered Ohio State with notable hype and expectations. In 25 games, he averaged 1.8 points and 1.6 assists. He hit 44.2 percent of his shots and 1-of-10 3-pointers.
What to expect
Young didn't even play every game last season, but there's a good chance he starts all of them this season. He's an important player after being an afterthought last season. Though he's replacing Bates-Diop at power forward, Young doesn't have a similar game at all. Holtmann said he will never be a go-to scorer, but noted he can impact games with his rebounding and hustle. Young is extremely athletic and, though he might run into matchup problems in the post at 205 pounds, he should be able to use his speed and quickness to his advantage.
Quoteable
"I just need to make a bigger step coming from last year, and I've worked on that in the offseason," Young said on Tuesday. "Just improving my game on the offensive side and the defensive side. I'm looking to take a bigger step in that scoring role, but I guess we'll see."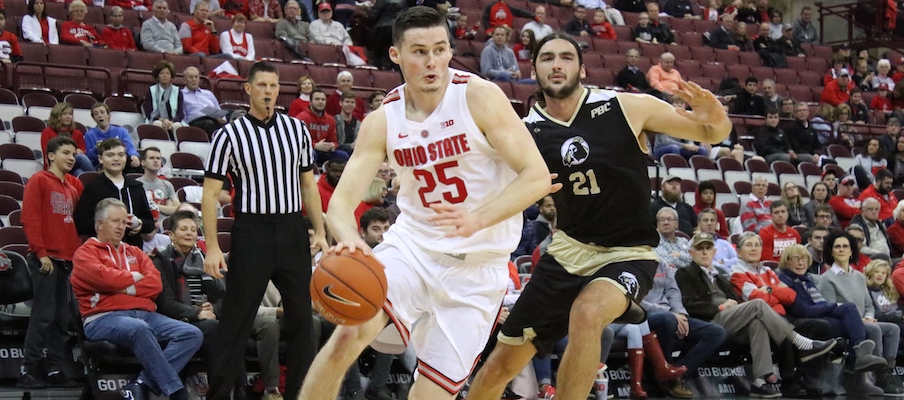 Jaedon LeDee (freshman forward, 6-foot-9, 230 pounds)
What he's done
Holtmann nabbed Jaedon LeDee, the No. 103 overall prospect and the 22nd-ranked power forward in the class of 2018, out of Houston, Texas. Though he's a freshman, he looks like a college linebacker. LeDee doesn't have great conditioning, but he's not lacking for muscle.
What to expect
Jaedon LeDee entered high school as a point guard, and he entered college as a power forward, but he'll have to be prepared to play substantial minutes at center due to Potter's transfer. All of a sudden, he's a key member of Ohio State's team. Had Potter stuck around, LeDee would have taken his time to develop and played sparingly. Now, he's thrust into the role of backup center behind Kaleb Wesson. On Tuesday, Holtmann said "we'll see" if LeDee is ready to play the necessary minutes. Just a month prior, he said LeDee might need to take more time than the other freshmen to adjust to the college game. He'll make an impact as a rebounder. Some of his teammates have said he's the best rebounder on the team.
Quoteable
"I don't know (my role) yet," LeDee said after Thursday's exhibition. "I'm kind of just out there just trying to figure it out. It's a new game for me. In practice, I kind of just run with the bigs. I'm trying to learn just one position at a time and take my time."
Kaleb Wesson (sophomore forward, 6-foot-9, 270 pounds)
What he's done
Kaleb, the younger brother of Andre, was the top-ranked recruit in Ohio in 2017, and he's lived up to the hype, thus far. In 20.7 minutes per game, he averaged 10.2 points and 4.9 rebounds. He his 56.2 percent of his shots and had a 28.6 percent 3-point percentage. He has dealt with foul trouble and conditioning issues at times, which led to him not playing as many minutes as both he and his coaches hoped, but when he was on the court, he was an offensive force.
What to expect
Wesson is the most important player on the team, and without Potter, that truth only amplified. He's the go-to scorer on a team without many sure scorers. Coaches have talked up Wesson's 3-point shooting, and he expects to shoot a couple from beyond the arc per game. However, Holtmann has said Wesson won't be getting away from the post for too long. Both he and Wesson know that's where he can dominate. Holtmann has also touted Wesson's passing ability. Wesson's main challenges will be maintaining his current shape. Last season, as the year went along, he fell out of shape. With a shocking lack of frontcourt depth, Ohio State can't afford to have that happen this season. He also must stay out of foul trouble.
Quoteable
"He's worked on his body," assistant coach Terry Johnson said on Oct. 25. "That's the first and main point. His conditioning has been pretty good. Obviously we've got to get it better. But just from his understanding that now you're going to be the focal point of a lot of people's scouts. And he's been working shooting the ball, jump hooks, playing down inside. That's where he's been really key at. But I think he's going to surprise some people by stretching out his range a little bit."