For nearly 100 years, Ohio State and Cincinnati avoided squaring off.
For various reasons, the matchup simply never materialized. But after taking over as head coach and speaking with athletic director Gene Smith about how to energize the program, Chris Holtmann came to the conclusion that his program should reach out to Cincinnati to inquire about a home-and-home series.
"Cincinnati was not at the top of my list when that was being discussed," Holtmann said Tuesday. "I thought, maybe we can think of some other ways to energize. The donut thing, let's see what that does. Can that pass for energizing our fan base? I'll do whatever, but let's hold off on playing Cincinnati in our opener."
| Who | Where | When | TV |
| --- | --- | --- | --- |
| Cincinnati | Fifth Third Arena | 6 p.m. | ESPN2 |
Holtmann made it happen, though.
So, in his second year at the helm, the Buckeyes open the season against the Bearcats at 6 p.m. Wednesday. The game will be broadcasted on ESPN2.
"You can tell it's approaching gameday because last night was a short night, and sleep was not what it had been the previous few months," Holtmann said. "Hair's still falling out, but hopefully no one notices."
Cincinnati Breakdown
Much like the Buckeyes, head coach Mick Cronin's Bearcats enter Wednesday's matchup with many unknowns.
They graduated three of their top four scorers last season and return just one player – Jarron Cumberland – who averaged more than eight points per game. Gone are last year's leading scorer Jacob Evans, who was a force on both sides of the ball, and Gary Clark, who was named American Athletic Conference player of the year and the conference's defensive player of the year. Kyle Washington, who started alongside Clark in the frontcourt is also gone.
Despite the key losses from last year's team that won at least 30 games for the second year in a row, Chris Holtmann sees Cincinnati, at a base level, as a similar team to what it has been in prior years.
"I think they're the same," Holtmann said. "I think Mick is probably a little bit like I am, curious about some of his new guys that have increased roles and kind of wondering how they're going to step in the new roles. The way they play, their mindset, their approach, it's the same."
When Holtmann refers to Cincinnati's attitude being the same, he meant that if Ohio State isn't ready, the Bearcats will smother his team. They were the second-ranked scoring defense in the nation last year and had the best defensive efficiency in the country.
Cincinnati had 5.4 blocks per game (eighth in the country), allowed opponents to shoot 37.4 percent from the floor (second in the country), had a plus-7.8 rebound margin (eighth in the country) and held opponents to 30.9 percent shooting from beyond the arc (eighth in the country).
Some of the team's most important players on the team are gone, but the identity remains the same.
"We're playing one of the toughest teams in college basketball. There's no question about that," Holtmann said. "They are relentless in how they pursue the ball. They are, every year, one of the best rebounding teams in the country. Their turnover percentage, defensively, is always exceptional. They are, year in, year out, one of the toughest teams and one of the best defensive teams."
Cumberland, a 6-foot-5, 205-pound junior guard, averaged 11.5 points and 2.9 assists per game last season. He'll be counted upon to play an expanded role this season.
Justin Jenifer joins Cumberland as the only other returning starter. A 5-foot-10, 175-pound senior guard, Jenifer put up 4.8 points per game with 36.5 percent shooting and averaged 2.5 assists per game. Cane Broome, a 6-foot, 165-pound senior guard, led the Bearcats with 15 points in their exhibition win against Tusculum. He played for Cincinnati last season after transferring from Sacred Heart, where he averaged 23.1 points per game in 2015-16.
Wednesday night's game will be the first played at the newly renovated Fifth Third Arena, which will have a packed house for the rivalry matchup.
"There's going to be tremendous excitement and buzz at their place opening their renovated arena," Holtmann said.
Ohio State Breakdown
The losses of Keita Bates-Diop, Jae'Sean Tate, Kam Williams and Andrew Dakich offered Holtmann's staff plenty of problems, but after Thursday's exhibition win against UNC Pembroke, one area of concern stuck out above the rest: turnovers. Ohio State turned the ball over 21 times in its exhibition against a Division II team.
If that happens against Cincinnati, the Buckeyes will be in for a long night. After seeing the issue crop up in the exhibition, Holtmann said he had "tremendous anxiety" facing the Bearcats. Keyshawn Woods said the coaching staff already had a high focus on avoiding turnovers, but it was ramped up even further this week.
The Bearcats' stifling defense led to a plus-three turnover margin last season, which ranked 28th in the country.
"(Holtmann) really emphasized it this week because we know Cincinnati loves to pluck at your ball, loves to try to force, gamble and try to get steal," Keyshawn Woods said.
Much unknown exists about Ohio State, and this game could go a long way to showing what kind of potential this year's group has.
"I think right there, you're trying to figure out, OK, how does your team measure up against a team that is that tough and that physical and that athletic, and they've got length," Holtmann said.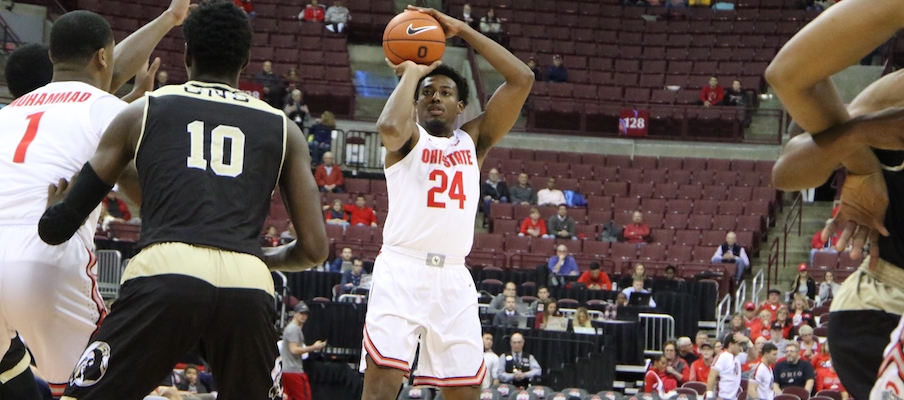 Kaleb Wesson and C.J. Jackson are the only returners who averaged more than 2.9 points per game, and both will be counted on to propel an offense with plenty of question marks.
Wesson and the coaching staff discussed the 6-foot-9 center extending his range on offense, which he could show off against the Bearcats. With Jackson starting alongside a freshman in the backcourt, it will be paramount for him to be a calming, steady presence. Jackson wasn't efficient offensively in the exhibition, but he needs to be consistent on that end of the court for the offense to be productive.
Projected starters Luther Muhammad, Andre Wesson and Kyle Young aren't high-scoring threats on offense, so it will be pertinent for them to minimize Cincinnati's offensive production and find points where they can get them. Both Muhammad and Young are expected to be making their first career starts, which will come in front of a rowdy crowd anxious to see the Buckeyes knocked off.
"When you come to games like that, you embrace that challenge, you embrace their fans, you embrace the game and how they have everything centered around it," Woods said. "And if we embrace it and take on a challenge, I think we're going to be fine."
The announced transfer of Micah Potter on Monday added a bit of uncertainty. Without Potter, Young and Wesson will likely play slightly more minutes than expected, and freshman Jaedon LeDee will have a bigger role on the team.
With so much uncertainty, there's a feeling of readiness to finally get back on the court in a meaningful game.
"Really anxious, and I think they're anxious, too," Holtmann said. "I mean, 28 practices right now with only two other opponents. I think they're really anxious to get playing, and I'm sure Cincinnati's guys are too."
How it plays out
Ohio State and Cincinnati are about as even as possible, per the preseason KenPom ratings. The Buckeyes are ranked 41st in the country, just one spot above the No. 42 Bearcats. Cincinnati is favored by 5 1/2 points.
It's a telling projection of two teams that suffered key losses and have major questions of whether those who were role players can step into important roles this season. Given the Buckeyes' struggles against UNC Pembroke's defensive pressure, Cincinnati could give them a tough time on offense.
It's hard to project the game, since both teams experienced tremendous roster turnover. But both teams should be relatively evenly matched, which could make for a tremendous game with both teams having enough talent to pull out a season-opening victory.
---
Prediction: Cincinnati 63, Ohio State 60