Urban Meyer won his first 24 games at Ohio State. People forget that.
It was the feel-good story of 2012. Ohio's native son and coaching prodigy, retired for 10 long months, choosing to keep the shrinkwrap on his fledgling broadcasting career so he could return home to save the local team from self-inflicted oblivion.
Something good would be happening to the scrappy start-up amateur football club in Columbus. Right, finally.
Meyer's prize was a 6-7 team riding a postseason ban with reduced scholarships over multiple seasons that had just managed to finish 107th nationally in total offense in a down year for a down conference with a loaded roster that included Braxton Miller and Carlos Hyde. Woooooof. Twelve games later (that's all they were allowed to play his first year) he was 12-0.
Ohio State football simply doesn't suck often or badly enough to create the opportunity for wild turnaround seasons.
Urb doubled the wins, year over year. In investment terms, he quickly made the Buckeyes a strong buy and hold again after bleeding shareholders throughout the turmoil of 2011. Ohio State had gone plus-six only twice in its history - once during a World War that had siphoned aways coaches and players nationwide, resulting in erratic results across the landscape.
The other was a decade earlier when Jim Tressel took his 7-5 honeymoon season and tacked seven more wins on top of it in year two.
Meyer, who had won MAC, MWC and SEC Coach of the Year honors didn't collect the B1G hardware only because of the conference's unwritten rule that Ohio State coaches are ineligible (Bill O'Brien won it going 8-4 at Penn State in 2012 and Jerry Kill got it for 8-5 at Minnesota in 2014). Turnarounds dramatic enough to merit consideration are hard to come by, especially in Columbus, especially in football.
Ohio State football simply doesn't suck often or badly enough to create the opportunity for wild turnaround seasons where win totals double. People forget what Meyer did because it's taken for granted, because of what both Meyer and Ohio State are believed and expected to be capable of delivering. If you suggest that the Buckeyes should compete or even be favored to win big football trophies in any given season ever, you'll get little pushback.
Ohio State basketball is only a slightly different story. People forget that.
When three-time B1G COY (the unwritten rule doesn't exist in hoops) Thad Matta went 7-11 in conference play last season it extended a program streak that's never been broken. Ohio State basketball has never completed a full decade without at least one losing record in the Big Ten.
But this is also a program with 10 Final Fours in its history, along with unlimited resources.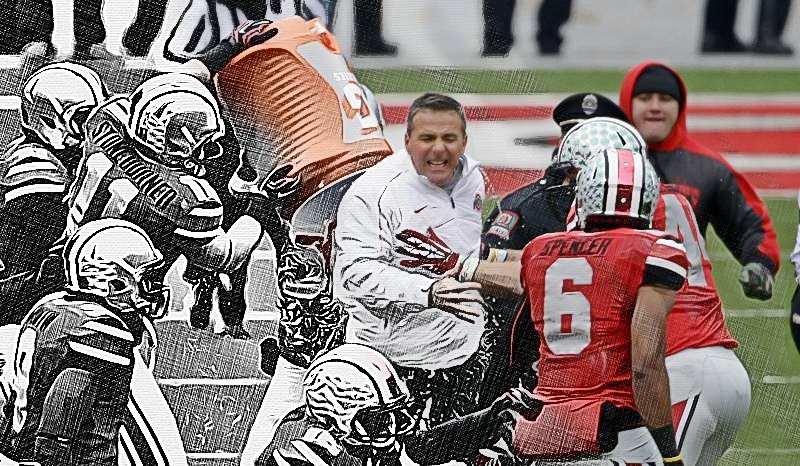 Something is wrong. There's no World War to blame for results being all over the damn place in relative peacetime. The university can compete and win in whatever sport it chooses to. In related news, Ohio State will attempt to earn its 31st national title in synchronized swimming next month.
Ohio culture has passed down for generations two irrefutable truths - one is that Michigan is bad and can never be allowed to win anything ever, and two is that college football excellence is paramount and expected; an eternal perk of being from the state. It's ingrained into the psyche.
We need add a third truth: Buckeye basketball is just as capable as the football program is of winning conference and national titles in any given year. Expanding into basketball doesn't diminish our love of football. There's nothing bold about suggesting a program with 10 Final Fours shouldn't expect, you know, more Final Fours.
The proof is in this past season, the evidence is in this past decade, the testimony is in Ohio State's entire history. The gaps have only occurred in the places where complacency was accepted and allowed to flourish, and deep down we know this. We just don't say it because our culture has only subscribed to two truths for too many decades.
Ohio State is not a football school; it's an everything school that extends itself into more varsity sports than anyone else - because it can. It has a legendary football stadium and an historic basketball arena...that it generally uses for non-basketball activities but don't allow that to distract you from what should be viewed as both possible and inevitable during the winter and spring months.
Matta's decline coincided with hiring and then keeping Dave Dickerson (now out of coaching, weird) on his staff and playing talented players who did everything but fall asleep on the court. Complacency was accepted and allowed to flourish. Once it was removed, hey wow look at what happened immediately.'
Ohio State is not a football school. it's an everything school that extends itself into MORE varsity sports THAN ANYONE ELSE - because it can.
Thad's run of greatness that preceded his decline should not be viewed as extraordinary, not anymore. Chris Holtmann just went 15-3 with a transfer he stole from Quinnipac who rode the bench at Michigan contributing invaluably to the turnaround in Columbus. He's objectively a great coach, who has now won COY honors in every conference he's worked in.
It's what Ohio State deserves and should expect. It has no reason not to, even in basketball. We're in awe of what Holtmann pulled off because it was so unexpected, and that's entirely on us. It shouldn't be.
If we anoint Holtmann a miracleworker, we diminish Ohio State's potential. He was the steward for what's possible, even under lousy circumstances. A 15-3 B1G record last season with a deeper roster would have saved Matta's job, just as a 12-0 record in 2011 with a postseason to play for would have dropped the interim tag from Luke Fickell's title. 
Nothing is impossible for either program. Both were heading down a dark path, and Meyer and Holtmann reversed the course immediately through effective crisis management. Both coaches would have been allowed to absorb an 8-4 Outbackish season on the field and a 19-12 NITish season on the court, respectively, in their first seasons while they put out all the fires.
But neither needed one. And more importantly, neither should. People forget that.