With the recent news prized five-star recruit D'Angelo Russell has been academically cleared to join Thad Matta's squad, combined with the significant roster turnover following last season's 5th place finish in the B1G, the elite guard prospect could be in position to turn in one of the finest freshman seasons by a perimeter player in school history. 
The silky smooth lefty has the length and polished jumper coaches drool over in a shooting guard while possessing the ball-handling and passing skills to be a competent point guard at the big time college level. Beyond a skill-set that would ensure he saw the floor as a freshman at any program in the country, his chances to start and log heavy minutes in Columbus are strengthened by the fact Ohio State lost a boat load of perimeter minutes with the departures of Aaron Craft, Lenzelle Smith Jr. and LaQuinton Ross. 
Even better for Russell – and Ohio State fans – his strengths project to immediately address what were serious weaknesses of last year's team. As you'll painfully recall, last year's team was brick city from the outside, shooting 32% from beyond the three-point line with no Buckeye shooting it better than 35.5% and no player was particularly adept at creating anything consistently meaningful off the bounce especially in the half court. 
Russell brings the ability to shoot from distance, create off the dribble for either a legit pull-up jumper or a finish at the rim (thanks in large part to a nearly 6'9" wingspan), or if enough traffic collapses, dump off or kick out to an open teammate.
With Shannon Scott the starter at the point thanks to his own ball-handling prowess, stout man-to-man defense and the lack of an outside shot, Russell figures to slot right into the off-guard spot, joined by senior Sam Thompson on the wing with names like Kam Williams, Jae'Sean Tate and Keita Bates-Diop fighting for perimeter rotation minutes. Who starts at the four and five spots is up for discussion but guys like Marc Loving, Anthony Lee and Amir Williams figure to patrol the back line.
At the end of the day, despite that long list of names, Russell figures to see more than his fair of minutes and shots, allowing him to have a huge impact on the success (or failures) of the 2014-15 Buckeyes as a true freshman. 
For some perspective on what huge impact for a true freshman OSU perimeter player looks like, here's a snapshot of the six best seasons out of previous perimeter-playing Buckeye freshmen since such players became eligible back in 1972:
SIX BEST FRESHMAN SEASONS, OSU PERIMETER PLAYERS


| PLAYER | SEASON | G | MPG | APG | SPG | FG% | 3FG% | PTS | PPG |
| --- | --- | --- | --- | --- | --- | --- | --- | --- | --- |
| MICHAEL REDD | 1997-98 | 30 | 37.9 | 3.0 | 2.0 | 43.8 | 30.3 | 657 | 21.9 |
| JIMMY JACKSON | 1989-90 | 30 | 34.5 | 3.7 | 1.3 | 49.9 | 35.6 | 482 | 16.1 |
| KELVIN RANSEY | 1976-77 | 25 | 31.6 | 2.8 | 0.8 | 40.8 | N/A | 327 | 13.1 |
| MIKE CONLEY | 2006-07 | 39 | 31.6 | 6.1 | 2.2 | 51.8 | 30.4 | 441 | 11.3 |
| WILLIAM BUFORD | 2008-09 | 33 | 29.3 | 1.1 | 0.8 | 44.8 | 36.1 | 372 | 11.3 |
| EVAN TURNER | 2007-08 | 37 | 27.1 | 2.6 | 1.3 | 47.3 | 33.3 | 314 | 8.5 |
[Side note: Any argument against Mike Conley being the best point guard in Ohio State history is invalid.]
While difficult to project how a true freshman will come in and perform, I believe it's realistic for Russell to make a run at a mid-teens points per game average that would compare favorably to the freshman scoring output seen from Jimmy Jackson and Kelvin Ransey. With 36 points and 27.3 shots per game lost with the departures of Ross, Smith Jr. and Craft combined with Matta potentially looking to push the ball a little more this season in an effort to create more points in transition, Russell should be set up to flourish in a system suited to his game.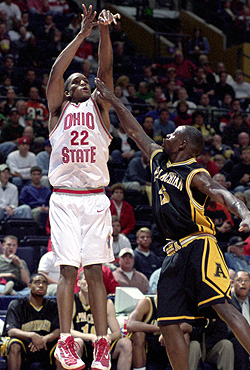 Conley shot the lights out from the floor at 51.8% because he was so mindful of his range and was able to get to his scoring spots at will. Russell won't challenge that figure but should be able to create plenty of good looks allowing him to generate a percentage in the mid-40's. That said, what could happen is Russell shooting 36% or better from distance and making a run at Daequan Cook's freshman record for three-pointers made of 54. 
It's interesting that of these six outstanding seasons turned in by freshman perimeter guys, only one of the teams lost less than 11 games over the course of the season. Conley's 2006-07 juggernaut went 35-4 en route to a national championship game appearance but the two next best seasons include Buford's 2008-09 team that went 22-11 and lost the Siena in the 1st round of the Dance followed by Turner's 2007-08 squad that finished 5th in the B1G before going on to win the NIT championship. Yay. 
Ohio State went just 16-11 during Ransey's freshman season and 17-13 during Jackson's rookie campaign with Redd's 1997-98 outfit easily the worst of the bunch going 8-22 with a supporting cast of Jon Sanderson, Jason Singleton, Ken Johnson and Carlos Davis. 
Certainly, Matta has designs on racking up another 20+ win season, being competitive in the conference race and building a team that is playing its best basketball come March.
For all of those goals to be realized, much will depend on just how impactful Russell can be at scoring the ball efficiently and in variety of ways while creating easy opportunities for his teammates.