Welcome to the Full Court Press, your destination for offseason Ohio State basketball recruiting updates.
Logan Duncomb didn't think he'd leave Columbus on Friday with an offer.
Not when he and his Archbishop Moeller team made the drive from Cincinnati to Columbus. Not when assistant coach Ryan Pedon invited him to the coaches offices for measurements. And not even during the conversation with Chris Holtmann that ended with him giving Duncomb the news.
But it happened.
"I did not think I was going to get an offer today," Duncomb told Eleven Warriors on Friday. "I thought, I mean, there'd be a chance maybe because (the coaches are) here. I knew I was going to talk to coach Pedon because I called him before the camp. But I just thought we were going to talk more about Ohio State. I didn't expect to get offered at all. I thought we were just going to have another talk."
Holtmann, Pedon, Terry Johnson and Mike Netti had just watched the big man lead his team to victory against St. Vincent-St. Mary, and the Buckeyes' coaching staff had seen enough. Pedon brought Duncomb to Holtmann's office, taking an abbreviated tour on the way up.
First, Duncomb got measured – he's 6-foot-8 without shoes, 6-foot-10 with shoes, has a 7-foot-1 wingspan and weighs 225 pounds. Then he began talking about his academics and his team with Holtmann. At the end of the 15-minute discussion, Holtmann made what Duncomb called an "abrupt" move and extended him an offer, surprising him.
Duncomb called the moment "awesome," saying he got "butterflies."
"It was cool," Duncomb said. "I've always wanted to play in the Big Ten, so the ability to play in the Big Ten is sick, awesome for me."
Since Duncomb's father graduated from the University of Iowa College of Law, Duncomb has spent a healthy amount of his life watching the Big Ten, which he called his favorite conference.
"I like the competition, too," Duncomb said. "Super competitive. Bunch of good schools academically too, and I take my academics seriously."
With Ohio State extending offers to Duncomb, Malaki Branham and Kalen Etzler in the past month, Holtmann has shown a willingness to go after in-state prospects he likes, even though they haven't been recruited heavily yet.
Before the Buckeyes offered him on May 9, Branham only held offers from Akron, Duquesne and Ohio. Etzler, who committed to Ohio State on May 12, had Bowling Green, Miami (Ohio) and Duquesne offers.
Duncomb only had an offer from Miami (Ohio). However, he impressed Holtmann and his staff enough for them to make him the fourth in-state 2021 prospect to earn an offer, joining Branham, Etzler and Meechie Johnson.
Given his age, Duncomb could easily grow into becoming a true center, but in the past year he has made significant advancements in his game that have allowed him to extend his shooting range and improve as a ballhandler.
"I feel like I'm kind of a stretch four," Duncomb said. "My main game is to go in the post because I've always been in the post, but I've been working to stretch out my game, be able to dribble, be able to shoot it."
A year ago, Duncomb said, he never took any 3-pointers in games. But since Moeller has a program that forced him to take 8,000 triples during the summer, he has developed confidence to shoot from beyond the arc.
He has just a year of experience playing varsity basketball but is already the top-ranked 2021 center in Ohio, per Triple Double Prospects. Duncomb spent his first season at Moeller playing on the freshman team after entering high school as what he described as an "awful" player.
And he stressed that's not an exaggeration.
"Actually awful," Duncomb said. "Like, maybe averaging four points a game. Freshman year really helped me out coming to Moeller. I gained a lot of confidence to try to score the ball. I got better at D. I got better at everything. Freshman year really helped. Being on the freshman team was probably the best thing for me because I was able to develop."
It's hard to deny that based on the offer he received on Friday in the same building his team won the state championship in March.
Duncomb won't rush his decision. Since he's already aiming to study pre-med in college with the intention of eventually becoming a pediatrician, he'll want to ensure he makes the correct decision about his future. So while the Ohio State offer might alter or speed up his recruitment, he prefers not to prognosticate on what's to come.
"I don't want to think that I'm anything different because I got an offer from Ohio State," Duncomb said. "So just plan on keep playing how I play and try to keep getting better because I have a lot to improve still. I'm not there yet."
"I want to be the greatest to ever play this game"
Following Paul McMillan IV's final game of the day on Thursday, his last before he and his Cincinnati Woodward team headed back home, Chris Holtmann and Ryan Pedon walked up to him. They struck up a smile-filled, jovial conversation filled with McMillan, his father and his coach.
To anyone not in earshot of them, it would've looked like they might have offered the 2022 point guard. But per McMillan, that hasn't come yet.
"I'm not too sure about them offering me, but I know they'll be out (watching him play) in July," McMillan said on Thursday.
An offer wouldn't have been too surprising, even though the Buckeyes have only extended a single 2022 offer, to Buchtel's Chris Livingston, a top-10 national prospect who could choose to head straight from high school to the NBA if allowed by the year he graduates.
McMillan, who Triple Double Prospects ranks as the top Ohio point guard in 2022, is a potential five-star prospect. He plays for the 17U Manimal Elite team on the Adidas gauntlet despite being just 15 years old. In the past month, he picked up offers from Mississippi and Xavier, and interest from other high-major programs has poured in.
"It's been good," McMillan said. "The teams that offered me, I watched them in the past before. I'm just taking it day by day, hour by hour, second by second. I'm not really rushing it. You know, I'm only 15. I'm really not rushing it."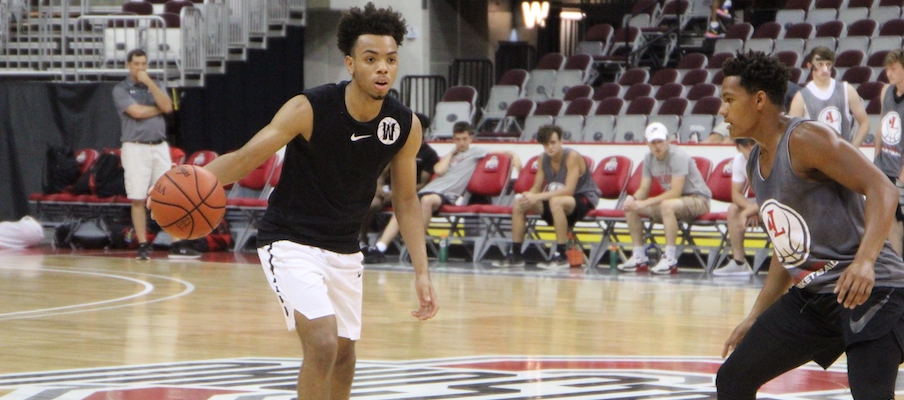 There's certainly no reason to accelerate the process at that age, especially with interest continuously pouring in from a variety of programs.
Consider Ohio State among those with its eyes on McMillian. The 6-foot-1, 170-pound point guard had been inside the Schottenstein Center to watch the high school basketball state championship in the past, but he never had an opportunity to play in the arena until Thursday.
"It was a great experience coming on a college court," McMillan said. "When this court is sold out, packed out, like the crowd and stuff, it gets crazy in here. To at least get that feel for at least playing on the court, it was a good feeling, good experience."
McMillan said the Buckeyes' coaches mentioned they like his pace and change of speed.
"They have a good culture and a good fan support base," McMillan said. "I like it here."
Excited to get our first look at '22 guard Paul McMillan IV and he came to play. Nice crossover and avoids the defender for the finish. pic.twitter.com/2gTJC4ojDC

— Jake Welch (@JakeWelch275) June 6, 2019
With so many schools interested in him at such a young age, McMillan wants to take the process slowly.
But he has no such inclination about his own hopes for himself on the court.
"I want to be the greatest to ever play this game," McMillan said. "It's as simple as that. Every day when I come in the gym, I try to work like that, and I try to do those things. I take everything upon myself. If it's a loss, it's my fault. If it's a win, my teammates help me."
Pair of offers
While much of the focus on Thursday and Friday remained on the in-state 2021 and 2022 prospects at Ohio State's team camp, the Buckeyes continued to add to their list of 2020 targets this week by extending a pair of offers. They currently have one open scholarship in their 2020 class, which doesn't include any commitments.
Four-star power forward Lance Ware earned an offer from Ohio State on Tuesday.
Lance Ware, a class of 2020 forward playing for @NYRhoops, just picked up an offer from Ohio State.

— Pat Lawless (@PatLawless_) June 5, 2019
At 6-foot-9, 205 pounds, he's the No. 45 overall prospect and the seventh-ranked power forward in the class of 2020. Ware plays for the New York Lighting in the Nike EYBL and Camden High School in New Jersey. He has offers from Providence, Maryland and Seton Hall.
Four-star center Ryan Kalkbrenner also picked up an offer from the Buckeyes this week.

Kalkbrenner, a 6-foot-11, 210-pound big man from St. Louis, is the No. 92 overall recruit and the 16th-ranked center in his class. He has offers from Cincinnati, Illinois, Georgia Tech, Kansas State, Missouri, Pittsburgh, Stanford and Virginia Tech.
The Buckeyes have had recent success in the St. Louis area. E.J. Liddell played for Belleville West in Belleville, Illinois, which is a half-hour drive from the city.
Other takeaways from Ohio State team camp
With so many quality teams playing at the Ohio State team camp on Thursday and Friday, those in attendance – including the Buckeyes' coaching staff – got to check out some of the top prospects in the state. 
Here are a couple takeaways from some of those who took the court.
Malaki Branham and St. Vincent-St. Mary played a trio of games on Friday, which allowed him to once again play in front of Ohio State's coaches who offered him a scholarship a few weeks ago. A couple things stood out, including his multi-level scoring ability. Branham excels at driving and finishing through contact, and he also has a reliable mid-range game and off-the-bounce jumper. Listed at 6-foot-4, 175 pounds, Branham currently views himself as a combo guard, but he could grow into a bigger wing by the time he's ready to head to college. He's a competitive player who doesn't hide his emotions on the court, which Holtmann has been attracted to in the past. 
Don't overlook Toledo St. Francis small forward Jamiya Neal. He's about a lanky 6-foot-6 and has as much athleticism as anyone who played on Thursday and Friday. The 2021 prospect hasn't announced any offers yet, but that'll surely change. He faced off against Branham for a game on Friday and didn't look overmatched. Despite being relatively raw, Neal has the natural gifts to develop into a quality prospect. He's Ohio's top-rated small forward in 2021, per Triple Double Prospects.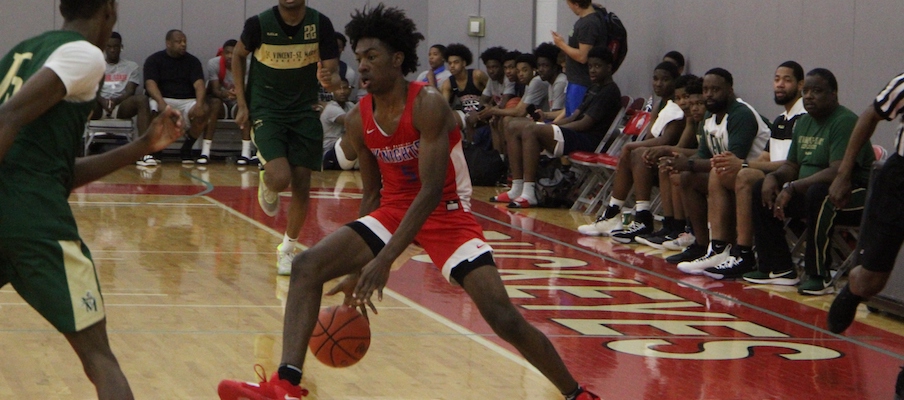 Cleveland Heights shooting guard E.J. Farmer spent some time talking to Ohio State's coaches on Friday. He's a natural scorer with a nice stroke from deep. He's ranked behind only Branham as the second-rated shooting guard in Ohio in 2021, per Triple Double Prospects.
Jack Sawyer couldn't join his Pickerington North basketball team on Thursday since he was about one-fifth of a mile away working out in front of Larry Johnson at the Woody Hayes Athletic Center. But on Friday, the five-star defensive end and Ohio State football commit headed to the Schottenstein Center for a trio of games. Before his first of the day, Holtmann stopped him in the warmup line to shake his hand. Don't get your hopes up, though, Buckeyes fans hoping he'll dabble in college basketball. Sawyer's future lies exclusively on the football field. For those wonder, he's the third-ranked power forward from Ohio in 2021, per Triple Double Prospects.
A day after working out with Larry Johnson at Ohio State's football camp, Jack Sawyer played three basketball games with Pickerington North at the Schottenstein Center.

Before Sawyer's first game, Chris Holtmann pulled the Ohio State football commit aside to shake his hand. pic.twitter.com/ei2VkvHK4a

— Colin Hass-Hill (@chasshill) June 7, 2019
Gahanna Lincoln's Sean Jones might not stand any taller than 5-foot-10, but he's a natural at point guard. The third-ranked Ohio point guard in 2022 tossed plenty of one-handed dimes on Friday. At such a young age, he has room to grow, even though his current size won't help him in the recruiting process. Regardless, it's not difficult to see his natural instincts kick in running the offense.
It's always tougher to evaluate players so young, but 2022 wing Bowen Hardman has a silky jump shot that can't be ignored. The 15-year-old prospect is still growing into his body, but there's no doubt he already has become one of the top shooters in his class. Hardman, who attends Cincinnati Princeton, is the No. 3 Ohio wing in 2022, per Triple Double Prospects.