WESTFIELD, Ind. – Dain Dainja grabbed a rebound late in Howard Pulley's early Saturday morning game against MOKAN Elite, as any big man does. With his team trailing by double digits with three minutes remaining, he took the ball up the court himself and dribbled to the top of the 3-point line, as some big men do.
Then, as few big men attempt to do, he crossed his defender over, barreled into the lane and crashed all 6-foot-9, 260 pounds of himself into a defender who couldn't possibly brace himself enough for the impending contact. Dainja trucked him, committing a charging foul and sending the pour soul careening to the hardwood where he laid to recover from the blow.
In a singular play, Dainja showed both why he's so enticing to college basketball programs, including Ohio State, which extended an offer a few days ago, and why he's not yet a finished product. Few players his size have such an undeniable combination of playmaking, dribbling, shooting, physicality and inside scoring prowess, even though he's still learning how to play under control and make smarter decisions.
"Ohio State, for instance, they always talk about how I'm able to go down in the post, seal my man, and then I'm able to step out, shoot a 3, put the ball on the floor, make the right pass," Dainja told Eleven Warriors on Saturday.
A bucket from Ohio State target Dain Dainja, whos playing for Howard Pulley.

The Buckeyes offered the 6-foot-9, 260-pound big man a couple days ago. Hes the No. 49 overall prospect in 2020. pic.twitter.com/1mwS33uRmP

— Colin Hass-Hill (@chasshill) May 11, 2019
His uncommon blend of talents has led to a consistently rising recruiting stock. Dainja climbed into the top 100 in the class of 2020 last summer, and he reached the top 50 this spring. He's the No. 49 overall prospect and the seventh-ranked center in his class.
After climbing onto Ohio State's radar, Dainja began to hear from Chris Holtmann and his staff this year in the middle of his junior season at Park Center High School in Minneapolis. The coaches have visited him in Minnesota, but he hasn't checked out Columbus yet.
That'll change soon, though, since he plans to take an official visit to Ohio State on Monday. The visit will come less than a week after Holtmann contacted Dainja to extend an offer.
"He just FaceTimed me out of the blue," Dainja said. "It was actually nice. He was just talking about my game a little bit. He gave me the scholarship offer. And then the assistant coach texted me congratulations and stuff."
Among the many things recruits always check out when taking visits, including the vibe of the coaching staff, a connectedness with potential teammates and the facilities, Dainja specifically mentioned he's interested to see and hear about the nutrition program, saying he's "big on that."
Dainja broke further into the national recruiting conversation due to his performance on Howard Pulley in the Session I of Nike EYBL in Atlanta two weeks ago, leading to offers from Ohio State, Louisville, Texas, Arizona State and Nebraska, and he credited that on-court success with a change in his body composition.
The proof is in the pudding – or, fruit smoothies, in Dainja's case.
He drastically changed his diet in the past year, beginning to eat breakfast, cutting down on sugars and starches and increasing his vegetable intake.
"Nobody told me. I just had to do it. I just had to do it for me." Dainja said. "I know what's been holding me back for the past couple years. I wasn't going to let it keep holding me back, especially coming into the EYBL session."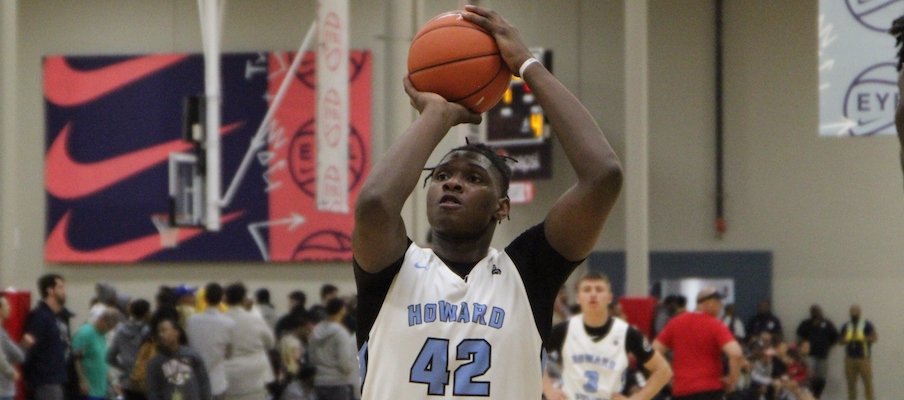 Results have followed Dainja's change.
In seven EYBL games, he's leading Howard Pulley with 15.1 points and eight rebounds per game while shooting 45.4 percent from the field, though struggling to find his shot from both the free-throw line (17-of-35) and 3-point line (1-of-10). Dainja also averages 2.6 assists per game.
"I think I've been playing my best now mostly just because of my body," Dainja said. "It was a couple things last year that I wanted to do, but it was just my body wasn't there, I wasn't in that type of shape to do that, do those things. I was still able to dribble like how I do now, but it was just like my quickness wasn't there. I was still out of shape a little bit."
Now at 260 pounds, Dainja said he lost 15 pounds of fat and added 10 pounds of muscle in the past year.
Ohio State coaches have told him they think they can improve his physique even more, readying him for the NBA.
"They're going to change my body. They feel like if I come there, that'll be my last thing. Just changing my body," Dainja said. "So they think they can really help me with that to make me to the next level. They have a lot of students there. It's just a good place to be around. Football, it's just a great environment out there."
With one spot currently open in its 2020 recruiting class, Ohio State targeted a number of wings and big men, even after the addition of Justice Sueing.
Dawson Garcia, Zach Loveday and John Hugley are among their post targets, and each have their intriguing qualities. But Dainja's unusual movement and unlikely skills for a player his size have made him an Ohio State target.