Ohio State's national champion shot putter almost ended up at Miami University instead.
As a recruit out of Rocky River's Magnificat High School, Adelaide Aquilla didn't receive a scholarship offer from Ohio State, so she nearly chose to become a RedHawk. Aquilla chose to walk on with the Buckeyes, however, because she believed Ohio State and its coaching staff would help her improve more as a thrower. 
"I was heavily considering Miami, but I saw a better potential to compete against the Big Ten and the better competition at the time here," Aquilla said. "I saw more room for growth and development into a better thrower, so I ultimately chose Ohio State." 
Looking back four years later, Aquilla's decision to walk on at Ohio State has clearly worked out. She swept this year's NCAA championships in the shot put, winning national titles during both the indoor and outdoor track and field seasons. She then finished third in the shot put at last month's U.S. Olympic Trials, earning her a trip to Tokyo to compete in this year's Olympics.
"I would have never pictured myself in this position about four years ago," Aquilla said earlier this week.
Considering that she was a walk-on, few people imagined she'd be in this position now when she arrived at Ohio State. 
Aquilla had a successful high school career; she won the Emerging Elite competition at New Balance Indoor Nationals in 2016, and set school records in the shot put and weight throw, throwing both implements more than 45 feet. That said, her improvement over the past four years has been drastic; at this year's outdoor Big Ten Championships, Aquilla broke the school record by throwing the shot put 62 feet and 8 3/4 inches – over 17 feet farther than she ever threw it in high school.
In the past two years alone, Aquilla has improved her personal best in the shot put by more than eight feet.
"She's nowhere near the same athlete that she was when she came on campus," said Ohio State throwing coach Ashley Kovacs. "Some athletes will barely have a 6-foot improvement over the course of four years … Her increase has almost been 20 feet. So to this point, it's been extremely quick, extremely rapid growth. Where she is now compared to where she was even in 2019, it's just been astonishing."
Kovacs credits Aquilla's improvement to how committed she is to doing everything the coaches ask her to do, even when she's away from the track, like maintaining a consistent sleep cycle and following her nutrition plan.
"I've never seen anybody willing to suffer the way that she is," Kovacs said. "She'll just do the things that we suggest to do even if she doesn't want to do it."
---
One person who believed Aquilla could get to this point even before she arrived at Ohio State was Bob D'Andrea, her throwing coach during her final three years of high school. It was D'Andrea – who had already coached several athletes that went on to throw at Ohio State, including his son Mike, who also played football for the Buckeyes – who convinced Kovacs to take a chance on Aquilla as a walk-on.
"I knew Mr. D'Andrea and I had athletes that had worked with him before, and he had spoken to me and he basically said, 'I think that she has a lot of potential,'" Kovacs said. "He said he thought that she was pretty underdeveloped and he liked the work that I had done with a couple of the other athletes that he'd had here, and I really trusted him. So I took a really good look at her."
D'Andrea believed Aquilla had both the physical and mental attributes needed to be an elite shot putter. Physically, D'Andrea saw a special combination of speed and strength; Aquilla also ran sprints when she was younger, while she wowed D'Andrea with what she could do in the weight room.
"I walked into the gym one day, and I saw one of the trainers working with her, and he asked her to dead-lift a weight," D'Andrea recalled. "She picked the weight up off the floor and she looked at him and she said 'What do you want me to do with it?' And he said 'Just drop it.' And I walked over and I said, 'How much is on that bar?' And he started smiling and he said '300 pounds.' It was like nothing to her."
D'Andrea also believed Aquilla had the mental fortitude to excel at the next level, because as he said, "nothing bothers her."
"When she gets going, she's like a bulldozer. She just goes through everything," D'Andrea told Eleven Warriors. "If she had a bad day throwing, it was just over. When it was over, it was over. She didn't sulk, she didn't cry. She didn't go, 'Oh, poor me.' She's just tough mentally. She's just very, very tough."
If it wasn't for D'Andrea, Aquilla may have never had the chance to compete for the Buckeyes. But he credits Kovacs and her husband Joe, who trains at Ohio State and will also be competing in Tokyo as a member of the men's U.S. Olympic shot put team, with helping Aquilla become the thrower she is now.
"They have taken this girl to another level," D'Andrea said. "There's only a few schools I would consider going to if I were a top-notch thrower in high school, and Ohio State's one of them. They're just absolutely tremendous at what they do and what they're able to do with the athletes."
Aquilla also says Kovacs has played a crucial role in her development into a national champion and an Olympian.
"The amount of success I've had in the past two years is just really unbelievable, and I can't do it without my coach," Aquilla said. "She's the one who is always there by my side. If I walk into practice a little funny, she'll know something's up immediately. She's the leader of the train, conductor and everything, so couldn't do it without her."
"I would have never pictured myself in this position about four years ago."– Adelaide Aquilla on becoming an Olympian
Of course, Aquilla wouldn't be where she is now if not for her personal commitment to her development. Even last year during the COVID-19 pandemic, when competitions were canceled and athletes were sent home from Ohio State, Aquilla continued to work on getting stronger – her father welded her a squat rack himself, she said – and once she returned to campus, she began throwing well enough that making the Olympic team became one of her goals.
"At the beginning of every year, I write down all of my goals for the weight room, academically, throw-wise what I want to do, and then I also write down my mental goals," Aquilla said. "So in the beginning of the year, I wrote down I wanted to be top five at the Olympic trials because I already knew I had the standard. But then throughout the course of this year, I kind of started picking up the pieces technically and everything, so I really adjusted my goal and said, 'I want to make the team.' I'm gonna do everything in my power, whether it be not really hanging out with friends, doing extra recovery; all that little stuff that goes into the planning is what really pushed me to the next level."
It's that commitment to her craft, she believes, that enabled her to go from walk-on to Olympian in just four years – and that's the advice she would give to anyone who might now dream of following in her footsteps.
"I would just tell other athletes to never really give up and just continue to give all of your effort to every single practice," Aquilla said. "There might be some times that it's uncomfortable, but you have to brace the uncomfortable to become comfortable in those situations."
---
As Aquilla met with reporters at Ohio State on Monday, she said it still hadn't quite sunk in how much she had accomplished already this year. No matter what happens in Tokyo or for the rest of her career, she can already call herself an Olympian – and a two-time NCAA national champion, with the potential for more, since she'll be staying at Ohio State for her additional year of eligibility – for the rest of her life.
"We always talk about, 'Oh yeah, we were out in Oregon for 21 days and during those 21 days, I won a national championship and became an Olympian,'" Aquilla said. "So it's kind of weird how the second part overshadows all the other accomplishments that I did this season, but it's truly a great feeling to represent Ohio State at the highest level and bring home two national championships and become an Olympian this year."
Aquilla said it is "amazing," and "unimaginable," to already be an Olympian while still in college. One only needs to watch the video of her reaction after she officially qualified for the Olympic team to see just how much being an Olympian means to her.
And just like that, Adelaide Aquilla is going to the #TokyoOlympics!@usatf | #TrackFieldTrials21

NBCSN/@peacockTV pic.twitter.com/txcKHnqney

— #TokyoOlympics (@NBCOlympics) June 25, 2021
"I was so overwhelmed when I qualified," Aquilla said. "I started crying right as I was walking into the ring."
As she prepares now to compete in the Olympics, Aquilla is trying to keep herself grounded. To have a chance to earn a medal in Tokyo, she knows she has to continue doing the same things that have gotten her this far, and that starts with not thinking too far ahead about what could happen.
"Going into a lot of competitions, we don't really focus on what the outcome's going to be," Aquilla said. "We just focus on what I want to do, and how I want to portray my throw, and how I want to accomplish my goals technically. So a lot of the times, we don't focus on the outcome. We really focus on my technical goals and just achieving those, and then usually when you achieve those, you come out with the big throws and the PRs and all that stuff."
The shot put field in Tokyo will include nine other qualifiers who have thrown farther than Aquilla this year, so she'll need to be at her absolute best in competition – which begins with the qualification rounds on June 30, with the women's shot put final set for Aug. 1 – to have a chance to bring hardware back to Ohio.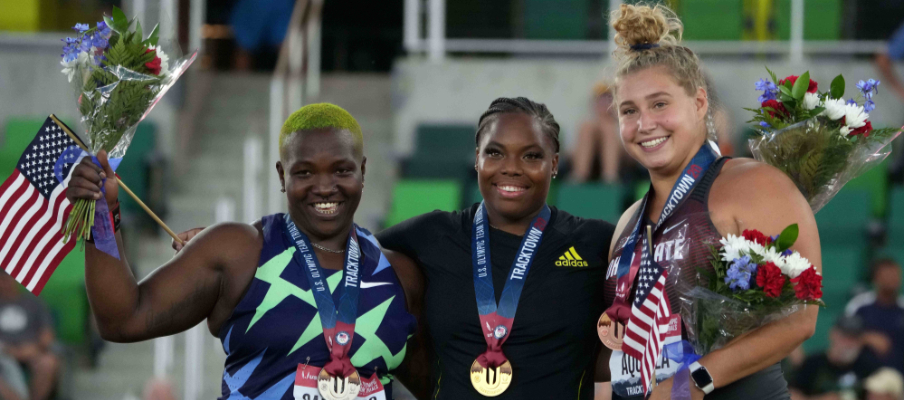 If her performances on the biggest stages already this year have been any indication, though, there's reason to believe she can rise to the occasion once again.
"If she does what she can do, we think that she's gonna have some great success there," Kovacs said. "What we're focused on more than anything is just being ready to be at your best at the highest stage, and that's been the message all year, so it's really, we're just trying to keep it consistent."
D'Andrea, the coach who's been one of Aquilla's biggest believers for the past seven years, says he "wouldn't put anything past her."
"I think she's gonna do well, and I really think getting to the Olympics, knowing how she's able to compete, I think anything's possible there," D'Andrea said. "She's got all the elements to be an Olympic champion, there's no question about it."