Anavia Battle made the U.S. Olympic track and field team by doing something no collegiate woman had ever done before.
Going into last month's U.S. Olympic Trials in Eugene, Oregon, no female collegiate runner had ever run a wind-legal time faster than 22 seconds in the 200-meter dash. But with a trip to Tokyo on the line, Battle made history.
Battle, who already held Ohio State's school record in the 200 with a previous personal best of 22.28 seconds, ran the 200 in 21.95 seconds to set a new all-time collegiate best and more importantly, finish third in the Olympic Trials final to earn one of three spots on the U.S. Olympic team in the 200.
She could hardly believe it when she learned how fast she had run.
"I think that shocked me more than actually making the team, which is so crazy," Battle said last week. "But finally breaking 22, it was good."
Going into the Olympic Trials, Battle wasn't among the favorites to make the team. She had finished third in the 200-meter dash at the NCAA outdoor championships – which were held on the same track – just a few weeks earlier, but the competition at Trials was even tougher. To make the U.S. Olympic team in the 200, she had to finish in the top three in a final that included one of the runners that beat her at the NCAA meet (Alabama's Tamara Clark) and 2012 Olympic 200-meter gold medalist Allyson Felix, among others.
Battle beat both of them, finishing behind only Gabby Thomas and Jenna Prandini to punch her ticket to Tokyo and become one of three Buckeyes on the U.S. Olympic track and field team, along with Adelaide Aquilla in the shot put and former Ohio State star Christina Clemons in the 100-meter hurdles.
"Being on the biggest stage means I have to put everything on the line, so I just went out there and did that," Battle said.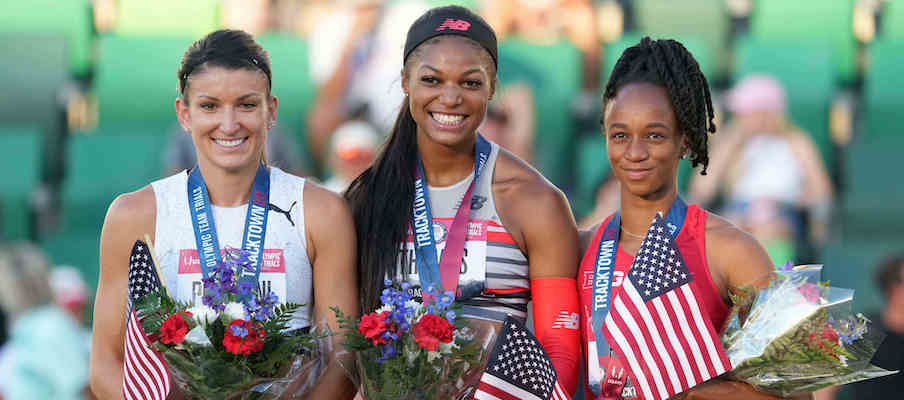 As a kid growing up in Inkster, Michigan, Battle didn't always envision herself becoming an Olympian. But eventually, she realized she had natural speed, leading her to follow in the footsteps of her brother Montel Hood – who also went on to sprint collegiately at Mississippi State – and join the track and field team at Wayne Memorial High School.
"When I was in high school, I would say my freshman year, I was just doing it to be a part of something," Battle said. "But once I realized the gift that I have and how good I am at this sport, I started to take it seriously. Because I like winning."
Over the past four years at Ohio State, Battle has emerged as one of the best sprinters in the country. After winning Big Ten freshman of the year honors in 2018, Battle won seven individual Big Ten championships over the past three years and was the Big Ten's outdoor track athlete of the year this spring after she won conference titles in the 100-meter dash, 200-meter dash and 4x100-meter relay.
With the encouragement of her coaches and teammates, Battle believed she could become an Olympian, and now she is. 
"My dreams are coming true," Battle said. "Being little and not taking track so serious and to become an Olympian, it's unbelievable."
Battle, who is set to graduate from Ohio State in August with a degree in human development and family sciences and has not yet decided whether she will use her extra year of eligibility to compete for the Buckeyes next year, says her coaches at Ohio State are "always there for me whenever I need anything," which has helped her get to this point. And alongside four other current and former Ohio State athletes – Aquilla, Clemons, Eric Harrison (who will running the 4x100-meter relay for Trinidad & Tobago) and Maggie Barrie (who's running the 400-meter dash for Sierra Leone) – she's hoping to put Ohio State's track and field program on the map in Tokyo.
"Seeing that we have five athletes going, I think that's pretty amazing," Battle said. "We have a lot of talent on the team that goes unnoticed, and I think that this will actually shed some light to them too and have people look more into the program and see the talent that we do have."
While the competition for a medal in Tokyo will be even tougher than the competition she's faced throughout her college career at the Olympic Trials, she's already proven that she can rise to the occasion on the big stage. And now with a sub-22-second time to her name, Battle is the fifth-fastest 200-meter runner in the world this year, behind only Thomas, the Jamaican duo of Shelly-Ann Fraser-Pryce and Shericka Jackson and Prandini.
Battle's quest for a medal will begin on Aug. 2, when first-round competition in the 200 will take place. The semifinals will take place later that day, while the final will be held on Aug. 3.
As of last Friday, Battle said it still hadn't quite hit her yet that she's an Olympian. That might not happen until she actually arrives in Tokyo. She's trying not to get caught up in the hype, instead keeping her focus on training and continuing to do the things that have gotten her to this point.
She's felt no shortage of excitement, though, from her family, who won't be able to travel to Tokyo due to a COVID-19 state of emergency in Japan, but who she knows will be watching and supporting her from afar as she competes.
"This is a great experience. For me, and more for my family, I think they're more excited than I am," Battle said. "Who can say that like, 'Oh, my sister's an Olympian,' or 'My daughter's an Olympian.' It's crazy."