The Bucks are hot, as Andrew Magno has said. But can they stay hot?
Ohio State made a miraculous Big Ten tournament run as a seventh seed, becoming the lowest-seeded team to ever claim the championship, which meant it earned an automatic bid into the NCAA tournament. Andrew Magno earned most outstanding player of the conference tournament honors, and Seth Lonsway, Griffan Smith, Dillon Dingler, Brady Cherry and Dominic Canzone also made the all-tournament team.
Now with a shot to play in the NCAA tournament, the Buckeyes once again find themselves as significant underdogs. They earned the fourth seed in the Nashville Regional, which includes No. 1 seed Vanderbilt, No. 2 seed Indiana State and No. 3 seed McNeese.
| Who | Where | When | TV |
| --- | --- | --- | --- |
| Vanderbilt (49-10, 23-7) | Nashville, Tennessee | 7 p.m. | ESPN2 |
Ohio State will open the Regional by facing the Commodores, the No. 2 overall seed in the NCAA tournament. The game will begin at 7 p.m. Friday, and it will be broadcasted on ESPN2.
"When you come to Ohio State, you want to win a championship," Canzone said. "Dog piling at the end in Omaha has always been a dream. That dream came true, but we have a lot more work to get back there. I don't think we care who we play. If we play our game, we can compete with anybody in the country. We're ready."
The Nashville Regional
The NCAA baseball tournament opens with 16 Regionals, which are hosted by the top-16 seeds in postseason play. One team advances from each Regional, meaning the 16 teams that moved on will participate in Super Regionals hosted by the top-eight remaining seeds.
Here's the setup of the Nashville Regional. It is a double-elimination format. 
Friday
Game 1: No. 2 Indiana State vs. No. 3 McNeese at 1 p.m.
Game 2: No. 1 Vanderbilt vs. No. 4 Ohio State at 7 p.m.
Saturday
Game 3: Loser of Game 1 vs. Loser of Game 2 at 1 p.m.
Game 4: Winner of Game 1 vs. Winner of Game 2 at 7 p.m.
Sunday
Game 5: Winner of Game 3 vs. Loser of Game 4 at 3 p.m.
Game 6: Winner of Game 4 vs. Winner of Game 5 at 9 p.m.
Monday
Game 7 (if necessary): Winner of Game 4 vs. Winner of Game 5 at 7 p.m.
Ohio State vs. Vanderbilt
Though Ohio State has won 11 of its last 13 games, it's running into one of the best teams in the country on Friday. 
Vanderbilt, an SEC power with 13 NCAA tournament appearances in a row and three College World Series appearances, has a 49-10 record this season. Greg Beals, Ohio State's head coach, has never won more than 44 games in a season.
The Commodores, who have the benefit of hosting the Nashville Regional, have a 28-5 home record this season, and they're riding a nine-game winning streak. Most recently, they knocked off Auburn, Mississippi State, LSU and Mississippi on their spotless run to win the SEC tournament championship.
Ohio State, though, just entered enemy territory and pulled out a postseason win. Nebraska hosted the Big Ten tournament, and the Buckeye beat the Cornhuskers, 3-1, on Sunday to win the title.
"We just played in front of 17,000 (fans) for a B1G Championship," Magno said. "We've played high caliber teams before. We played Oregon State a lot the past few years. You can't hype it up. Any team can be beat any day."
Ohio State's Garrett Burhenn and Vanderbilt's Drake Fellows are expected to face off as starting pitchers on Friday.
Burhenn, who has a 6-3 record, maintains a 3.53 ERA, the best among Ohio State's starting pitchers. He has thrown 66 strikeouts in 86 2/3 innings, allowing 28 walks and 89 hits. Opponents have hit .271 against him, and he has allowed three home runs.
Fellows hasn't lost this season, holding an 11-0 record. He has a 4.05 ERA with 108 strikeouts in 91 innings. He has allowed 83 hits and 36 walks. 
The winner of this game will play the winner of Indiana State-McNeese at 7 p.m. Saturday. The loser will face the loser of Indiana State-McNeese at 1 p.m. Saturday and will be one loss away from elimination.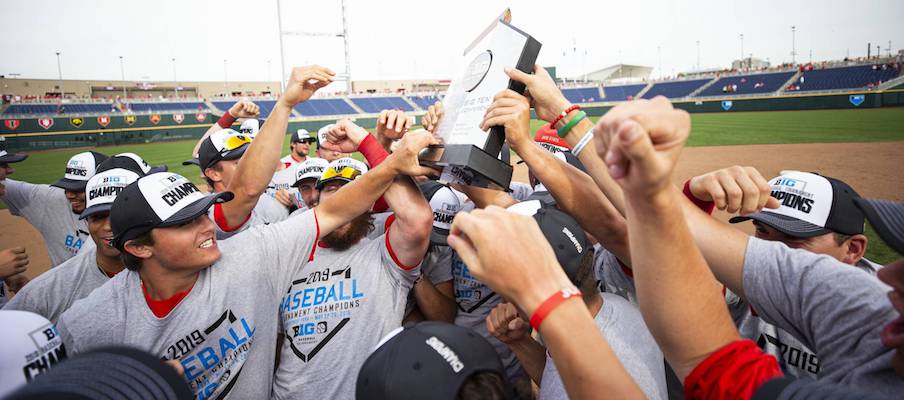 What To Know About Ohio State
Despite at RPI in the 100s, a .500 regular season conference record and the necessity to win the Big Ten tournament to even earn a bid into the NCAA tournament, Baseball America listed the Buckeyes as one of the two most dangerous No. 4 seeds.
Ohio State went on an absolute tear to end the season. It dropped a game to Minnesota in the Big Ten tournament, but otherwise beat Michigan, Maryland, Minnesota and Nebraska en route to winning the title. None of those victories came by more than two runs.
Dominic Canzone leads the Buckeyes' offensive effort. He's one of two players on the team, which has a .268 combined batting average, to hit better than .300 this season. The Big Ten player of the year candidate has hit .350 with 15 home runs and 42 RBIs. He also has 17 doubles and nine stolen bases with a .445 on-base percentage, all of which are team highs. 
Brady Cherry, another middle-of-the-order bat, has hit 15 homers and 49 RBIs while hitting .308. Catcher Dillon Dingler hits .291 with a .399 on-base percentage.
Burnhenn will combat Vanderbilt's offensive prowess on the mound Friday night. Ohio State also heavily relies on Magno (2.20 ERA in 57 1/3 innings) out of the bullpen. He's the only reliever with a sub-4.00 ERA. 
What To Know About Vanderbilt
Few teams in the country can score quite like Vanderbilt.
The Commodores rank fifth in the country and first in the SEC with 8.5 runs per game, trailing only New Mexico State, Arizona, Penn and Central Michigan. For comparison, the Buckeyes average 5.6 runs per game, which is 169th in the nation.
Pick almost any offensive stat, and you'll find Vanderbilt in the top 10.
Batting average: .319, fourth in the country
Slugging percentage: .521, fourth in the country
Hits: 664, fourth in the country
Doubles: 143, fourth in the country
On-base percentage: .417, seventh in the country
J.J. Bleday, a projected top-10 pick in the 2019 MLB Draft, leads the nation with 26 home runs. The powerful corner outfielder hits .357, has a .467 on-base percentage and a .752 slugging percentage. He also has 11 doubles, 67 RBIs and a team-high 48 walks.
Austen Martin leads the SEC with a .414 batting average. He has 18 doubles, four triples, six homers, 36 RBIs and 17 stolen bases. He also has a 33-to-28 walk-to-strikeout ratio. Four other Commodores with at least 30 starts — Stephen Scott, Cooper Davis, Ethan Paul and Philip Clarke — bat better than .300.
Vanderbilt's pitching staff has a combined 3.80 ERA, which is the 35th-best in the country.
Mason Hickman (2.20 ERA in 73 2/3 innings), Patrick Raby (2.90 ERA in 91 innings) and Kumar Rocker (4.14 ERA in 71 2/3 innings) are the Commodores' starting pitchers, along with Fellows, the starter on Friday. Tyler Brown (2.01 ERA in 40 1/3 innings), Jake Eder (2.97 ERA in 33 1/3 innings) and Ethan Smith (3.30 ERA in 30 innings) are among their top relievers.