Welcome to Saturday Spotlight! Here, we dive deep into the lives of Ohio State student-athletes and learn more about their journeys to Columbus, their love of the Buckeye traditions and who they are as competitors and students.
As a native of New Albany, Ohio, sophomore Francesca Di Lorenzo was regularly in attendance at Ohio State women's tennis matches as a kid — and now a handful of years, three ITA national championships and an All-American season later, she's back on the court for the Buckeyes for another season.
We sat down with Francesca to discuss her top tennis moment, being a student-athlete and more.
When did you realize you may have a chance to play tennis in college?
FDL: Probably when I was around 13 years old. I started getting more into it, and playing more tournaments. I started late, I guess you could say, around 11 years old, and that's pretty late for tennis. Around 13 or 14, I started playing more tournaments and I was doing better, winning a few tournaments here and there. I just got excited and started practicing more, and I knew I wanted to pursue the sport professionally, but first in college.
What drew you to come to Ohio State outside of tennis?
FDL: The number one thing was the coaches and the team for me. Growing up in Ohio, I came to the matches, saw the girls on the team, watched them compete and I knew they were continuing to do better each year. I think that was really important for me, to know that a team was on the rise, wanting to get better and not just staying where they are — and the coaching staff has shown that year after year. Three or four years ago, they were unranked. Then they went from No. 60, to 30, to top-20, to last year when we were No. 1 at some point, so that was really cool. So just to know that a team is on the rise and getting better each year, and the girls are super supportive, those are the two top things for me when coming to school. Everything else is icing on the cake.
What is the best part about being an athlete?
FDL: Definitely having your teammates around. We have 11 girls on the team, so that's 10 other best friends that I get to see every day and practice with, and it's pretty nice to always have somebody to go to, or just to hang out and talk with; You have this support system. From the coaches, to the team, to the trainers, to the nutritionists, you always have someone there to ask a question or to help you out because they always want you to do well. It's an unbelievable support system, and I think that's the best part about being an athlete.
What's been your best tennis moment?
FDL: As a team, for sure last year when we beat Vanderbilt in the semifinals of national indoors. I think that that was kind of a turning point for us because Vanderbilt was number one in the country at the time, so knowing that we could beat and compete with the top players and teams in the country was a really special moment for all of us that gave us a lot confidence — and I think from there, we built on the rest of the season. We got to our first quarterfinal finish at NCAAs, so each of these steps were taking are just getting us to the ultimate goal of a national championship. Individually, it would probably be winning NCAA National Indoors my freshman and sophomore year. That was just really cool and it would be cool to be able to do it again this year, and I just want to keep proving myself and representing Ohio State as best as I can.
Do you or the team have any special superstitions?
FDL: I'm a very superstitious person. I eat the same thing before at Panera, get the same order every time. I always listen to the same songs before warmups, and I always go warm up my serves before we actually warm up. I always come here about 30 minutes early and warm up serves just to know that if my serves don't go well, at least I warmed them up.
What are you studying?
FDL: I'm currently studying sports industry, and I haven't declared it yet, but I'm probably going to minor in law. If tennis doesn't work out, then I'll probably become a sports agent, or even a college tennis coach because that's another way to stay competitive and stay involved in the sport.
What's been your favorite class at OSU and why?
FDL: Probably "Sport for the Spectator." It's not a super challenging class, but the teacher is Riley Shamus and he is an unbelieveable teacher. Just learning about all the different sports and the culture around the world is just very interesting to me. I always have to be active, doing something, so I love anything involving sports.
What's your favorite part about/spot on campus?
FDL: I think sitting right by Mirror Lake. There's benches over by there, and it's very peaceful when you go and sit there. Especially when it's a nice day out, I'll go and do some homework or study — and on a day off, it's really nice.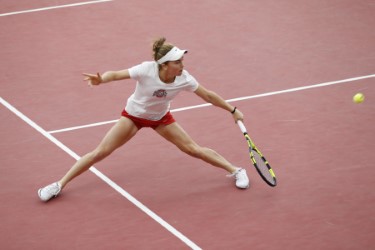 What's your favorite Ohio State tradition?
FDL: I love seeing the marching band at the games. I love watching the different theme they have each week is unbelievable, and it's incredible what they do. As tradition, I love going to the games and being there before and after when they sing Carmen, Ohio, it gives me chills. Just to see everyone together holding hands and singing and swaying back and forth, I don't think any other school does it the way we do.
What's been your favorite aspect of Columbus?
FDL: Definitely the restaurants. I'm Italian, and my mom and dad are straight from Italy, so we always try to experiment with what's the best Italian restaurant here. So we've gone to Forno, we've been to Marcellas, there's a few smaller pizza places that we like, so we'll go to those. But definitely restaurants.
What's been your most embarrassing moment?
FDL: On my unofficial visit here to Ohio State, we went to a restaurant and I didn't know recruits had to pay on unofficial visits. I didn't bring any money, and I ordered a steak, and a dessert, just this expensive meal, and then the coach obviously couldn't pay, so she gave me the check at the end of the meal. I thought she was joking, but she was, like, 'sorry, you have to pay' and I got so embarrassed because I didn't have any money, — but luckily my brother was a senior at Ohio State at the time, so I was able to call him up and he could lend me some money.
What's something that not a lot of people know about you?
FDL: I guess that I speak Italian, maybe? I also used to play two other sports and was super involved in those, and actually was not into tennis until around 13 when my mom made me choose. I have three other siblings, and my older sister was very involved in sports and my mom was going crazy, so she had me choose and I decided tennis because I won the tournament before — not because I was really loving it or anything. So I wasn't really sure about tennis, it wasn't that straightforward for me, and it took me awhile for me to get into it.
What is something you would tell an incoming tennis recruit or just an regular, academic student about Ohio State?
FDL: For a tennis recruit, I would say that if tennis is your top priority, look at a team that is getting better each year and look at coaches that are very active on the court. I think one thing that maybe isn't so good about college tennis sometimes is that the coaches are very laid back, and they're not very interactive with their players in terms of feeding, being on the court and giving them advice. We sometimes see when we go other places it's just the girls hitting on the court every time, and I think that's something our coaches do really well. They're always giving us advice, feeding from the basket and I just think they put in the work. So for tennis recruits, you want to know that the coaches are interested and not going to be on the sidelines the whole time, but they're going to be on the court motivating and pushing you.
For a regular student, I think just the atmosphere and how you always have some there for you. From a tutor to a teacher, they're always willing to help you out and put in the work. Gamedays are just unbelieveable, so go to a football game and you'll see. It's incredible how everywhere we go when we travel, we always say that we hear someone say "O-H" or "Go Bucks, and I don't think you get that at other schools. There's an Ohio State fan around the world; they're everywhere.