As a famous internet blogger/quarantined high school teacher, I keep myself in elite condition at all times.
Articles like "What If The Big Ten, But Dogs?" and "Jim Harbaugh Is Dumb, Hahaha" don't just happen, they require a chiseled frame and a rapier wit, and both of those things must be fed physically and spiritually with delicious food slathered in BBQ sauce. On a daily basis, hourly if possible.
I'm a discerning connoisseur of fine sauces and meats; yes, it's true that I'll haphazardly gorge myself on just about anything you put in front of me like a starved gibbon, but whether I'll savor it or not is a different matter altogether.
So when Jason put out a call to review Nick Mangold's new BBQ sauce, Mangold's Seventy-Four BBQ, I was admittedly interested but also hesitant.

Yes, Nick Mangold is a legendary Buckeye, collegiate All-American, seven time Pro Bowler, and somehow the greatest Army All-American of all time, but does that mean the dude makes a good BBQ sauce?
Setting down my plate of wings, I licked the grease from my fingers and told Jason that I'd possibly be available to give my impressions... if, and only if, Mangold's Seventy-Four BBQ was everything it claims to be.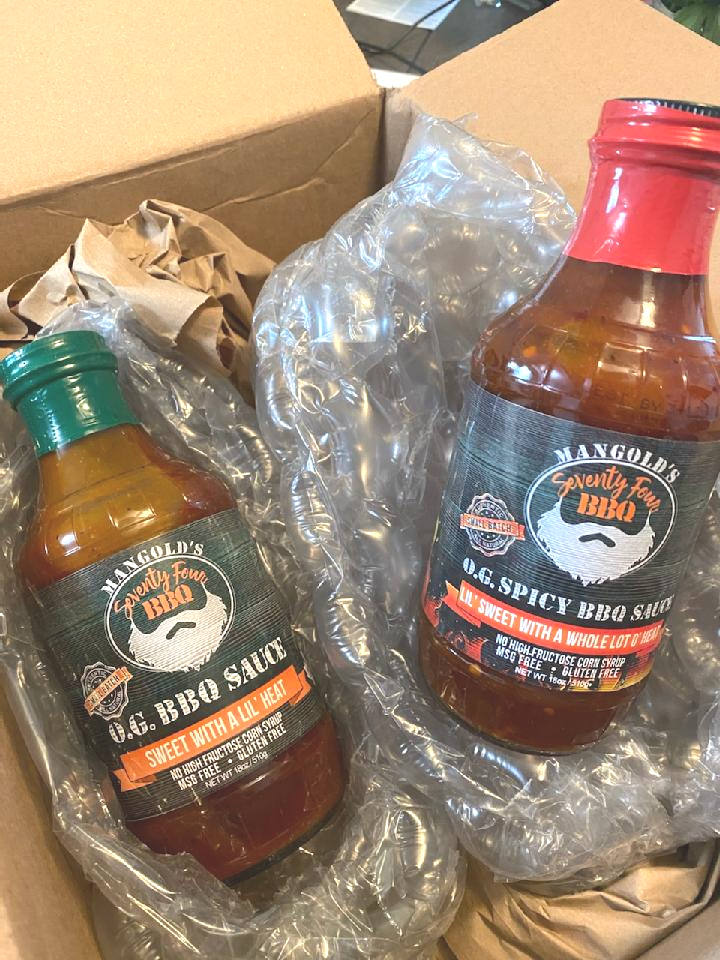 A few days later, a box arrived at my house, containing two 18 oz bottles labeled O.G. BBQ Sauce and O.G. Spicy BBQ Sauce claiming to be "SWEET WITH A 'LIL HEAT" and "'LIL SWEET WITH A WHOLE LOT O' HEAT" while bearing a forest green logo featuring Nick Mangold's signature beard. A Johnny Ginter brand BBQ sauce would likely be a greyish-green concoction in a half-filled mason jar, but Mangold's Seventy-Four BBQ sauce is an appropriately dark amber color presented in classic BBQ fashion.
Ignoring my labored breathing as I strained to pry open the bottles, my wife noted that the sauces are gluten free, MSG free, and contain no high fructose corn syrup. The lack of MSG means basically nothing, but as I have a few people in my life with celiac disease, I knew they'd appreciate this the next time they come over to grill out.
But all of this was prologue, of course.
On to the tasting.
Used as a base for chicken thighs and then added after grilling, both the O.G. BBQ Sauce and the O.G. Spicy BBQ Sauce performed admirably. Mangold's Seventy-Four BBQ sauces have that classic backyard barbecue smell, along with a hint of what appears to be an influence of Asian cuisine. The sauces we tried had a silky-smooth texture that was neither too chunky nor too watery, and spread very well over the food we had prepared.
Both sauces are tantalizingly sweet, maybe even a little too much so for some BBQ purists, but not this reviewer. Careful not to spill any on my t-shirt, pulled tightly over my distended stomach, I noted that there were flavor notes of honey and maple syrup throughout. Paired nicely with chicken, Mangold's Seventy-Four BBQ sauces might not perform as well with heavier meats, but it is 100% worth trying regardless.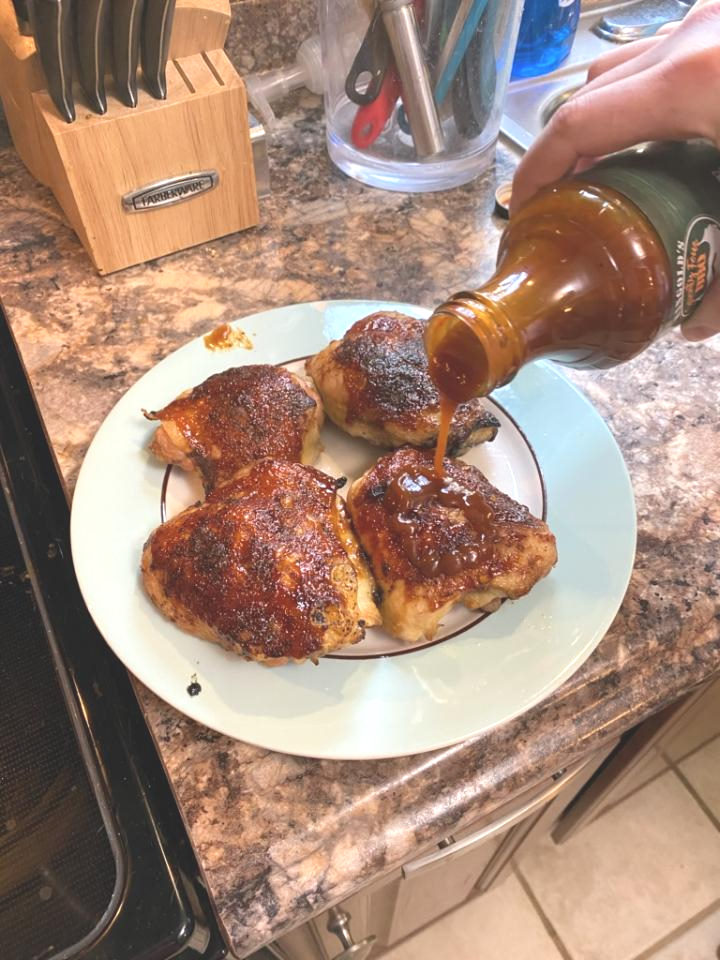 It should be noted that the O.G. Spicy BBQ Sauce still has some work to do to live up to its name. While flavorful and robust, it is a level of spice made with your nieces and nephews at the kid's table in mind, not sweaty chiliheads looking for a Rob Stone style experience.
But that's not the mission of Seventy-Four BBQ. A father of four, Mangold is inspired by his children to create these sauces; his website promises the third and fourth sauces will be a honey BBQ sauce (as a tribute to his first daughter) and a vinegar sauce made with apple cider (as a tribute to his second daughter, born during fall of 2019). I look forward to both.
"Nick diligently perfected the combinations of his recipe's ingredients with the cores of pure maple syrup, vinegars, and sriracha, tinkered some more and decided he was ready to make another shotgun snap," claims Mangold's Seventy-Four BBQ's website, and it's a welcome thing that he did.
I give the first two BBQ sauces from Seventy-Four BBQ a highly scientific 7.8 out of 10, and am excited to see what comes next from the big guy.