Good afternoon Dubbers and a Very Happy Hump Day to one and all!
I was merrily browsing through some of the daily readings on our favorite website covering all things Ohio State football and I ran across a link to a page that discusses Projecting college football's 25 best defensive players in 2019.
It was a good read with excellent write ups on many players and it did a fair job of projecting what the top 25 best defensive players would look like in 2019, with Chase Young being named the pre-pre-season favorite. That all looks good but let's not forget we are in the most barren months, also referred to the summer off-season and a lot can happen between now and when we look back at this list once 2019 closes the curtains.
I finished the article and continued to scroll down the page when my eyes happened upon another article discussing CFB and talent development.
Not much of a surprise when you get a quick glance at the first image in the article and it looks like this: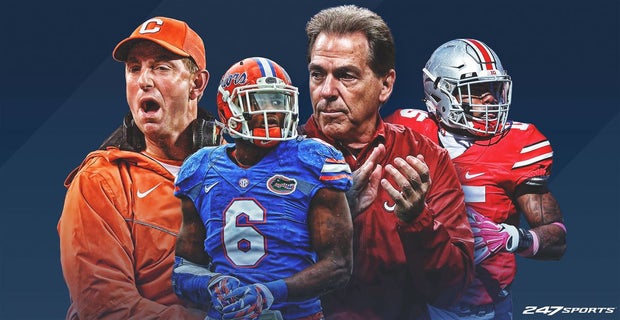 When discussing CFB over the last couple seasons, a handful of coaches/schools are typically involved when you talk about the which programs develop elite talent prospects. Saban, Dabo, (even though it hurts my Buckeye Heart to type those four letters in this discussion) The Ohio State University and ... the Florida Gators.
My first though was, the Florida Gators? Well, imagine my surprise when not only are they in the top 4 but Florida is #1 in developing elite talent on the football field. Yes, that University of Florida where UFM won two of his three Nattys!! Maybe there is something to the notion of Florida being a hotbed of HS football talent!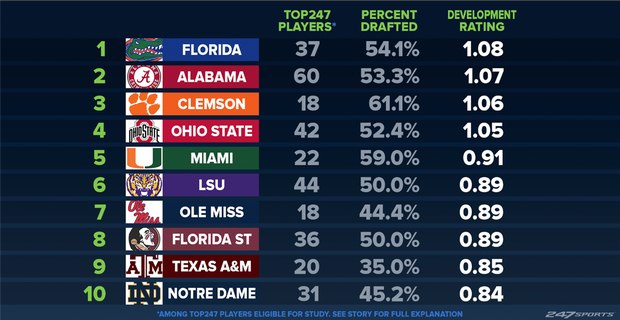 I won't spend a lot of time on the specifics as you can read as much or as little of this article as you deem appropriate but I can't let you finish reading this without the punchline:
Michigan's Top247 players during this era only became NFL Draft picks at a 26 percent rate.
Here's the bottom feeders of that same list, which ranks the worst of the worst and guess who happens to occupy one of the seats at the bottom of the list...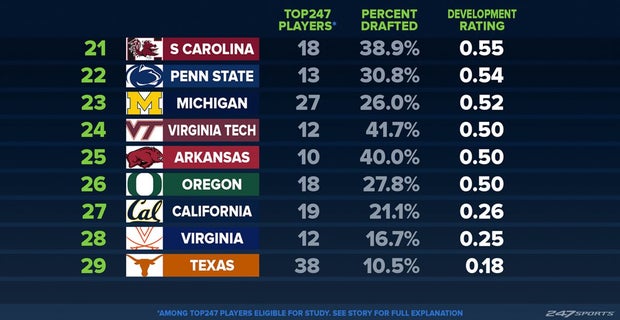 Now your read is complete and you can happily wallow in knowing that once again, The Ohio State University football is the cream of the crop in not only the B1G but also among the best teams in the nation.
Banter on Dubbers! Oh, and how about those Ohio State Buckeyes?!?