Visitors List (Subject To Change)
Today (Elite 11)
'15 QB Joe Burrow (The Plains, OH) - commit
'17 QB Danny Clark (Massillon, OH) - commit
'15 QB Alex Malzone (Bloomfield Hills, MI) (Michigan Commit)
'15 QB Lorenzo Nunez (Kennesaw, GA) (South Carolina Commit)
'15 QB Ty Storey (Charleston, AR) (Arkansas Commit)
'15 QB Tyler Queen (Kennesaw, GA) (Auburn Commit)
'15 QB Ryan Willis (Mission, KS) (Kansas Commit)
'15 QB Ben Hicks (Waco, TX) (Houston Commit)
'15 QB Billy Bahl (Woodstock, IL)
'15 QB Brett Kean (Lakewood, OH)
'15 QB Reese Ryan (Lexington, KY)
'15 QB James Morgan (Green Bay, WI)
'15 QB Riley Neal (Yorktown, IN)
'15 QB Austin King (Alpharetta, GA)
'16 QB Messiah DeWeaver (Trotwood, OH)
'16 QB Elijah Cunningham (Springboro, OH)
'16 QB Brennen Wooten (Marble Falls, TX)
'16 QB Noah Wezensky (Fort Wayne, IN)
'16 QB Deuce Wallace (Reserve, LA)
'16 QB Jacob Harrison (Dayton, OH)
'16 QB Steven Frank (Oswego, IL)
'16 QB Karé Lyles (Scottsdale, AZ)
'17 QB Hunter Johnson (Avon, IN)
'17 QB Will Phillis (Lewis Center, OH)
'17 QB Lindell Stone (Southlake, TX)
Today
'16 OH TE Jake Hausmann (Cincinnati, OH)
Tomorrow
'15 WR A.D. Miller (Dallas, TX)
June 8th (One Day Camp)
'15 QB Joe Burrow (The Plains, OH) - commit/tentative
'15 QB Travis Waller (Anaheim, CA) - tentative
'15 TE Josh Moore (Olathe, KS) - tentative
'15 OL Grant Schmidt (Sioux Falls, SD)
'15 OL Chandler Cotterman (Anna, OH) (Toledo Commit)
'15 DE Darius Fullwood (Olney, MD)
'15 LB CJ Stalker (West Chester, OH)
'15 DB Ronnie Harrison (Tallahassee, FL) (UNC Commit)
'15 DB Jeff Christian (Cincinnati, OH)
'15 DB Tyler Green (Hyattsville, MD)
'15 DB Kei Beckham (Trotwood, OH)
'16 RB Demario McCall (North Ridgeville, OH)
'16 OG Drake Jackson (Versailles, KY)
'16 DE Jonathon Cooper (Columbus, OH)
June 9th - 11th (Kicking & Long Snapping Camp)
'15 C/LS Liam McCullough (Columbus, OH)
'15 DB Meiko Dotson (Daytona Beach, FL) - tagging along with coach
'15 ATH Ray-Ray McCloud III (Tampa, FL) - visiting on 11th
June 12th - 14th (Three Day Camp)
June 17th - 18th (Skill & Big Man Camp)
'17 QB Danny Clark (Massillon, OH) - commit
'15 TE Chris Clark (Avon, CT)
'16 TE Luke Farrell (Perry, OH)
'16 OG Tyler Gerald (Portsmouth, OH)
June 19th (One Day Camp)
'15 WR Deric Phouthavong (Columbus, OH)
'15 WR Abu Daramy (Westerville, OH)
'15 DE Darius Fullwood (Olney, MD)
'15 LB Nick Conner (Dublin, OH) - tentative
June 21st (One Day Camp)
'15 TE/DE Jake Pickard (Millburn, NJ)
'15 WR Kahlil Lewis (Miramar, FL) (West Virginia Commit)
'15 DE Kengera Daniel (Raleigh, NC)
'15 LB Nick Faulkner (Canton, OH)
'15 LB Nick Conner (Dublin, OH) - tentative
'15 DB Kendrell McFadden (Hollywood, FL) (West Virginia Commit)
'16 RB Matt Falcon (Southfield, MI)
'16 RB Robert Washington (Huntersville, NC) - tentative
'16 OL Gavin Cupp (Leipsic, OH)
'16 LB Ethan Tucky (Delaware, OH)
'16 DB Austin Andrews (Columbus, OH)
'16 ATH Tyrece Speaight (Akron, OH)
'18 OT Will Lawrence (Memphis, TN) - tentative
June 25th
'17 WR Trevon Grimes (Fort Lauderdale, FL)
July 25th (Friday Night Lights)
'17 QB Danny Clark (Massillon, OH) - commit
'15 RB Damien Harris (Berea, KY)
'15 WR Tristan Payton (Jacksonville, FL) - tentative (Florida Commit)
'15 OT Drew Richmond (Memphis, TN)
'15 DE Darius Fullwood (Olney, MD)
'15 DB Will Sunderland (Midwest City, OK)
'16 WR Justin Layne (Cleveland, OH)
'16 DE Jonathon Cooper (Columbus, OH)
'16 LB Shaq Quarterman (Orange Park, FL) - tentative
Rivals$--Burrell recaps encore visit to Ohio State '15 VA OL Matthew Burrell
Matthew says the visit was excellent and he spent plenty of time with Coach Meyer and Coach Johnson. He will decide after taking visits.
New
Rivals$--Fullwood is no stanger to Columbus '15 MD DE Darius Fullwood
Darius enjoyed getting to know the coaches better and will be returning for the one-day camp on June 19th.
Rivals$--Gallimore has big weekend at Ohio State '15 ON DT Neville Gallimore
Neville enjoyed his time in Columbus and definitely connected with the staff.
Rivals$--Harris getting comfortable with Ohio State '15 KY RB Damien Harris
Damien will cut down to eight schools by the end of the week and will definitely take all five official visits. He is building a strong relationship with tOSU's staff.
247 $ - Hausmann Has Insane Time At Ohio State '16 OH TE Jake Hausmann
Visited today with his parents & loved it.
NFTC Columbus: More News and Notes (11W)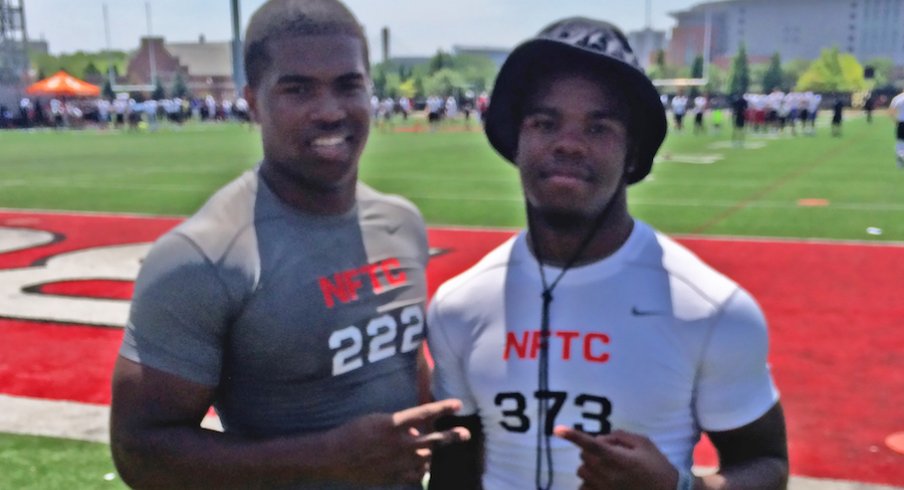 Lots of happenings around today's NFTC in Columbus, so I wanted to put together a few notes and thoughts on guys that were here. No time for introductions!
cont...
2015 Georgia OL Standout Venzell Boulware Discusses Buckeyes Visit (11W)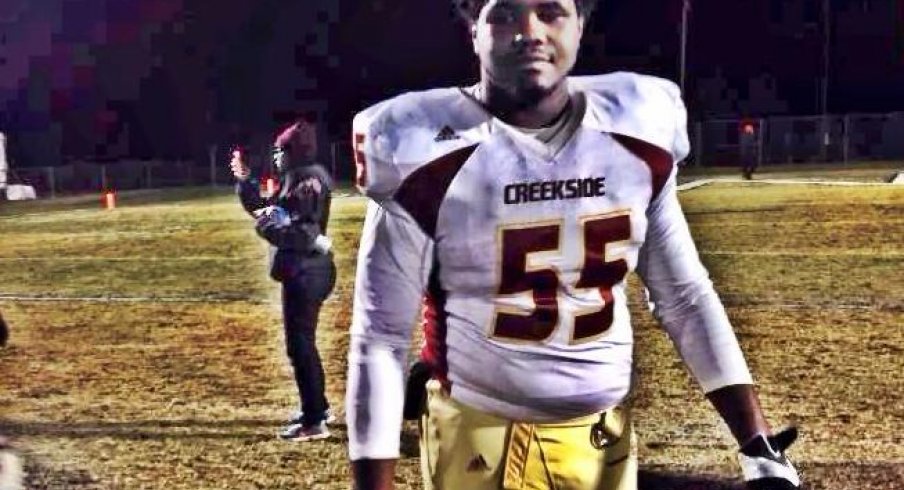 He's visited Clemson, Alabama, Florida State, Tennessee, Georgia, Auburn and others, Fairburn, but Georgia 2015 offensive lineman Venzell Boulware made no bones about it. His two-day visit to Ohio State this past weekend has set the standard.
cont...
Cass Tech Becomes Recruiting Target for Buckeyes (11W)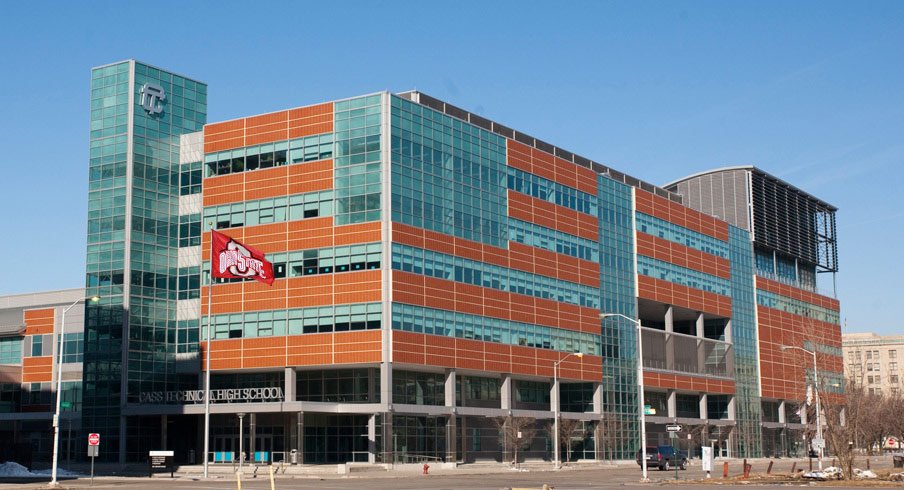 Michigan has convinced countless Ohioans to travel north and play football for the maize and blue for several decades, transforming them into home-state pariahs in the process.
cont...
Jashon Cornell and Darius Fullwood Enjoy Ohio State Visit, Columbus NFTC (11W)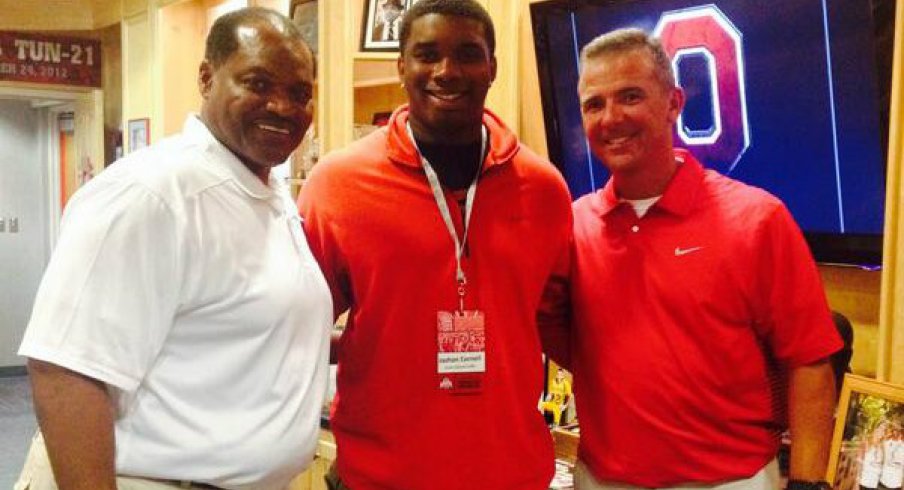 Following the Columbus Nike Football Training Camp event, Eleven Warriors spoke with two attendees, defensive lineman Jashon Cornell and defensive end Darius Fullwood. Each recruit excelled in workouts, and landing them would add to the riches of defensive lineman Urban Meyer has signed since coming to Ohio State.
cont...
Elite 11 Columbus: Buckeyes On Center Stage (11W)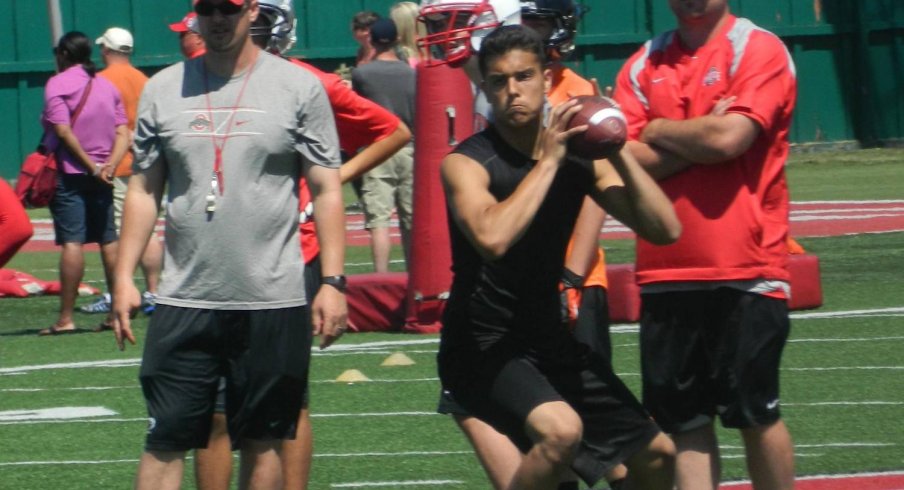 Day two of the summer's biggest camp series, the Nike Football Training Camp and the Elite 11, is upon us. Tonight, on the campus of the Ohio State University, some of the nation's best quarterbacks will compete for a spot in the prestigious Elite 11 finals July 5-7 in Eugene, Oregon.
cont...
Cincinnati Moeller 2016 Tight End Jake Hausmann Talks Buckeyes Visit (11W)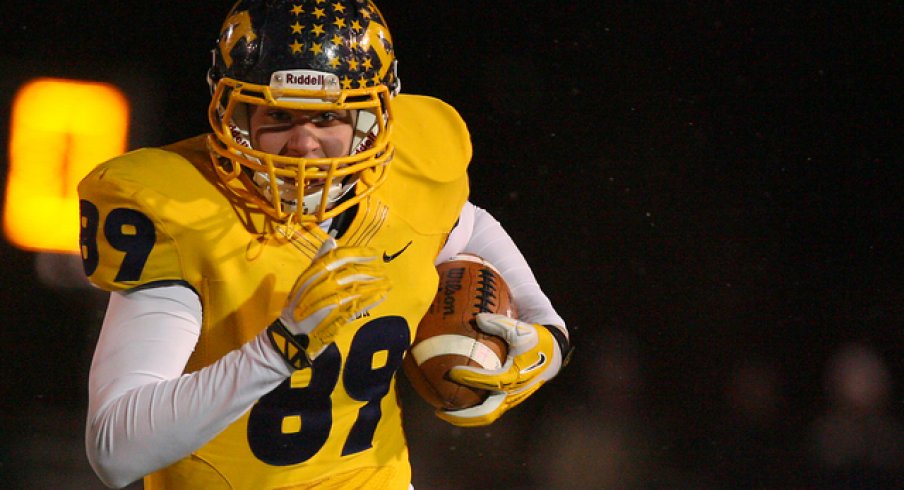 After standing out during yesterday's NFTC event in Columbus, Cincinnati Moeller 2016 tight end Jake Hausmann decided to stick around for a night to make a college visit with the Buckeyes today.
cont...
Five-star RB prospect Damien Harris on Urban Meyer - 'We get to enjoy life together right now': Buckeyes recruiting (Plain Dealer)
COLUMBUS, Ohio -- We've seen what can happen when Damien Harris is on Ohio State's campus. When the five-star running back recruit from Kentucky, ranked as the No. 1 running back and No. 4 overall prospect in the nation by Rivals.com, appeared at an OSU basketball game with Urban Meyer in February, a lot of people noticed.
cont...
Ohio State recruiting: State Secrets, 6/2 - Venzell Boulware recaps visit, Buckeye targets shine at NFTC, and more (LGHL)
Ohio State played host to quite a few top prospects this weekend, including class of 2015 Venzell Boulware. See what the Georgia native had to say about his visit to OSU, which prospects turned heads at the NFTC in Columbus, and much more.
cont...