Before we get started with today's edition, just wanted to give an update. As of today, I will be releasing the Quick Bits post as norm here in the recruiting forums, only difference will be the time. I am going to try my best to put it out around the same time every night. Right now it will look like to be Monday-Friday between 6-7pm and on Sunday at the same time for the weekend news. This will help you guys out, for anybody that stares at 11W all day, so you know when to expect the thread. Thanks for reading as always!
Visitors List (Subject To Change)
May 10th
Core 6 Day
'15 WR Miles Boykin (New Lenox, IL)
'16 RB George Hill (Hubbard, OH)
'16 WR Emmanuel Rugamba (Naperville, IL)
'17 DB Jared Payton (Columbus, OH)
May 17th
'15 DB Jordan Whitehead (Monaca, PA)
May 31st - June 1st (Columbus NFTC & Elite 11)
'17 QB Danny Clark (Massillon, OH) - commit
'15 RB Natereace Strong (East Saint Louis, IL) (Mizzou Commit)
'15 WR Alex Ofodile (Columbia, MO)
'15 OL Matthew Burrell (Woodbridge, VA)
'15 DE Terry Beckner Jr. (East Saint Louis, IL)
'15 DT Sterling Johnson (Clayton, NC)
'15 DB Cameron Ordway (Pulaski, TN)
'15 ATH Nyheim Hines (Garner, NC)
'15 ATH Jerome Baker (Cleveland, OH)
'16 QB Dwayne Haskins (Potomac, MD) - tentative
'16 DE Kyree Campbell (Woodbridge, VA)
'17 WR Jeff Thomas (East Saint Louis, IL)
'18 RB Ricky Slade Jr. (Woodbridge, VA)
June 8th (One Day Camp)
'15 TE Josh Moore (Olathe, KS) - tentative
'15 LB CJ Stalker (West Chester, OH)
'15 DB Ronnie Harrison (Tallahassee, FL) (UNC Commit)
June 9th - 11th (Kicking & Long Snapping Camp)
June 12th - 14th (Three Day Camp)
June 17th - 18th (Skill & Big Man Camp)
June 19th (One Day Camp)
June 21st (One Day Camp)
July 25th (Friday Night Lights)
'16 LB Shaq Quarterman (Orange Park, FL)
Scout $ - Scarlett has officials in mind '15 FL RB Jordan Scarlett
Will definitely take officials to Wisconsin, Ohio State & South Carolina. Has a good relationship with Coach Drayton. Hearing the most from Miami & Florida State.
Scout $ - Sophomore Acquires Two New Offers '16 FL ATH Korey Charles
Has offers from Miami, LSU, Maryland, Mississippi State, Ole Miss, UNC, Louisville & South Florida. Calls Ohio State his dream school.
Torrance Gibson's Top 15
MY TOP 5 SCHOOLS#ItAintOver #GoHokies #BBN #GoYellowJackets #GoBuckeyes #GoHurricanes pic.twitter.com/ppsCoryX29
— Dee Fullwood (@realdeewood) May 5, 2014
Newly Offered: '15 MN OG Drayton Carlberg
Newly Offered: '15 TN OT Alex Givens
Newly Offered: '15 IN DT Eric Whitehead (Virginia Tech Commit)
Newly Offered: '15 FL OT Jalen Merrick (James Clark Teammate)
Newly Offered: '16 VA CB Wayne Davis (Jalyn Holmes Teammate)
Keep Calm and Trust Urban Meyer or How 2015 Might Finish, Part One (11W)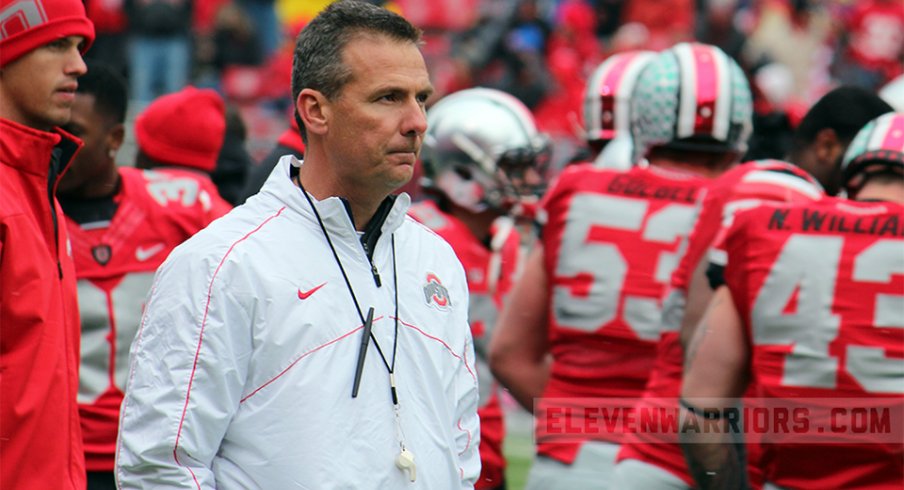 We're a couple hours away from a SARS-level panic from sweeping over Ohio State fans on Twitter, message boards and anywhere else football recruiting is discussed. We're three-plus hours away from Penn State and first-year head coach James Franklin adding two more four-star commitments, both of whom were big targets for the Buckeyes. Brandon Wimbush, the nation's 5th-rated quarterback and offensive lineman Sterling Jenkins will become Penn State's 14th and 15th commitments for 2015.
cont...
Ohio State recruiting: State Secrets, 5/6 - Brandon Wimbush to commit; Penn State the favorites? (LGHL)
Monday proved to be a busy day for Ohio State recruiting, as the Buckeyes were able to make the cut for two of the top prospects in the class of 2015 that released a list of the schools still being considered. The first, '15 DE Darius Fullwood, released a list of top five colleges he was still interested in. In no order, Fullwood listed Virginia Tech, Kentucky, Georgia Tech, Ohio State, and Miami.
cont...
Ohio State recruiting: 2016 WR Emmanuel Rugamba previews Saturday visit and more (LGHL)
Core6 Athletes, a training and recruiting firm based out of the Chicago area, has helped many prospects land division one scholarships over the last few years including current Ole Miss wide receiver Laquon Treadwell, and even future Buckeyes, offensive lineman Jamarco Jones, and defensive end Dylan Thompson. And they're invading Columbus this weekend.
cont...