Welcome to the fifth edition of Unsung Heroes, where I delve into the archives to find some of the best individual performances in Ohio State football history.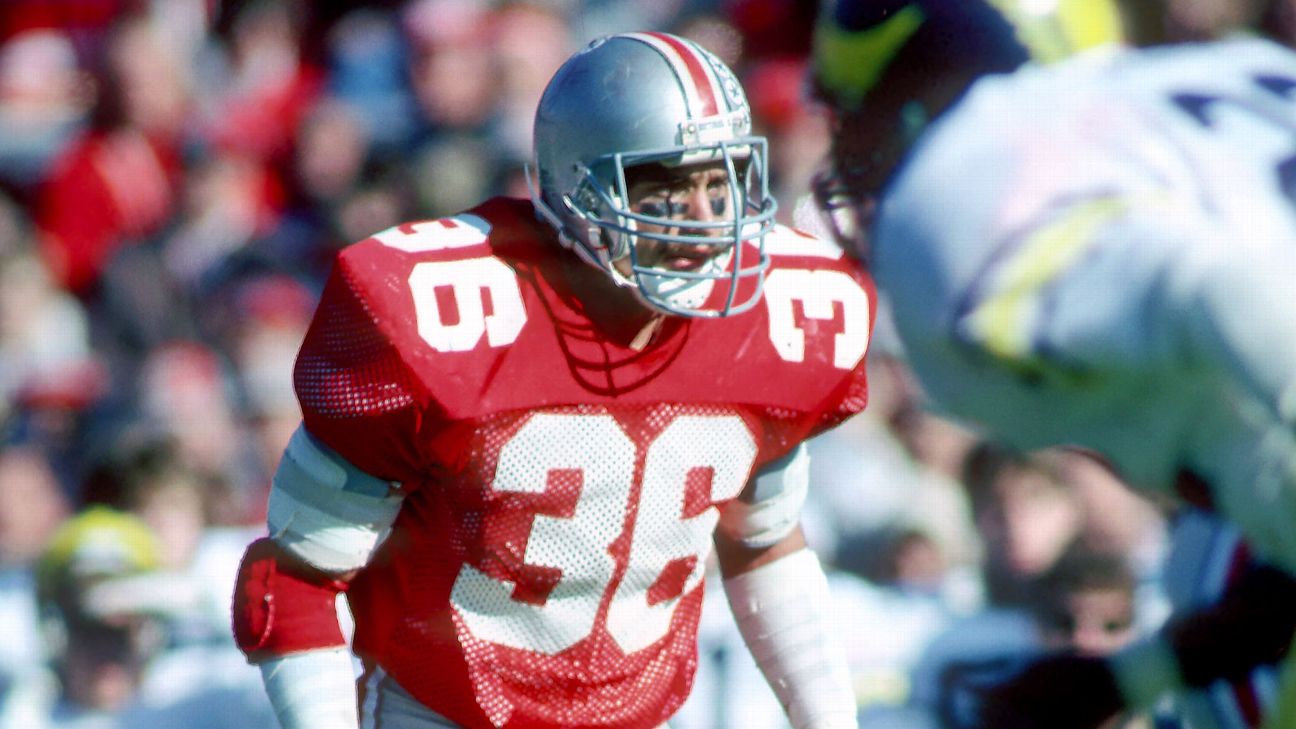 "Men at some time are masters of their own fates. Fate, dear Brutus, lies not with the stars but within ourselves." – Julius Caesar by William Shakespeare
I was not alive when this game occurred. I was still just a tiny little seed in a vast ocean, plotting my victory course against fifty million other sperm cells in a race to reproduction that wouldn't commence for another nine years. But by the good graciousness of the interweb, I'm able to log onto YouTube and find almost any game I so choose.
While this game was being played, my dad had recently graduated from basic training in Paris Island, South Carolina, married my mom in a small wedding ceremony, and was stationed in Bailey Island, Maine. He played high school football at Middletown, where he was a teammate of Cris Carter. But while my dad was busy being stuck in limbo over whether or not he would be deployed in a potential war against the Soviet Union, Carter was shattering the OSU receiving record book. In 1986, Carter recorded 69 receptions for 1,127 yards, averaging over 16 yards per catch, and scoring 11 touchdowns.
For a school best known for producing several Heisman winning running backs, and featuring an offense best known for three yards and a cloud of dust, to have a receiver achieve such impeccable production was unprecedented. Carter played one of his finest games in The Game that same season; catching seven passes for 75 yards and two touchdowns. He may have been the offensive player of the game that afternoon; though it's debatable with Vince Workman rushing for 128 yards and a touchdown on 21 carries.
But while the offensive MVP can be disputed, there is no doubt who the Buckeyes' defensive player of the game was: #36 Chris Spielman.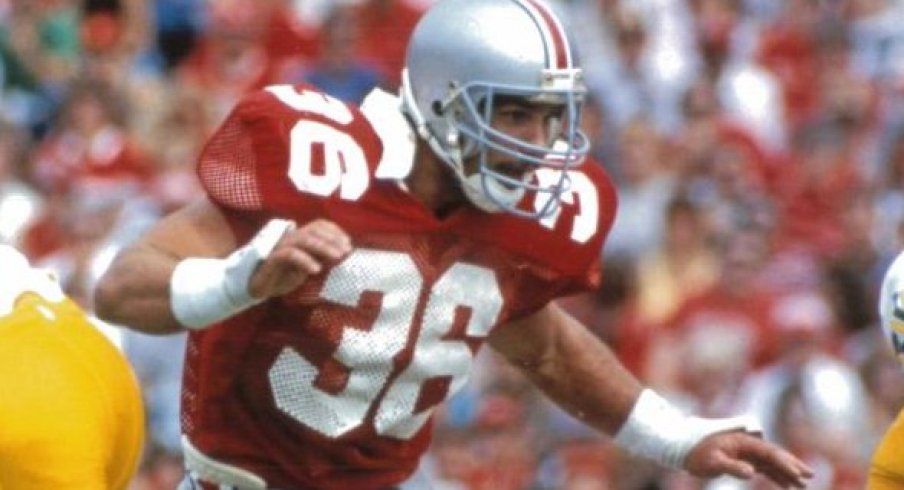 I'm definitely not the first person to write a piece about Spielman's efforts. Jake Anderson and Matt Gutridge of the 11W staff wrote an excellent article about this just a couple months ago. (Which you can read right here)
Because of this, you might see the series title Unsung Heroes and wonder if I even know what the definition of unsung even is. You might even be saying to yourself, "You Can't Spell? More like You Can't Define."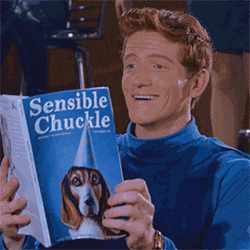 How can someone like Spielman be a part of this series when he's one of the most recognizable players in team history? Especially when everyone that sees the 29 tackle game says the same thing, "Wow! That's amazing!" Indeed it is. But I feel like too many people see 29 tackles as just a number or statistic instead of what it actually was, an impact so monumental that even in a loss to Michigan (barf) the outcome could've been much, much worse.
Spielman was already a sensation coming out of Washington High School in Massillon. He was so good that he became the first high school athlete to ever grace the cover of the Wheaties box. Seems like a lot of hype for a 17-year old. It might overwhelm most kids, but most kids aren't a 230-pound freakin' tackling machine. In OSU's week 2 humiliating 40-7 blowout defeat at the hands of the Washington Huskies, Spielman was the only Buckeye to earn a helmet sticker on that day, recording 22 tackles.
Before he became the annual late November punching bag for both Urban Meyer (fun fact: Urban was a grad assistant in this game) and Ryan Day, Jim Harbaugh was the senior quarterback for Michigan. At the time of his graduation, he was the most prolific passer in the school's history, having set numerous single-game, single-season, and career milestones, even setting the career Division I-A record for passing efficiency that has since been surpassed, while also finishing third in the Heisman Trophy voting in 1986. He's eccentric, sometimes downright creepy, but he was a damn fine football player.
The prior week, on Senior Day in the Big House, unbeaten #2 ranked Michigan lost the Little Brown Jug to unranked Minnesota 20-17, effectively eliminating them from the national championship hunt. When asked if the loss would affect the team's play in The Game, Harbaugh guaranteed a victory against the Buckeyes and a Wolverine trip to Pasadena for the Rose Bowl.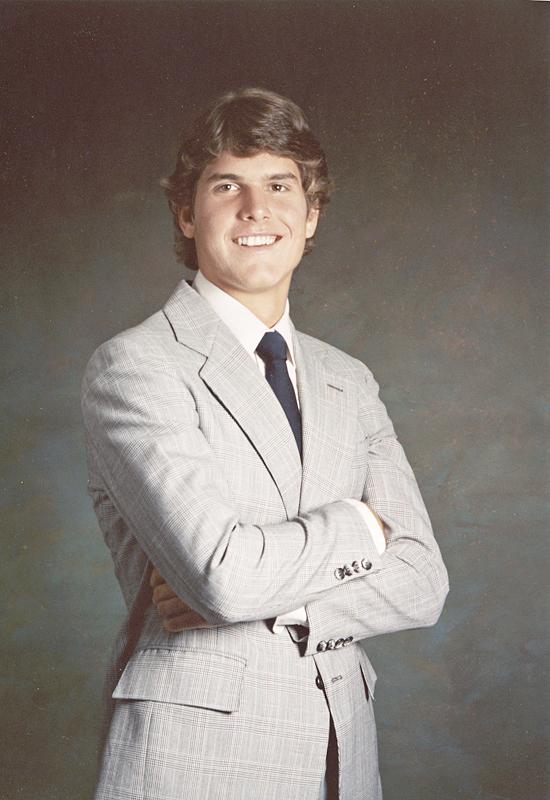 The weather was a pristine 55 degrees with a cool breeze of 10 miles per hour blowing southward, outstanding for late November in Columbus. 90,674 gathered in the Shoe, the largest home crowd ever in Ohio Stadium history up to that point. The winner would be the outright Big Ten champions and would play Arizona State in the Rose Bowl come New Year's Day.
What may be the most fanatical fact about all this was that this wasn't the first time a Buckeye defender recorded 29 tackles in one game. Tom Cousineau recorded 29 tackles in the 1978 season opener against Penn State, a game the Buckeyes lost 19-0 (geez, all these tackles and they all come in defeat). And while Cousineau's performance is nothing short of amazing (good enough to warrant his own Unsung Heroes piece *wink, wink; nudge, nudge*), for Spielman to do this in The Game is what gives him the edge in my subjective viewpoint.
Watching the game, the first thing I notice is that the midfield logo says: BIG 1O, with the Block O acting as the number zero for 10.
Ugh. Seriously, what the hell were they thinking when they put that?
Ohio State gets the ball first, marches right down the field and punctuates it with a four-yard Cris Carter fade in the right corner of the end zone to take an early 7-0 lead. On Michigan's first drive, they took ten plays to go forty yards only to settle for a field goal. Spielman was credited with six tackles on the opening drive alone. Ohio State's second drive culminated in a 46-yard Vince Workman touchdown. 14-3 Bucks.
On Michigan's third drive they run an inside handoff for no gain on 1st down, Spielman makes the tackle. Harbaugh scrambles for a four-yard gain on 2nd. On 3rd, Harbaugh threw to his fullback running a Texas route (better known as an angle route, fake the route outside and run up the field between the hashes), but Spielman was there to break the pass up. Spielman lifts his arms aloft in celebration as the Buckeye defense forces their first three-and-out of the game, while Harbaugh does what he knows best, complains to the head official, lobbying for defensive holding, but to no avail. Michigan punts.
Michigan's fourth drive winds up lasting eight plays and they go sixty-three yards only to settle for three points, making the score 14-6 Buckeyes. By the time the drive ended, there was 6:47 remaining in the 2nd quarter. Michigan had run 29 offensive plays, with Spielman being credited with 10 tackles. The mighty neck roll was only getting started.
Harbaugh led the Wolverines on an eight-play drive before the half expired, but was intercepted at the goal line with 41 seconds left. Ohio State milked the rest of the clock and entered halftime with a 14-6 lead. Michigan had run 37 offensive plays in the first half, Spielman had 12 tackles. Nearly one-third of Michigan's plays ended in a Spielman tackle in the first half. Not only that, but Spielman also hadn't missed a single tackle either, going a perfect 12 for 12 whenever he got his heavily-taped hands on a Wolverine.
Michigan's first drive of the second half lasted 16 plays and resulted in a Jamie Morris 5-yard rushing touchdown to get the Wolverines to within one point. It was the first touchdown allowed by the Buckeyes at home against a Big Ten foe all season.
I won't go into anymore details about the ensuing Michigan drives to spare all of us from the agony. All I'll say is that Michigan's longest play on offense was a 51-yard run by Jamie Morris on the first play of the next series. It was also the only defensive snap that Spielman was not on the field for. I don't believe that to be a coincidence at all.
Jim Karstatos threw an interception on the Buckeyes' first offensive play of the 4th quarter. Spielman had 18 tackles up to that point on 66 plays. The television graphic shows Jamie Morris's stats on the afternoon up to that point (8 minutes left), 25 carries for 194 yards and a touchdown. "A brilliant afternoon by Morris," Brent Musburger said on the broadcast. The very next play, Martin is tackled for a two-yard loss by Spielman, who shot the A gap between the left guard and center, while also tossing the fullback aside. This was the start of something truly special.
Michigan ran 14 more non-kneel down offensive plays, 11 of which resulted in a Spielman tackle. The man didn't seem to know what fatigue was. I can only imagine what he must've looked like to the Michigan offensive line.
The last two plays Michigan ran were tackles #28 and #29 for Spielman. Jamie Morris ran off right tackle, looking like he'd certainly coast to a first down, only for Spielman to wrap his legs up to allow Scott Leach to wallop Morris two yards shy of the marker. On the ensuing 3rd and 2, Michigan handed the ball off to Thomas Wilcher, who was spelling Morris. He was first hit by Spielman at the line of scrimmage, forcing a fumble that was recovered by Sonny Gordon at the OSU 37-yard line with just over 3 minutes remaining down by 2.
We all know what happens next. The Bucks drive down into field goal range, only for Matt Frantz to miss the go-ahead 45-yard field goal. Ohio State was out of timeouts at that juncture. All Michigan had to do was take a couple kneel downs to end the game.
But Spielman's story doesn't end here. The man just never knew how to quit. On Michigan's first kneel down, Spielman can be seen trying to shoot the same A gap he tackled Jamie Morris for a two-yard loss earlier in the game, but wasn't quick enough. On the second kneel down, the final play of the game, Spielman tries to dive over the top to hit Harbaugh and cause a fumble, but is flipped head over heels onto the cold, hard AstroTurf. It's a reminder that whenever you hear Spielman talk about never quitting and playing with all your blood, sweat, and tears for the man next to you, he practiced what he preached. Diving over a pile of offensive linemen, getting back-bodied drop and landing hard on a playing surface many players compare to asphalt, after you just made 29 tackles, all to try and force a mistake on the most basic, routine play in football, a play that 99.99% of times is executed faultlessly, the victory kneel down—it's inspiring. It makes it so easy to see why Spielman was a two-time All-American, the team MVP and Chic Harley Award recipient during his senior season, and the Lombardi Award winner in 1987.
The final stats: Michigan ran 80 plays on offense. Harbaugh threw 10 incompletions and they scored 3 touchdowns, resulting in 13 plays that couldn't end in a tackle. But of the 67 that could, 29 were made by Spielman. This isn't to say that all of his tackles were unassisted, but at this point—who cares? Spielman had a hand (or two) in 43% of the tackles made by the Silver Bullets this game.
And yet, they still lost. It's hard to fathom, but why? How? Matt Frantz is usually the goat for this game, having missed two field goals, including the infamous 45-yarder with a minute remaining. But to make a 45-yarder on a breezy day against your arch rival is a difficult task for anyone, and is by no means a gimme. After having done extensive research for this article, I point my finger at the defense. Michigan has 529 yards of offense, including Jamie Morris going for 210 on the ground, they had nearly 36 minutes time of possession, ran 80 plays, and not once was Harbaugh sacked.
When you look at those stats, it's even harder to fathom how the Bucks only lost by 2. This brings me all the way back to the point I made earlier about how Spielman is still an unsung hero despite the gaudy stat line. Imagine making 29 tackles and the opposing team still has a 200-yard rusher. You're a one man wrecking crew and your team still allows over 500 yards of offense.
Take Spielman out of the equation, imagine he doesn't even dress for the game. What would the score and the stats look like then? Jamie Morris goes for 300 yards? Michigan puts up 40, maybe 50 points? Matt Frantz wouldn't have even had the chance to kick the go-ahead field goal. The Silver Bullets didn't live up to their moniker that day. They were Silver Pellets that would've been lucky to leave a scratch on their target. But there was still one Bullet out there on that field. The lone bright spot on defense, the one consistency was #36, the man with the porn-stache and iconic neck roll.
This post wasn't written to have you dwell in an agonizing defeat, or to have you be reminded of Harbaugh's guarantee, or Matt Frantz's missed field goal. I'm not cruel-hearted. Instead, take solace in the fact that, at the time of this writing, this was Jim Harbaugh's latest victory against Ohio State. Appreciate the fact that this was the final game in the Horseshoe for Cris Carter, one of the greatest receivers in the history of organized football. And don't let defeat overshadow the fact that Chris Spielman played the single greatest game any Buckeye defender has ever played in the 130-year history of Ohio State football.
Thank you for reading.
Video Links:
Ohio State vs. Michigan 1986 (watch at your own risk)
Buckeye Classics: Chris Spielman Episode (20:49)
Previous Unsung Heroes forum links:
(#1) Chris Gamble's Heroic Performance in the 2002 National Championship
(#2) Cameron Heyward's Physical Domination of Arkansas in the 2011 Sugar Bowl
(#3) Beanie Wells's Historic Afternoon Against Michigan in 2007
(#4) Michael Bennett's Emotional Demolition of Wisconsin in the 2014 Big Ten Championship