Welcome to the fourth edition of Unsung Heroes, where I delve into the archives to find some of the best individual performances in Ohio State football history.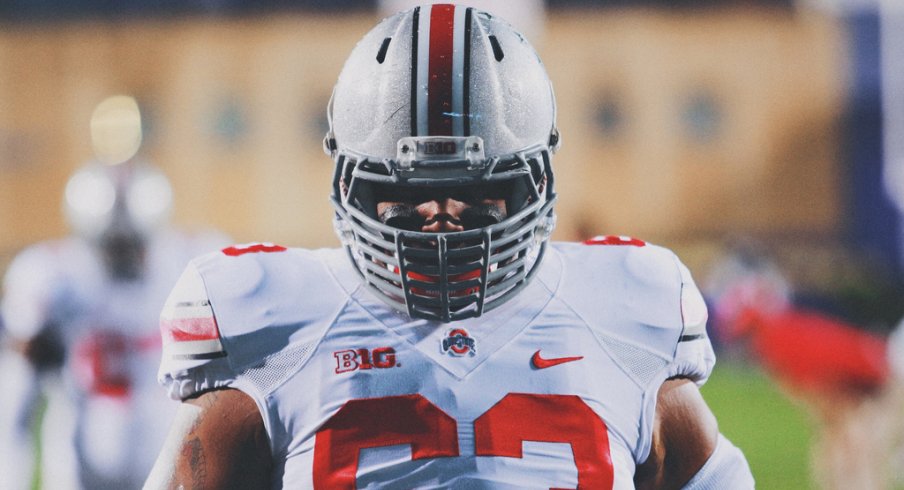 Don't let this distract you from the fact that Wisconsin was a 4.5-point favorite entering this game.
59-0. It has such a sweet ring to it, doesn't it? Arguably the most complete game Ohio State has played in the 21st Century. This game is remembered for several different reasons. 12 Gauge's first start, the whole state of Ohio counting on Cardale Jones, Zeke's first act of his iconic trilogy en route to the playoffs, Devin Smith catching deep ball after deep ball, Luke Fickell's masterful defensive game plan, etc. But there is one key component to all this that deserves more recognition. Ohio State's run-stuffing machine, better known as Michael Bennett.
Entering the game, Ohio State sat at #6 in the rankings, with many believing they needed a statement win against Wisconsin to have any chance of making it into the inaugural college football playoff. When looking at the tale of the tape, you can see why many pundits didn't have much faith in the Buckeyes coming out with a victory, let alone a blowout.
Wisconsin entered the game averaging 334.3 yards rushing per game, good for third in the country, behind only Georgia Southern and Navy, two triple option teams. Melvin Gordon was a Heisman finalist having one of the greatest statistical seasons ever by a running back; having garnered 2,260 rushing yards and 26 touchdowns in the first twelve game of the season. Gordon had more rushing yards by himself than 83 FBS team had for the entire 2014 season. In Wisconsin's week 10 matchup against Nebraska, Gordon broke LaDainian Tomlinson's single-game rushing record with a 408-yard performance in only three quarters of action (Wisconsin scored 56 unanswered points after trailing 17-3 early in the 2nd quarter).
On the flip side, Ohio State's defense, while significantly improved from the dreadful 2013 season, still wasn't considered to be great in their own right. Entering the game, they were ranked 35th in rush defense, allowing an average of 145.2 yards per game on the ground. Not bad, but there was major concern with regards to their recent games. Tevin Coleman of Indiana had rushed for 228 yards and 3 touchdowns against the Buckeyes in their penultimate regular season game; and in the prior three games against Minnesota, Indiana, and Michigan, Ohio State had allowed 206.7 rushing yards in those three contests. Couple that with the fact that J.T. Barrett fractured his ankle late in the Michigan game one week earlier, and the skepticism appears warranted.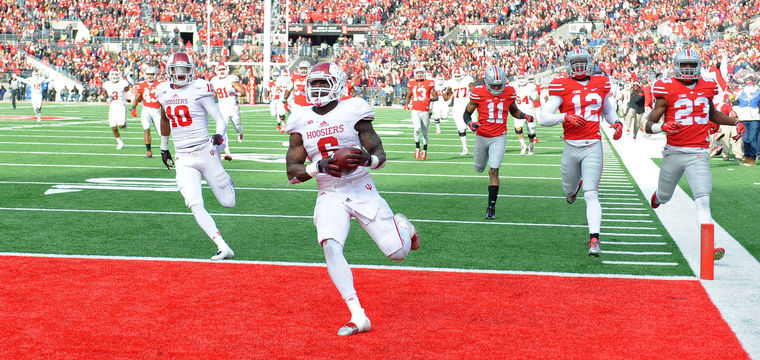 This story can't be told without the inclusion of a tragedy. Ohio State wrestler and walk-on D-tackle Kosta Karageorge was found dead on Sunday, November 30th, 2014, the day after Ohio State's 42-28 win over Michigan, after having been declared missing for four days. To honor him, Michael Bennett changed his jersey number from 63 to 53, the number Karageorge wore. Bennett was especially close to Karageorge, serving as one of his pallbearers during the funeral session. If nothing else, he wanted to have a great game after learning of his friend's passing, in his memory. For both Kosta Karageorge and Michael Bennett, I would deem the ambition as a tremendous success.
On the first third down of the game for Wisconsin's offense, they ran a Power-O play to the right side, with both the fullback and the pulling left guard to act as the lead blockers for Melvin Gordon. Bennett shook off the initial block from Wisconsin right tackle Rob Havenstein, then was met at the point of attack by the fullback Derrick Watt, both players that are currently starters in the NFL, tackled Gordon for a one-yard loss, arose and immediately grabbed his own jersey in honor of Kosta Karageorge.
After OSU downed a punt at the 2-yard line, Bennett surged through the left side of the Badger O-line to nearly force a safety. But Melvin Gordon was able to elude Bennett and gain eight yards. It hardly mattered. Wisconsin couldn't generate anything after their lone first down and were forced to punt it back to the Buckeyes. One play later, Ezekiel Elliott made an 81-yard house call. This one carry by Zeke resulted in more yardage than Melvin Gordon had for the entire game on 26 carries.
Bennett was only on the field for two plays the next drive. It's not without coincidence that that drive produced Melvin Gordon's longest rush of the day—13 yards. In fact, Gordon touted the rock thrice on that drive for a total of 25 yards. Not bad. But once Bennett returned to the field, Wisconsin's immediate instinct was to avoid him at all costs. Joel Stave completed an 11-yard pass to Alex Erickson on Bennett's first play back. The next play Stave was intercepted by Vonn Bell.
Bennett's presence alone was enough for Wisconsin to forsake their biggest strength on offense, a strength that was finally starting to produce for the first, and only, time of the game. Gary Andersen and the Wisconsin coaching staff deemed Melvin Gordon, a back that would finish the 2014 season with 2,587 yards rushing, only 41 yards shy of Barry Sanders's single-season record, to not be able to break free of the relentless rush defense anchored mainly by Michael Bennett. It's safe to say that Sanders's single-season yardage record remains atop the list thanks in large part to Bennett.
While I'm gushing over Bennett, the other D-tackle, Adolphus Washington, was another key cog in the interior of the D-line. He too had a magnificent game, recording four tackles and getting more penetration than Ohio's own Warren G. Harding in a White House closet. One could argue that Washington was in the backfield more often than Bennett; but after watching the film, there's no denying that Bennett had the tougher assignment.
On the drive where Gordon had 25 yards on three carries, Washington was unable to make the same type of plays with either #90 Tommy Schutt or #72 Chris Carter in the game that he was free to do with Bennett beside him. Bennett was the primary focus for Wisconsin's O-line on every run play, double-teaming him with regularity, thus allowing Washington to go against a single blocker, which was child's play for him. With Bennett out, Washington became their main focus on the inside. Take away those three carries, and Gordon's numbers look even more pedestrian than they already were. 51 yards on 22 carries, a meager average of 2.3 yards per attempt. Simply remarkable for a guy averaging 8 yards per carry entering the game.
The constant double teams Bennett faced is what makes his performance so extraordinary. He recorded five tackles, for of those for losses, two sacks, and two forced fumbles, including the Joey Bosa scoop-and-score before halftime that begot a terrific meme.
Gus Johnson and Charles Davis, the two announcers for the game, summed it up nicely. "This is as thorough a dismantling of a quality, good football team that we've seen this year," Davis said. Johnson, while more concise, brilliantly describes the entire team with a single word: "Bloodthirsty."
Bennett, and therefore Washington, were so dominant in the middle of the defense that Wisconsin resorted to running to the perimeter for the remainder of the second half. To put that into perspective, the Badgers looked at Joey Bosa at one end, with Darron Lee and Joshua Perry as the outside backers, and perceived those areas of the field as their most auspicious routes to any semblance of a functional ground game.
The second half was more of the same. The entire team was relentless in their thorough dismantling. "Stop, stop! He's already dead!" the nation screamed. But Urban and his staff never took their foot off the accelerator. Bennett gets held, doesn't matter, Wisconsin still gets stuffed on a 3rd and 2. They go for a 4th and 8 down 45, Bennett (along with Bosa) forces an errant throw that nearly gets intercepted by Doran Grant. Ohio State scores a couple more times and the game ends 59-0.
Melvin Gordon was held to under 120 yards rushing and scoreless for only the second time in all of 2014, with the only other time being Wisconsin's week 2 victory over Western Illinois, in which Gordon only played the first half. Well, maybe Gordon's magical season was just a fluke, and he coasted on cupcakes all season? Any talk of that was put to bed when Gordon ran for 251 yards and 3 touchdowns in Wisconsin's Outback Bowl victory over Auburn (from the all mighty SEC, mind you).
As mentioned earlier, I don't think it's at all a coincidence that one-third of Gordon's yards came on a drive where Bennett was getting a breather on the sideline. It leads me to the question of what would've happened had Bennett not played? Ohio State would still win, but what would the score have been? 45-14? 38-21? A quality win over a damn good team, but would it have been enough in the eyes of the committee to make it to the playoffs?
Ohio State was rewarded for its jaw-dropping performance by ascending to the #4 ranking, good enough to enter the playoff. Michael Bennett was rewarded by having his final two games in the Scarlet and Gray be an epic victory against Alabama and winning the natty against Oregon.
After the Oregon game, both Adolphus Washington and Tyvis Powell commented on how much it meant for them to send Bennett out on top. "Honestly I'm more happy for him than for myself, man," Washington said. "All year he's been telling me that we decide the games, we decide who wins and who loses, and I really believe that, and I really took that to heart, and I went out there and played every snap for him." (Link to video)
It's inevitable that some players are going to get overshadowed on a championship team. Cardale, Zeke, Devin Smith, Can't Guard Mike, Bosa, Darron Lee, these are all names that every OSU fan remembers from that 2014 team, and for good reason. Zeke is one of the premiere running backs in the NFL. Michael Thomas is currently the best receiver on planet Earth. Bosa is among the elite edge rushers. But just like Chris Gamble's heroic efforts in the '02 title game don't attain as much praise as he should get, the glamor of Michael Bennett's lockdown of the country's most prolific non-triple option rushing attack shouldn't be omitted when we discuss the 2014 season. A championship run that was kick started by OSU's tremendous ability to stop the run, lead first and foremost by Can't Block Mike—Michael Bennett.
Thank you for reading.
Video Links:
Ohio State vs. Wisconsin 2014 (entire game + trophy presentation)
Ohio State vs. Wisconsin 2014 (44 minute condensed version)
Big Ten Elite: 2014 Ohio State Football
BTN's The Journey: Michael Bennett segment
Previous Unsung Heroes forum links:
(#1) Chris Gamble's Heroic Performance in the 2002 National Championship
(#2) Cameron Heyward's Physical Domination of Arkansas in the 2011 Sugar Bowl
(#3) Beanie Wells's Historic Afternoon Against Michigan in 2007