Welcome to "That Happened" where we dig deep into the who, why, and how of outliers in Ohio State athletics history.
When discussing the greatest linebackers in Buckeye history, few, if any, names go before Chris Spielman.
A Massillon Washington graduate, Spielman was known around the country before even enrolling at Ohio State, earning a cover on the Wheaties Box, the first high-school athlete to ever earn that honor. He was a two-time consensus All-American at Ohio State, a Lombardi Award winner, ranks third all-time in career tackles, and is one of the most well-respected players to ever come out of Columbus. 
Spielman's career was an outlier in itself and his 1986 season was his best. Averaging over 15 tackles per contest, the Canton native recorded over 200 tackles, while no other player on the roster even crossed the triple-digit mark. It is one of the most impressive defensive seasons in program history and sits as Ohio State's second-best mark.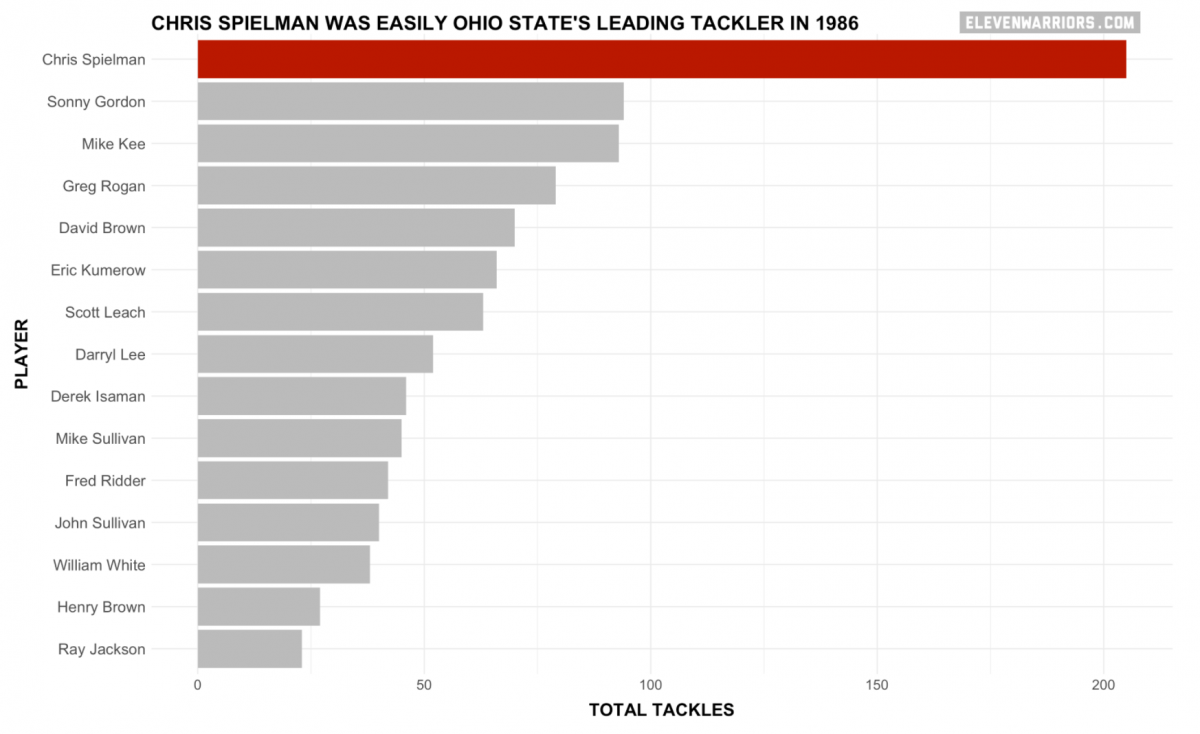 But no game was more impressive than his performance against Michigan in 1986.
---
After losing two games to start the season, the 1986 Buckeyes rattled off nine straight before hosting their rivals.
Michigan was the higher-ranked team all season, but it was coming off of its first loss of the year to Minnesota, giving Ohio State a chance at the Big Ten crown. Both teams were confident about their chances, but Michigan quarterback Jim Harbaugh took it up a notch, guaranteeing victory. 
The Wolverines possessed one of the best offenses in the country that year, averaging over 415 yards per game. Ohio State was a defense-first team, allowing opponents to score less than 14 points per contest.
The game itself was a back-and-forth, strength-on-strength battle that ultimately ended with a missed 45-yard field goal from the Buckeyes to give Michigan the 26-24 victory.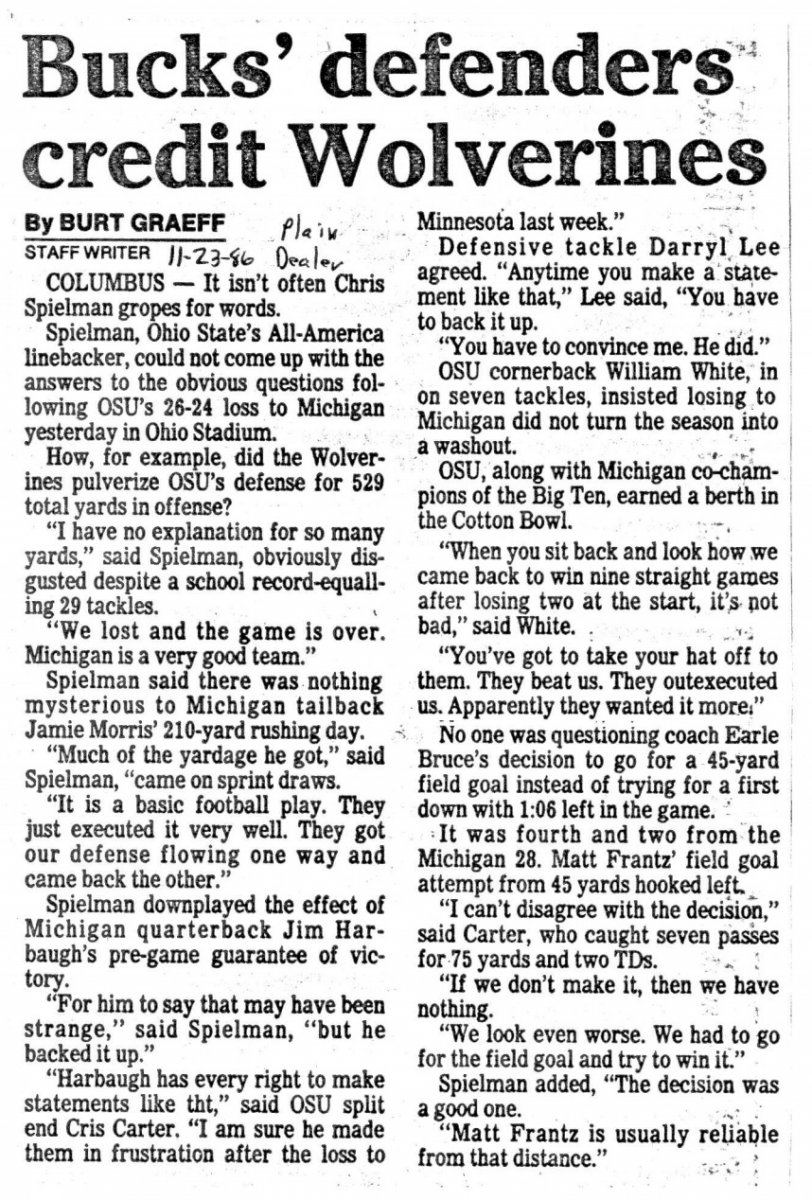 The Buckeyes lost behind the worst defensive performance of the season (529 yards allowed), but Chris Spielman was nearly unstoppable.
In one of the single most dominant defensive performances in Buckeye history, Spielman notched 29 tackles to break Ohio State's single-game tackles record.
Spielman's Top Games

| Opponent | Season | Total Tackles |
| --- | --- | --- |
| MICHIGAN | 1986 | 29 |
| WASHINGTON | 1986 | 22 |
| WEST VIRGINIA | 1987 | 19 |
| COLORADO | 1986 | 19 |
| IOWA | 1985 | 19 |
Even for the two-time All-American who'd exceeded 20 tackles in a game once before, that number is no small feat.
Using his career numbers, we calculated that his chance of recording 29 or more tackles was just 0.2%. That number is not even comparable to an average Buckeye defender that season, as from a statistical perspective, the odds of any other defender on Ohio State's 1986 team to match or exceed that number is effectively zero. 
In any contest, 29 tackles is a mark worthy of acknowledgment. Spielman's incredible performance coming against the Buckeyes' rival in one of the fiercest renditions of The Game has made it iconic. Spielman's outlier game solidified his All-American status as a junior and has helped shape his legacy in Columbus.