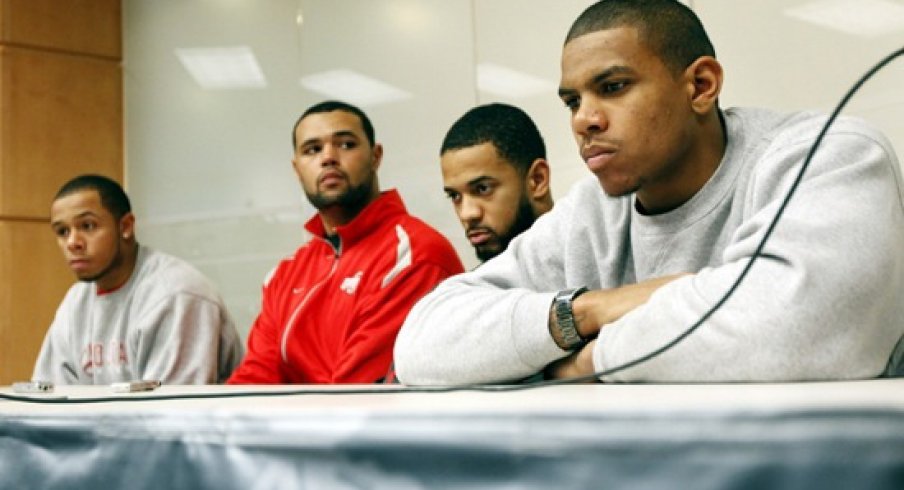 The suspension streak continues.
Starting in 2011, Ohio State has had at least one player suspended in every season. In all, 34 different suspensions have been served. Let's take a quick look at the troubled path that has been traveled.
2011 – 13 Suspensions
The tattoo incident broke in late 2010, but Mike Adams, Dan Herron, DeVier Posey, Terrelle Pryor and Solomon Thomas did not serve their suspensions until the 2011 season. As you may remember, Pryor did not return for his senior season. 
What you might not remember is that eight more suspensions were handed out in 2011. Dorian Bell was removed from the team before the start of the season for breaking the same team rule three times. Travis Howard, Corey Brown and Jordan Hall missed the season opener for accepting improper benefits. 
During the season, Dan Herron, DeVier Posey and Marcus Hall missed the Nebraska game for being paid too much for their summer jobs. This was Posey's second suspension for 2011. Much has been made about Ohio State losing this game because of Braxton Miller's injury, but many people forget that the team was without these three key players.
A couple of weeks later, Dominic Clarke was withheld from the Illinois game for being charged with disorderly conduct at a restaurant. It was later revealed that Clarke was shooting an air soft gun owned by Chris Carter.
2012 – 2 Suspensions
Storm Klein was suspended after being arrested for domestic violence after hitting the mother of his child. Urban Meyer immediately dismissed Klein, but the linebacker was reinstated in late August. 
In early October of 2012, Cardale Jones sent out his infamous "We ain't come to play school" tweet. His not so best practice in on social media cost the future savior of the 2014 season a night game against Nebraska. 
In the end, it turned out that Dolodale did come to Ohio State to play football and school as he graduated in May of 2017. 
2013 – 3 Suspensions
The honeymoon is over. Carlos Hyde got the suspension train rolling again. In an infamous night club video, Hyde is on tape having an altercation and alleged assault with a female patron. 
Not wanting Hyde to feel left out, Bradley Roby and Rod Smith were also suspended for the 2013 season opener. The rest of the year went without incident...off of the field.
2014 – 3 Suspensions
Noah Spence skews the suspensions for the '14 season, but the events still happened. On January 1, 2014, Spence was suspended for the first three games of the season for violating a Big Ten Conference rule. Halfway through September, Spence was suspended for the remainder of the season for failing a drug test. The talented defensive lineman never saw the field that year due to his addiction. Spence eventually transferred to Eastern Kentucky.
In between Spence's suspensions, Marcus Baugh found himself in trouble. Baugh missed the first two games of the 2014 season for an underage drinking violation in January. 
2015 – 7 Suspensions
For the third straight season, Ohio State started the season with suspended players. This time four key players missed the opening game at Virginia Tech. Joey Bosa, Jalin Marshall, Corey Smith and Dontre Wilson. Poor academics and marijuana were the reasons given for the disciplinary action.  
A few weeks into the season, Damon Webb was suspended for a violation of Athletics Department policy. In October, J.T. Barrett took it up a few notches and was suspended after getting arrested for OVI during the bye week. 
To end the season of unfulfilled promise, Adolphus Washington was suspended for the Fiesta Bowl after he was cited with solicitation in December. 
2016 – 2 Suspensions
After the gluttony of trouble in '15, only two Buckeyes were suspended in '16. For some reason, Tracy Sprinkle thought it was a good decision to enter a place called the Grown and Sexy Lounge. That error in judgement cost him the season opener.
Torrance Gibson also found himself on the sideline to start the season. The receiver from Florida was suspended for the fall semester after he violated the University's student code of conduct. He eventually transferred to Mississippi Gulf Coast. 
2017 – 1 Suspension
A couple of weeks before the start of the season, Michael Hill was suspended for a "few" games. He returned to the team in October after missing the first six games of the season. Unfortunately, Hill found himself on the wrong side of the law in March of 2019. He was arrested in West Virginia with possession of meth with the intent to deliver.
2018 – 2 Suspensions
For the sixth straight season, Ohio State started a season with a player on suspension. Marcus Hooker missed the Oregon State game due to getting busted for driving the influence in June of 2018. 
After two games, Brian Snead's Ohio State future looked promising. However, he was suspended from the team for allegations of sexual misconduct. After an investigation, Snead was removed from the team in November of '18. He enrolled at Iowa Western Community College in June.
2019 – 1 Suspension
The team was close to making it through a season without a suspension. As you are well aware, Chase Young was suspended for the Maryland game for an unresolved NCAA infraction.
For those of you wondering about Jake Stoneburner and Jack Mewhort. Yes, they were removed from the team after fleeing police when they were spotted urinating outside of the Bogey Inn in June of 2012. However, the two players lost their summer scholarships, were later reinstated and did not miss a game.
*If you know of a suspension that is not listed, please leave a note in the comments.

You Might Like
Trivia Time Week 10
Freshman Tracker: Maryland