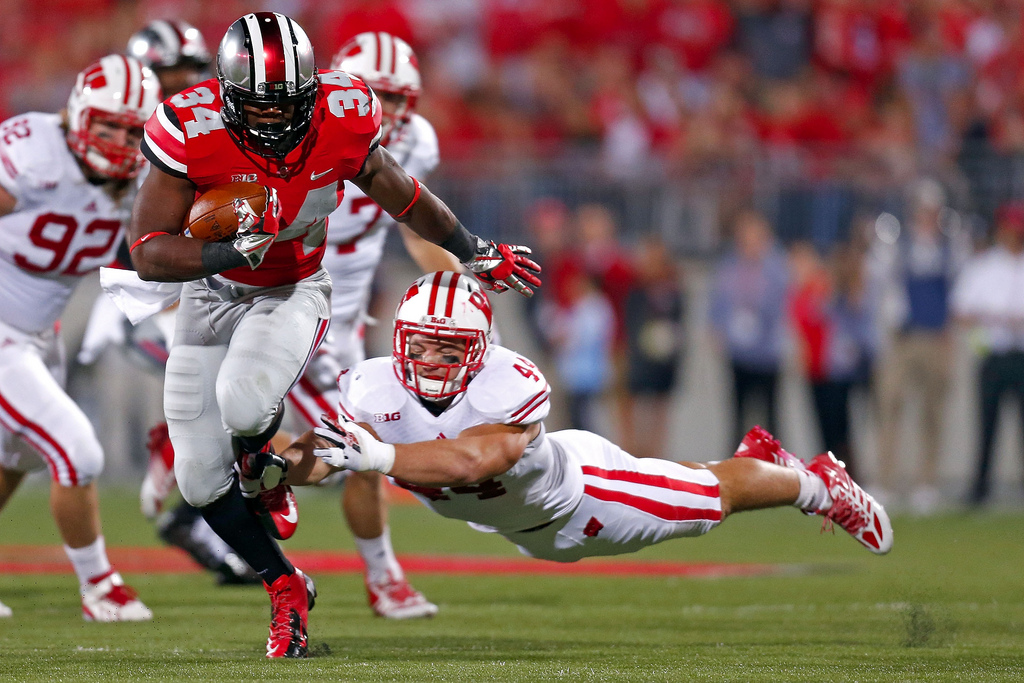 Ohio State On This Date is a weekly look at Ohio State's record on the date of each game day. Today, we delve into the Buckeyes' performance on September 28th.
FIVE THINGS 9/28
This is the 13th time (9–1–2) Ohio State has played on September 28th.
The first game played on 9/28 was in 1901. The Buckeyes and Otterbein played to a 0-0 tie at Ohio Field. 
Ohio State's largest margin of victory on September 28th was by 28 points. The team defeated Otterbein 28-0 in 1907 and Indiana 45-17 in 2002. 
The Buckeyes are 6–0 when ranked on September 28th. The last time OSU was not ranked when playing on this date was 1957.
Ohio State is 2–0 when playing ranked opponents on this date.
GAMES PLAYED ON SEP. 28th

| YEAR | OHIO STATE'S RANK | OPPONENT | LOCATION | SCORE | B1G FINISH |
| --- | --- | --- | --- | --- | --- |
| 2013 | No. 3 | No. 23 WISCONSIN | H | 31–24 | 1st Big Ten Leaders |
| 2002 | No. 6 | INDIANA | H | 45–17 | 1st |
| 1996 | No. 4 | No. 5 NOTRE DAME | A | 29–16 | 1st |
| 1985 | No. 5 | WASHINGTON STATE | H | 48–32 | 4th |
| 1974 | No. 1 | SMU | H | 28–9 | 1st |
| 1968 | No. 11 | SMU | H | 35–14 | 1st |
| 1963 |   | TEXAS A&M | H | 17–0 | 2nd |
| 1957 |   | TCU | H | 14–18 | 1st |
| 1946 |   | MISSOURI | H | 13-13 | 6th |
| 1940 |   | PITTSBURGH | H | 30-7 | 4th |
| 1907 |   | OTTERBEIN | H | 28-0 |   |
| 1901 |   | OTTERBEIN | H | 0-0 |   |
OHIO STATE'S RECORD AGAINST OPPONENTS ON SEP. 28th

|   | RECORD | WIN & | POINTS | AVG. SCORE |
| --- | --- | --- | --- | --- |
| OVERALL | 9–1–2 | .833 | 318–150 | 27–13 |
| HOME | 8–1–2 | 1.000 | 289–134 | 26–13 |
| AWAY | 1–0 | 1.000 | 29–16 | 29–16 |
RECORD AGAINST OPPONENTS ON SEP. 28th WHEN OHIO STATE IS RANKED 

|   | RECORD | WIN & | POINTS | AVG. SCORE |
| --- | --- | --- | --- | --- |
| OVERALL | 6–0 | 1.000 | 216–112 | 36–19 |
| HOME | 4–0 | 1.000 | 187–96 | 37–19 |
| AWAY | 1–0 | 1.000 | 29–16 | 29–16 |
You Might Like
Trivia Time: Week 5
The Rundown
The Nebraska Series
Snap Counts
Freshmen Tracker: Playing Time Palooza