THE PERTINENT INFO
When: Saturday, September 21, 2019
Where: Ohio Stadium, Columbus, Ohio
TV: 3:30 // BTN
Announcers: Brandon Gaudin, James Laurinaitis and Elise Menaker
This will be the sixth time Ohio State and Miami (1–2) have faced each other in football. All of the games have been played in Columbus and the Buckeyes lead the series 5–0.
Chuck Martin's team lost to Cincinnati, 35-13, last week. The RedHawks lost to Iowa, 38-14, in the season opener.
Below, you will find some interesting facts about the teams, key offensive player stats, coach information, and team stats.
THE LAST TIME...
Ohio State played Miami was 2012. The Scarlet and Gray won 56-10 in Ohio Stadium.
The Buckeyes lost the third game of the season was 2004, Randy Walker and Northwestern won 33-27 in OT.
Ohio State played on September 21st was 2013. The team destroyed FCS Florida A&M 76-0. 
The Scarlet and Gray played a team from the MAC was 2016, they blew out Bowling Green 77-10.
The Buckeyes lost to a team from the MAC was...never.
ON THE HORIZON​
Saturday will be Ohio State's 27th time the Buckeyes play a team from the MAC.
A victory will earn the Buckeyes their 78th in the fourth game of the season.   
J.K. Dobbins is 119 rushing yards for 3,000 in his career. He will become the 11th Ohio State player to achieve this milestone.
Chase Young needs 5 sacks to become the second Buckeye to have back-to-back double digit sack seasons.
Ohio State is looking for its 42nd consecutive win over an in-state opponent.
K.J. Hill needs 35 catches to break David Boston's program record for career receptions. He had two catches against Indiana last week.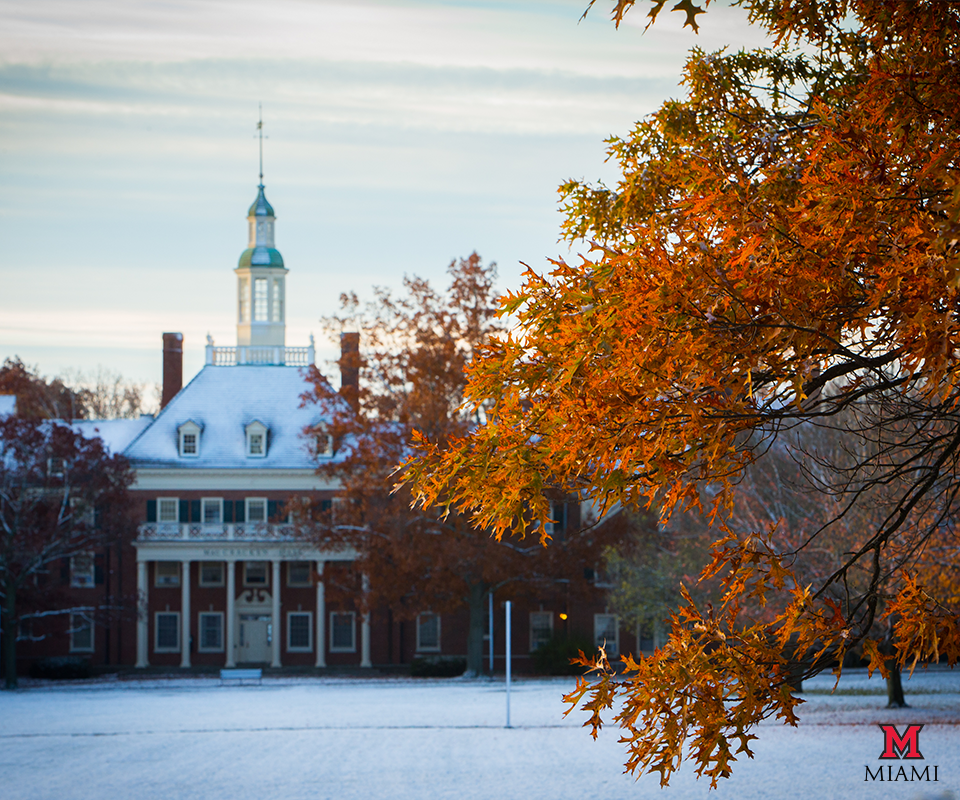 GET TO KNOW MIAMI
Miami University is located in Oxford, Ohio.

The school was established in 1809 and is the second oldest university in Ohio.  

Miami is in its 131st season of playing football.

Swoop the Redhawk is the team mascot.

Miami started playing football in 1888, but didn't have a team in 1890.

The football team was 6–6 in 2018.

Since 2013, Miami is 23–53 (.303).

Notable alumni are Benjamin Harrison (US President), Mike DeWine (Ohio's Governor), John Harbaugh (Ravens' head coach), Ben Roethlisberger (broken QB) and Paul Brown (Ohio State and NFL legendary coach).
​TODAY'S TRIVIA QUESTIONS:
How many yards has J.K. Dobbins rushed for in the first half of the last two games? 
What team has been ranked in the AP Poll the most weeks?
Can you name the current Ohio State assistant coach that was an assistant at Miami (Ohio) for eight seasons?
Answers at the bottom of today's article.
2019 Player Comparison
 
OFFENSIVE LEADERS
JUSTIN FIELDS

657 YDS // 9 TD // 0 INT

PASSING
BRETT GABBERT
481 YDS // 2 TD // 1 INT
J.K. DOBBINS
425 YDS // 7.1 YPC // 4 TD
RUSHING
TYRE SHELTON
108 YDS //  4.5 YPC // 1 TD
BINJIMEN VICTOR
200 YDS // 1 TD
RECEIVING
JALEN WALKER
113 YDS // 0 TD
DEFENSIVE LEADERS
JORDAN FULLER
17
TACKLES
STERLING WEATHERFORD
20
CHASE YOUNG
5.0
SACKS
KAMERON BUTLER
2.0
DAMON ARNETTE
1 (TD)
INTERCEPTIONS
BART BARATTI
1 (TD)
SPECIAL TEAMS
DEMARIO McCALL
11.0 YPR
PUNT RETURNER
MAURICE THOMAS
12.0
DEMARIO McCALL
21.8 YPR
KICKOFF RETURN
DAVION JOHNSON
23.0
DRUE CHRISMAN
43.6
PUNTING
KYLE KRAMER
43.9
5
EDGE
5
THE COACHES
Ryan Day
6–0 (1.00) at Ohio State*
6–0 (1.00) overall*
Day's hometown is Manchester, NH. He attended Manchester High School and attended college at New Hampshire. Day has been in coaching for 18 years and is Ohio State's 25th head coach. 
*won three games as Ohio State's acting coach in 2018.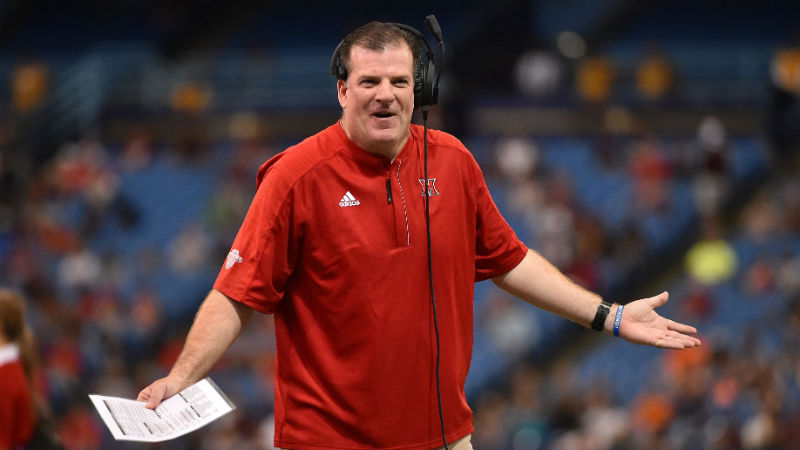 Chuck Martin
23–41 (.359) at Miami (6th year)
97–48 (.669) overall as a college head coach (12th year)
20–20 (.500) against MAC opponents
Chuck Martin was born in Park Forest, IL and attended college at Millikin Univesity where he played safety and was a place kicker. Martin also played basketball for The Big Blue as a guard.
After his GA stint at Mankato State, bounced around as a defensive coach for Wittenberg, Millikin, Eastern Michigan and Grand Valley State. In 2004, he became Grand Valley State's head coach and guided Lakers to 74 wins, 7 losses and three national championships over six seasons. Martin has been honored as the American Football Coaches Association Coach of the Year twice. In 2015, he was inducted into Grand Valley State's Hall of Fame.
CLIFF CLAVEN'S LITTLE KNOWN FACTS CORNER
0......number of interceptions Justin Fields has thrown this season.
2......straight regular season Big Ten games that Chris Olave has blocked a punt.
4......Of the 25 Buckeye head coaches, only four have started their career 6–0. Day is one of them.
5......Chase Youngs sacks after three games.
7.1...Average yards per play for the offense against Cincinnati.
9.......Touchdown passes Justin Fields has thrown this year.
12.....Ohio State's rank in total defense, 252.7 yards per game.
15.....K.J. Hills rank for career receiving yards (1,797).
19.....Career sacks for The Predator.
24.....Consecutive wins is the program record set by Urban Meyer in 2012-13. 
42.....straight games the Scarlet and Gray has defeated an in-state opponent.
57.....Number of yards Ohio State's defense is allowing per game, 4th in the nation.
60.....Punts Drue Chrisman has downed inside the 20 during his OSU career.
95.....Number of wins Ohio State has had this decade.
171...Rushing yards the Silver Bullets have allowed through three games.
192...straight PATs have been converted by the Buckeyes since 10/22/2016.
452...wins OSU has had in Ohio Stadium.
585...Buckeye football games played in Ohio Stadium. 
742...passing yards Indiana has accumulated against OSU the past two games.
905...times Ohio State has been ranked in the AP poll.
914...number of official wins for the program (we know it's actually 926).
2019 Statistical Comparison
 
OFFENSE
46.0
17th
POINTS FOR
25.0
89th
273.7
15th
RUSHING OFFENSE
104.3
116th
228.0
76th
PASSING OFFENSE
162.7
115th
501.7
25th
TOTAL OFFENSE
267.0
128th
.543
11th
3rd DOWNS
.359
91st
.833
68th
RED ZONE
.917
28th
DEFENSE
10.3
10th
POINTS ALLOWED
30.0
91st
57.0
4th
RUSH DEFENSE
173.7
88th
195.7
52nd
PASS DEFENSE
215.3
66th
111.0
27th
PASS EFFICIENCY DEFENSE
137.6
89th
252.7
12th
TOTAL DEFENSE
389.0
78th
.229
8th
3rd DOWNS
.400
83rd
.500
4th
RED ZONE
.833
73rd
SPECIAL TEAMS
10.0
40th
PUNT RETURN
9.4
44th
20.7
63rd
KICKOFF RETURN
16.8
103rd
39.2
51st
NET PUNTING
37.9
72nd
MISCELLANEOUS
+0.3
44th
TURNOVER MARGIN
+0.7
32nd
4.7
17th
PENALTIES
9.3
126th
16
EDGE
2

TODAY'S TRIVIA ANSWERS
How many yards has J.K. Dobbins rushed for in the first half of the last two games? 
Answer: 316, remember those are his first half totals. He has rushed for 425 yards in three games this season (109 in the second half).
What team has been ranked in the AP Poll the most weeks?
Answer: Ohio State, the program has been in the AP Poll a record 905 weeks...and counting.
Can you name the current Ohio State assistant coach that was an assistant at Miami (Ohio) for eight seasons?
Answer: Kevin Wilson, he was an assistant for Randy Walker from 1990-98.
You Might Like:
Trivia Time: Week 4
Freshman Tracker: Indiana