Came across this picture today and wondered if anyone saw it.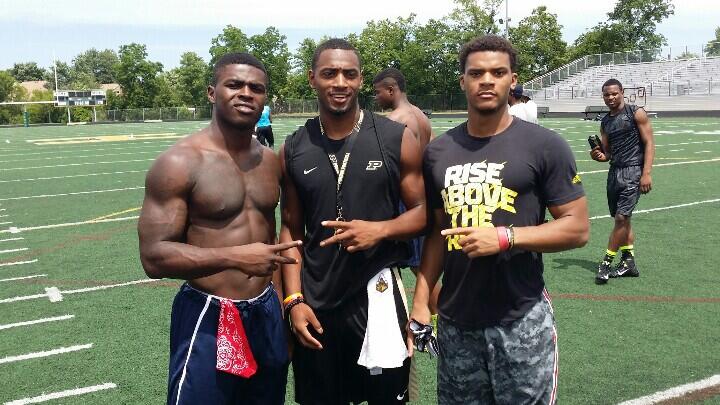 Jabril Peppers (UM), Tim Cason (PU), Damon Webb (OSU)
Supposedly there were a bunch of B1G players working out today up in TSUN. Going against one another and also instructing younger high school and college players at an unknown high school. Did a little research and came across some tweets as well.
Here's a couple that made me smile.
Webb wins the 1st round against Funchess. Peppers tells Avonte Maddox "Welcome to the B1G"
— Rico Beard (@RicoBeard) July 5, 2014
Damon Webb wins round 3 against Devin Funchess. 2-1 Webb
— Rico Beard (@RicoBeard) July 5, 2014
Webb wins round 4 against Funchess
— Rico Beard (@RicoBeard) July 5, 2014
And this one made me smile extra wide.
Damon Webb with a nice tip toe catch against Jabril Peppers.
— Rico Beard (@RicoBeard) July 5, 2014
Jabril Peppers can't even cover our DBs
Also a little sidenote: I've been over to MGoBlog and saw some posters arguing over the height of Jabril Peppers, saying he is somewhere between 6'0 - 6'2. Seeing how I was led to believe Damon Webb is 5'11 and found out that Cason is listed at 6'2, I just don't see that as a possibility but obviously I could be wrong, Damon and Tim Cason (middle guy in the picture from Purdue) probably are both be standing on a stack of phonebooks. Jabril Peppers is actually 6'4 guys.
Obviously this isn't game situations and just a couple guys getting better, I just wanted to share this with everyone and know that it's good to see players working and striving to get better during a time where most kids their age are out having fun with their friends, relaxing, etc. It's these stories that don't make big headlines but like I said it's good to see and good for the B1G.