No. 73 is coming in a little late today due to the Eleven Warriors announcement of a job opening.
73 days until Ohio State plays at Navy to start the 2014 season. Throughout the years 25 players have worn the No. 73 for the Buckeyes. Today's article will feature Bob Vogel and Rufus Mayes.
Go here to see the list of players who wore No. 73 and the players who were selected in the NFL Draft.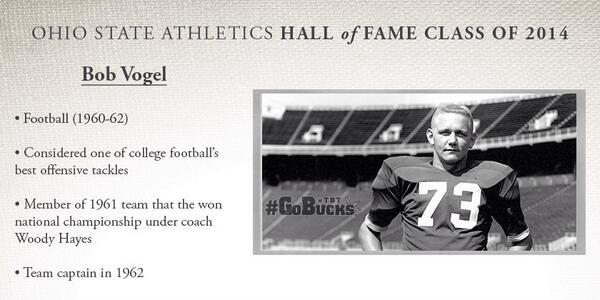 Born: 1941 (Columbus)
High School: Massillon Washington
Ohio State
The Buckeyes were 21-5-1 with Vogel on the team.
1961 National Champions.
1961 Big Ten Champions.
3-0 against That Team. Outscored That Team 85-20 in the three games including two shutouts.
Honors
1962 Captain.
5 Pro Bowls: 1964, 1965, 1967, 1968 and 1971.
3 All Pro selections: 1964, 1965 and 1967.
September 26th, 2014 Vogel will be inducted into the Ohio State Athletics Hall of Fame.
Miscellaneous
Won Super Bowl V as a member of the Colts.
Vogel's Ohio State career per cantonrep.com:
Vogel played football for Ohio State from 1959-1962, serving as team captain in 1962. He was a three-year letterwinner (1960-62).

Born in Columbus, his family later moved to Massillon where he was named all-state as a Massillon Tiger tackle before starring for the Buckeyes.

Vogel, considered one of college football's best offensive tackles, was an outstanding player for Woody Hayes' teams that went 7-2 in 1960, 8-0-1 in 1961 and 6-3 in 1962. The 1961 team won the national championship, as voted on by the Football Writers' Association of America, as well as the Big Ten title with a 6-0 mark. After a 7-7 tie with Texas Christian to open the season, the Buckeyes won eight consecutive games and capped the national championship season with a 50-20 victory over Michigan. The team finished second that year, behind Alabama, in both the AP and UPI polls.

Following his Buckeye football career, Vogel was the fifth player chosen in the NFL Draft. He went to the Baltimore Colts, where he played through 1972 as a tackle, protecting Johnny Unitas' blind side. In his 10 years playing with the Colts, he missed only a single game. He was named to the Pro Bowl five times and played in Super Bowls III and V, beating the Dallas Cowboys in the latter game.
Bob Vogel's Colts career per Mike Klingaman of the Balitimore Sun 2009:
Pound for pound, he was the smallest offensive tackle of his day, and maybe the smartest. It wasn't size but savvy that made Bob Vogel one of football's top lineman and a pillar of the Baltimore Colts' storied front wall.

Vogel, the team's top draft choice in 1963, spent the next decade taming sack packs and clearing paths for Colts' runners despite a 240-pound frame that even then was underwhelming.

"I wasn't one of those guys who could lift the stadium," said Vogel, from Ohio State. "I was purely a technician. That's how I survived." ...

A five-time Pro Bowler, Vogel helped the Colts to two Super Bowls (III and V) and then retired from the game at the age of 30, his dignity intact.
Bob Vogel's life today per Mike Klingaman of the Balitimore Sun 2009:
Vogel traded the mayhem for a more selfless life. Witness the 48 foster children that he and his wife, Andrea, have cared for through the years. Or the prisons that Vogel visits, Good Book in hand, in a bid to turn inmates' lives around. Or the mission trips he makes regularly to places like Honduras and Cuba, to bring health care to the poor.

"Football was a good experience, but this is the Lord's will for my life," said Vogel, of Sunbury, Ohio.

Retired from a career in marketing and sales, he travels regularly to area prisons to share the word of God. A born-again Christian, Vogel taught himself Spanish so he could converse with Latinos who don't speak English.

At one youth facility, he said, "the kids are so violent that I'm not allowed to go into their cells. I have to sit outside their room, on a plastic bucket, and talk to them through the slot in the door where they're fed. It's a unique way to spread the gospel."

Only in prison does Vogel ever wear his Super Bowl ring from the Colts' 16-13 victory over Dallas in 1971.


"Masculinity is the trump card in there," he said. "The ring is a symbol of machismo. If the men respect my manhood, they'll sometimes allow me to share my feelings about Jesus, whether they are believers or not."

Vogel also travels regularly to Third World countries with a philanthropic group that provides free dental care to townsfolk there. His job? Translator and Bible thumper.

"We've been to places in Honduras that are 12-hour drives through the jungle," he said. "Dentists spend a week there pulling hundreds of teeth, and sometimes my job is as his assistant. Imagine, with these big, heavy digits of mine."

Married 46 years, Vogel has four children, four grandkids and his health. The man who missed one Colts game in 10 years works out daily and weighs 210 pounds, well below his playing weight.
Sources- The Ohio State Team Guide, baltimoresun.com, cantonrep.com, Wikipedia

Rufus Mayes, TE and OT (1966-68)
Born: 1947 (Memphis, TN)
High School: Macomber
Died: 1990 (Redmond, WA)
Ohio State
The Buckeyes went 20-8 with Mayes on the team.
1968 National Champions (10-0).
1968 Big Ten Champions.
Defeated USC 27-16 in the 1969 Rose Bowl.
Went 2-1 against That Team.
Selected in the first round by the Bears in the 1969 NFL Draft.
Honors
1968 All-American.
1968 All-Big Ten.
1994 Inducted into the Varsity O Hall of Fame.
Miscellaneous
After football he worked at Hewlett-Packard.
Bacterial Meningitis took his life in 1990.
Sources- The Ohio State Team Guide and Wikipedia
163 days until The Game.