Peak offseason topic, I know, but this was a fun little exercise I wanted to do. We've all heard of the proposed 8, 12, and 16 team formats for expansion from the current 4 team "playoff." But I'm proposing a format that is seen in D1 football, though not at the FBS level - a 24 team format. Yes, I know this is a big field, but hear me out on this.
This is what I think the playoffs might have looked like last season if this format had been used.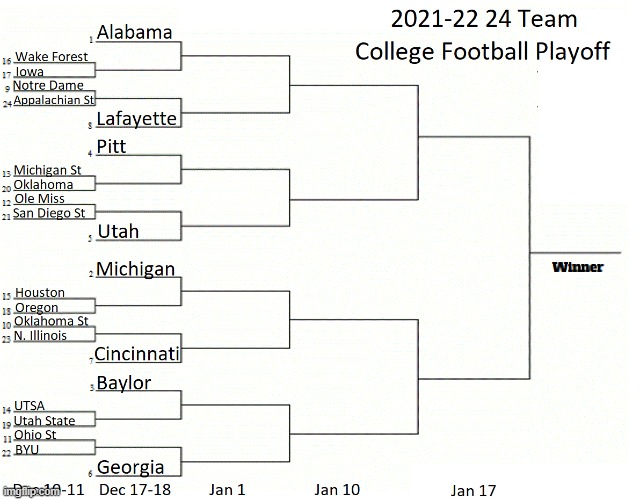 Included teams:
All 10 Conference winners automatically qualify

Power 5 conference champions receive top 5 seeds
Group of 5 conference champions seeded accordingly within the rest of the field

14 at-large teams

Seeded according to how your season went
SOS and SOR taken into account
Locations
First two rounds on campus
Quarter- and semifinal rounds at the NY6 bowl locations, rotating every year
Championship set in Pasadena, CA at the Rose Bowl Stadium every year
Dates
First two rounds before Christmas
One week Christmas break

Allows players to go home and see their families
No team assemblies and practices during this week

Individual players may practice and workout by themselves
Coaches may game plan during this week
One week of practice after Christmas, and before the game to allow teams to get back into the swing of things

Quarterfinals always on New Year's Day

Unless if NYD falls on a Sunday in which case the quarters are on NYE

Semifinals on first Monday after at least 7 days after NYD
Championship on Monday following the semis
To me, this seems like an excellent format as it is a decent size field for 130+ FBS teams. It gives every team a shot, with the automatic qualifier for conference champions, and it takes the pressure off to have to be nearly, if not completely, perfect through 12, 13 games. You can have a bad game and still have a shot at all the marbles. And in the long run, this may bring parity to the sport, as instead of flocking to the same few teams every year, top recruits would (theoretically) go to other schools to have the opportunity to say that they "took down #1 Alabama" (for example).
To those fearing blowouts, there's no escaping blowouts in college football, that's just the nature of this level of the sport. These are 18, 19, 20 year old kids that are bound to make mistakes. Even in the 4 team field we have currently, there's still a whole bunch of blowouts (2/3rds of the playoff games to this point have been blowouts, or at the very least, multiple possession games). Also, theoretically, without the month-long layover between the conference championships and semifinals that there is now, we might see some teams stay in rhythm, thus we might see an increase in competitive games. And even if we don't see more games that are competitive, at least this gives teams a reasonable shot at a national championship.
To those that think this is too many games, the absolute most you would have to play is 18 games, and that is if one of the first rounders who played in their conference championship manages to make it all the way to the national championship. Most times, the max would be 17 games, which for NFL factories like Alabama, Ohio State, Oklahoma, etc., would be great conditioning for the 17 game NFL regular season.
To those that fear for 8-4, or worse teams making it in, the only realistic way that would be possible is if a team wins their conference championship. Every team I have in the bracket above either have 3 or fewer losses, and for most of those 3 loss teams, that 3rd loss came in the conference championship game. The only outlier in the field was 9-4 Northern Illinois, winners of the MAC, which is how they are in, but also why they are seeded so low.
This seems like an excellent field for D1 FBS football, but I would love some feedback on this format. Are there any issues you see with this, and what would a proper fix to those be? I know this is a longshot to wish for, but if anything we just need proper expansion. Four teams is too small, and it is barely a tournament, let alone a proper playoffs in a system with at least 5 potential deserving teams yearly. We need to see the playoff system expanded sooner rather than later.