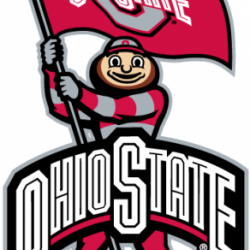 Bucks2K18
MEMBER SINCE January 04, 2018
Favorites
SPORTS MOMENT: JT Barrett 16/16 fourth quarter vs. Penn State in 2017
COLLEGE FOOTBALL PLAYER: Any Ohio State player
COLLEGE BASKETBALL PLAYER: Any Ohio State player
NFL TEAM: Detroit Lions
NHL TEAM: Columbus Blue Jackets
NBA TEAM: Golden State Warriors
MLB TEAM: Cleveland Indians, Los Angeles Angels
Recent Activity
Maryland and LSU are tied
No need for that kind of name calling dude.
Yeah. When ISU inbounded the ball with under 30 seconds left, it felt like at least a second after the ball was touched before the clock started
Yes! We're moving on!
That was close. Come on Buckeyes
Don't EVER say that
51 seconds left. Play smart, guys. No stupid mistakes that cost the game
Our lead could be larger though. Iowa State went at least 10 minutes without a made field goal
We can't keep having these offensive droughts if we want to win this game
Come on boys, don't let Iowa State get started
Let's go Bucks!
With Liberty's upset, I'm tied for 10th in the Eleven Warriors group!
20 more minutes, G-Webb, you can do this!
Scoreboard Virginia. Scoreboard
Yup. I picked Michigan State that year too. Then they go and bust my bracket in the first round. I'm never trusting them again
I was in Florida for my high school Senior Trip, we went parasailing in Clearwater, and although we didn't go into the building itself, we passed the Clearwater Marine Aquarium (from Dolphin Tale) I highly recommend at least going parasailing if it fits your budget
They don't call this March Madness for nothing. MSU in trouble early
Technically yes she was. Her birth mother, Padmé Amidala, although not at the time of Leia's birth, was the queen of Naboo. And her adopted mother, Breha Organa was the queen of Alderaan. So yes, Leia technically was a princess
Along those lines, Princess Leia is no Disney princess. I refuse to put her in that category with the others.
The only hope I'm clinging onto is that we were actually good in the non-con. I understand that not every opponent we faced was Q1, but we did beat Cincinnati and Creighton both on the road. Plus, though unlikely, if we were to make a run, we wouldn't have to face a Big Ten team until the Final Four if they were able to get past Duke
Based on some of the teams' reactions, I bet there's going to be quite a few upsets. Some of the higher ranked teams were just like "hurray, we're in" and some of the lower ranked teams were like "YEAH!! LET'S GO!!" and were more enthusiastic about it
I'm looking for Gardner Webb to upset them. It may not happen, but that would be hilarious
You know nobody cares about the NIT. Potential recruits won't watch or want to come if we're in the NIT.
I'll take the over for Ohio State, push for Bama and Clemson, and the under for TTUN
Let's not choke this one away. 20 more minutes of game time