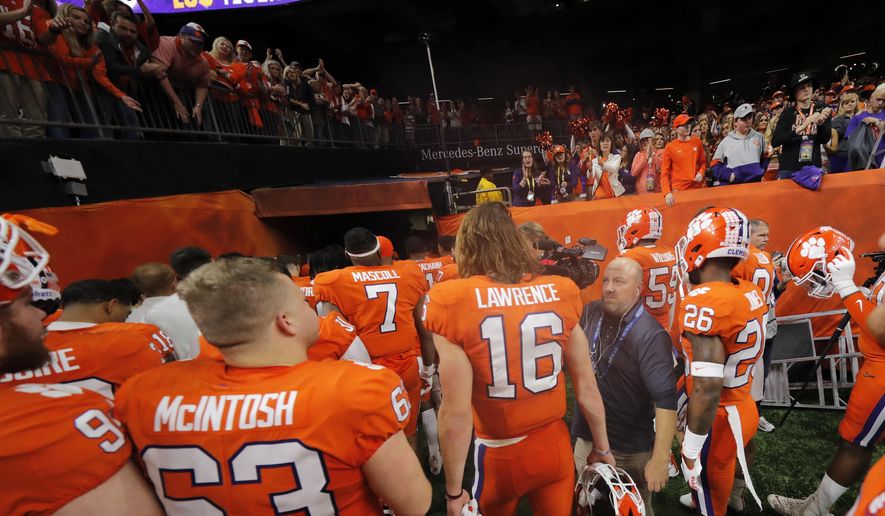 Dabo Swinney and the Clemson Tigers walk off the field at Mercedes Benz Superdome in New Orleans, LA after getting thrashed in the 2020 National Title game by LSU, 42-25. Photo credit to Gerald Herbert of Times Daily.

LSU coach Ed Orgeron said in a radio interview on Saturday that the Clemson Tigers were "in trouble" after watching film of Clemson and their porous defense before the game. "Coach O" did his homework and then some getting ready for Clemson. He told Patrick Wright of Eagle 98.1-FM in LSU that he pored over film of not just the Clemson Tigers, but the weak teams they faced in the ACC and how they were gifted the game against OSU. When he saw all of the film, he came to a simple conclusion with his players.
"Boys, these guys are in trouble," Coach O said. "I'm going through the whole league, both sides. These guys are in trouble. The refs may have given them the game against OSU, but there's one more Buckeye we got over here that they gotta get past, and I knew for damn sure that wasn't going to happen. And sure enough, Joey lit their ass up."
Coach O's Tigers destroyed Clemson 42-25 on their way to the 2020 College Football National Championship. He said a lot of the credit for that performance went to the strength of the SEC. Including the national championship game, the SEC went 8-2 in the bowl season.

*This is a satire from what Dabo's cocky ass said about OSU in 2017. Sending a little salt in the wounds Dabo's way and a little taste of his own medicine. This posting was based on an article written for Cleveland.com by Tim Bielick. All in good fun.
https://www.cleveland.com/osu/2017/08/clemson_coach_dabo_swinney_sai.html