One of the most interesting and surprising facts that I've learned in the past week comes courtesy of Bill Rabinowitz:
It is amazing that the Big Ten has had only five commissioners since its founding in 1896.

— Bill Rabinowitz (@brdispatch) June 4, 2019
That is, in fact, amazing. It's also a bit misleading; the first Big Ten commissioner was appointed in 1922, with John Griffith taking the job and serving until 1944. Still, Popes don't have that kind of consistent longevity. Monarchs of England take their inspiration from them. The five commissioners of the Big Ten have averaged tenures of 19 years, two of them have straight up died in the position, and Jim Delany will officially step down on January 1st, 2020, after having served for 30 years in that role.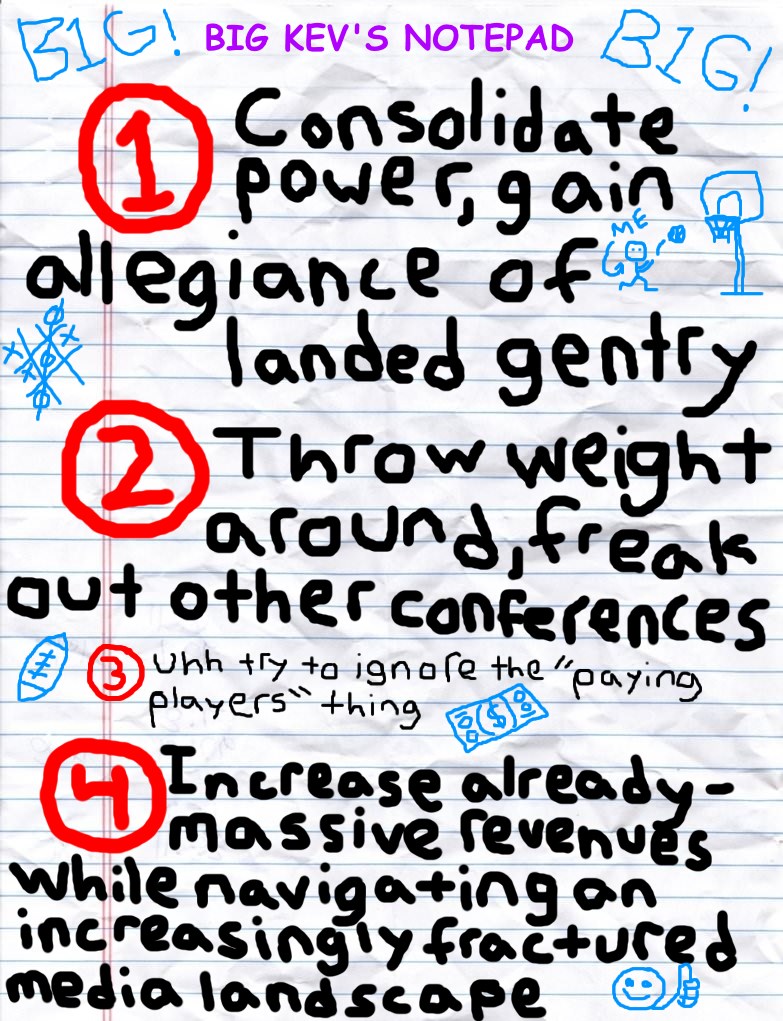 All of which means that Kevin Warren has roughly seven months to solidify his position. He must spend that time watching, learning, and making allies both in the college ranks and out to make sure that not only does the Big Ten get an advantageous position in terms of athletics, but can also maintain its financial dominance over the college sports world.
It's a tall order. Jim Delany had his shortcomings, sure, but he was a savvy negotiator that was able to generate record revenues for the conference while also building an at the time one of a kind cable sports network. I wanted to make a Barbasol or Ro-Tel joke here, but the BTN has real sports media clout (if not the ratings).
So what are the next steps for Kevin Warren, an experienced guy with an extensive background in the law? I'm glad you asked, because frankly I'm every bit the investigative reporter that Dan or Colin or Taylor or even Kevin freaking Harrish might be. In the course of investigating this topic, I stumbled across the personal notes of Kevin Warren, obtained following his introduction as the next Big Ten commissioner. It is valuable insight into the plans of the man who will lead the 14 teams of the increasingly inaccurately named Big Ten conference that spans 11 different states.
Let's take a look.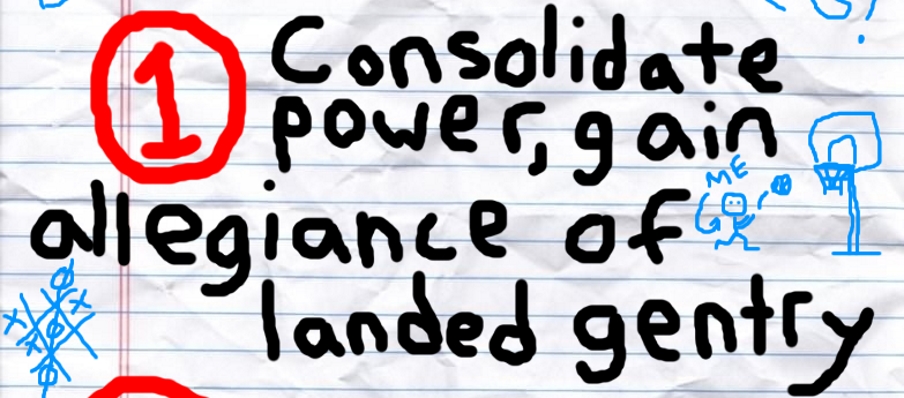 One of the biggest items that Kevin Warren needs to take care of quickly is to win over the various athletic directors and university presidents of the Big Ten. Luckily he's already got probably the most powerful one in his corner:
"When you can bring in your nontraditional candidate that has a background like Kevin's, particularly when you're following a legend, you got to find someone that's got those unique skill set that helps them transcend that a little bit," Smith said. "He played college basketball, and he has a son that's playing college football, so he's got kind of that perspective as well, but bringing that perspective from the NFL will help, and his business background."
People have sometimes thrown Gene Smith's name around for commissioner, and while he's always shrugged that off, given his similar success as Ohio State's AD his opinion on this matters. Now Warren just needs to get the rest of the conference on board.

One of the criticisms that one could make about Jim Delany is that he was slow to advocate for the Big Ten as the college football playoff system evolved into being. While he aggressively expanded the Big Ten to include the likes of Nebraska, Rutgers, and Maryland, that was less of a strategic move in terms of revenue sports and more of a financial move to help prop up BTN. It worked, but at the same time the Big Ten has been left out of the playoff each of the last two seasons.
For perspective's sake, the SEC has never been left out of the playoff, and Oklahoma has more appearances than Ohio State (despite never having won a game). Warren may not be able to directly influence the committee, but he can be the Big Ten's biggest, most visible advocate publicly.

Remember back in 2014-15 when Northwestern players attempted to unionize? In the next decade that incident might start to be remembered as college football's Boston Tea Party.
The Big Ten has revenues of the better part of a billion dollars, leading the country. Add that to coaches like Dabo "I'll Quit Coaching If Players Are Paid" Swinney making north of $90 million, and Kevin Warren is inevitably going to have to address where he stands on this issue over and over and over. Eventually he'll take a definitive stance and lead the country (as the Big Ten had done under Delany in many different ways), or just avoid the issue for as long as humanly possible. Which is what I'd do if I were him.

The Big Ten has made a ton of money off of some incredibly lucrative media contracts. Partnerships with Fox, CBS, and ESPN have brought in literally billions of dollars for the conference, which is why you occasionally saw Delany swimming around in a vault filled with gold doubloons.
Those contracts, however, are not set in stone.
The short-term nature of the deal means the conference will be back at the negotiating table again in 2022-23, before any of the other power five leagues, presumably for another raise.
Presumably on the part of the Big Ten, but here's the thing: sports media, hell, all media, is becoming increasingly fractured. As the cable model continues to die off and viewers move towards streaming services, Kevin Warren's job is going to be figuring out how to maintain multi-billion dollar contracts with companies that may not see the financial benefit in tying sports revenue to cable. And while having to negotiate before other conferences could work in the Big Ten's favor, if they screw it up it might set a scary precedent. 
If Fox, for example, decides that in the 2023 season they'd like to broadcast several Ohio State games entirely on YouTube or whatever streaming service they choose (because they can claim a higher viewership of whatever), then Warren needs to figure out how to squeeze blood from the proverbial stone. Because as a co-owner of Eleven Warriors dot com I will tell you that internet revenues are not remotely the same thing as what you got with traditional media spaces from 20 years ago.
Luckily, Warren seems well-equipped to handle this. His extensive experience as a lawyer and time in the NFL should serve him well, not just in relation to a new media landscape, but in all areas.
It's a huge, crazy job, and he's got about half a year to figure all of it out. Best of luck to him.