The SEC is just looking out for everyone's best interest.
Its annual spring meetings kicked off Tuesday in Destin, Fla., and for the second straight year National Championship Circle Jerk and Stupid Chant was conspicuously absent from the top of the agenda, all of the coffee breaks and evening activities.
It's awkward as hell - and culturally the South doesn't wear awkward well at all. It does pride exceptionally well, so a little two-year moratorium on self-celebration feels like a decade. We're only one season removed from being informed a one-loss SEC team being left out of the BCS title game would be un-American. 
That makes a two-year stretch without an SEC team winning a title downright treasonous. Measures need to be taken. This is a national crisis. Our union is under attack.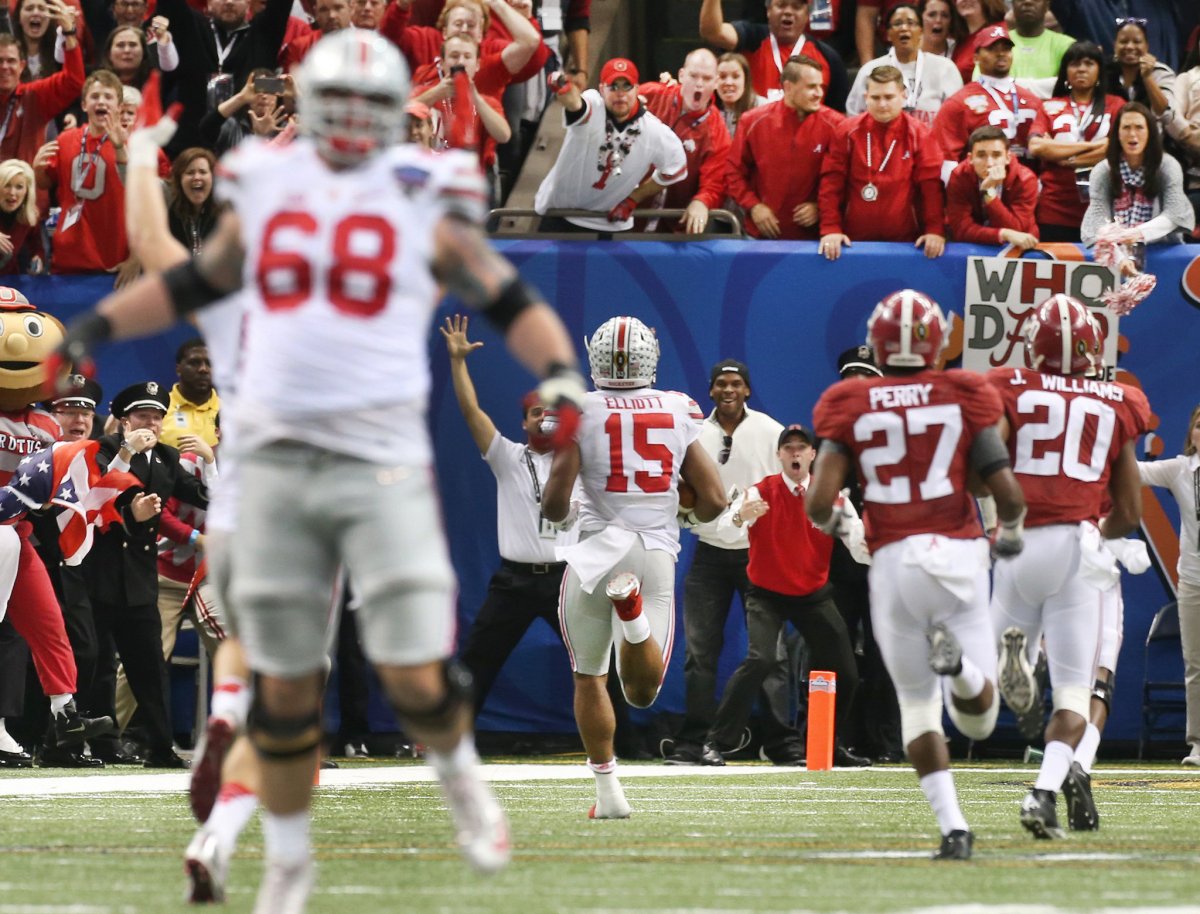 A year ago at these same meetings Nick Saban suggested up-tempo offenses increase the number of "exposures" players have to being hit, which might correlate to higher incidence of concussions. A cynic might suggest Alabama's historic struggles with up-tempo teams might have been the catalyst for that argument, but once the proposed 10-second rule intended to slow down up-tempo teams make everyone safer died, Alabama went up-tempo itself. Insert cliché about what you do to things you can't beat here.
Anyway, yesterday at this year's meetings Saban - the proud owner of four national championships, five SEC and zero Big Ten conference titles - said being competitive again will depend on how fair non-SEC leagues want to be:
"If we're going to compete for the championship and everybody is going to play in the playoff system and everybody is going to compete for that, we need to get our rules in alignment so we're all on a level playing field, whether they're transfer rules, whether they're satellite camp rules," Saban said.

"It's a disadvantage not to be able to do something in one league and be able to do it in another. It's a disadvantage to be able to recruit a player in one league and not be able to do it in another."
You're either thinking hmm, Florida State and Ohio State must have tilted the playing field in their favor these past two seasons with graduate transfers and satellite camps or holy shit Nick this is some epic shamelessness. One of these two things is true.
There's a consistency about the ideas for improving college football that come out of the SEC's football meetings. In addition to wanting to apply uniform, national rules to things like satellite camps and graduate transfers:
Mike Slive: SEC is not in favor of proposed early signing date in football for mid-December.

— Jon Solomon (@JonSolomonCBS) May 26, 2015
Right, because SEC teams are generally busy preparing to win titles in December. Also, those 4 and 5-star recruits that have fortified God's Conference are still flippable for two more months with the current February signing day. Those guys have scholarship offers for days and can afford to wait to make it official. Keep those guys in play as long as possible!
We need to get our rules in alignment so we're all on a level playing field.
Slive: Appropriate place for discipline of player behavior is by the universities.

— Jon Solomon (@JonSolomonCBS) May 26, 2015
WHOA WHOA WHOA except for that. Leave discipline to the individual schools. They should have control to sanction bad behavior as they see fit, whether it's choosing to enforce like the Tallahassee Police Department or an actual police department. 
The 129 schools that make up the Football Bowl Subdivision are, like our republic, a collection of states. There are components that govern the entire sport and then there are elements that take on a more local flavor, like curious roster management customs, diverse levels of academic rigor, favorable sunshine laws, aggressive drug testing, style of play, or even the participating in satellite camps.
ALABAMA CURRENTLY RUNS AN UP-TEMPO OFFENSE IT WAS ARGUING WAS UNSAFE ONE YEAR AGO.
Saban and his proud colleagues have no interest in being the tide that raises all ships. That's too stupid to be insulting, though it's an enviable contrast to how the Big Ten's capable stewards get together and inexplicably dream up unique ways to sink their own ships. They want to win. Everyone does. 
So let's forget about conference pride, which is bullshit anyway, and look at a few easy ways to improve the holistic college football experience while leveling things out. The College Football Playoff was the greatest advancement for this noble cause since ESPN began making games previously only accessible in newspaper print the following morning available live on your television.
Here are some easy, sustainable and quickly implementable ideas - nothing that should get anyone twisted up or upset.
---
CANCEL Chickenshit Saturday™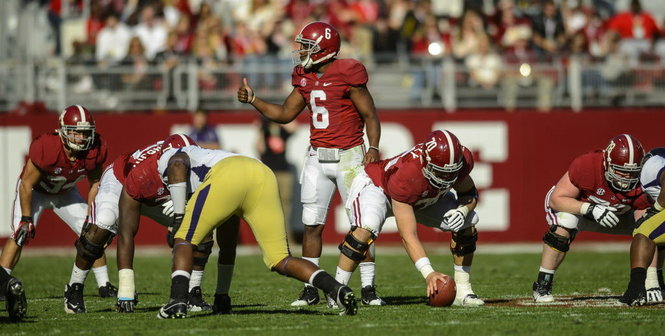 The penultimate Saturday on the schedule is arguably the most stressful of the entire season: division titles hang in the balance, style point currency fluctuations are at their most volatile and every contender is ripe for an upset ahead of facing their designated arch-rivals. 
Title contenders know this too well. That Saturday is dark, terrifying, full of spiders and littered with land mines. It's virtually impossible to recover from a loss that late in the season.
Anyway, here are some of the schools SEC teams have scheduled for that Saturday since 2012: Samford, Chattanooga, Coastal Carolina, Western Carolina, Eastern Kentucky and South Alabama. Georgia Southern, Idaho, FAU, Charlotte and Citadel all twice. Charleston Southern three times. 
November schedules should contain conference opponents or designated rivals only.
This convenient and deliberate break from the rigors of title contention is entirely within the rules. Look at who the 2014 CFP participants have lined up that Saturday this season: the Buckeyes will be facing Michigan State. Oregon is playing Southern Cal. Meanwhile, Florida State hosts Chattanooga and Alabama gets Charleston Southern.
Chickenshit Saturday is indefensible, and there isn't a wanking motion theatrical enough to accommodate the circular logic of the conference strength argument because you can always schedule Samford in September. The best football player in Charleston Southern football history isn't even good enough to get unexpectedly cut by Nick Saban in August to make room for a new recruit.
November schedules should contain conference opponents or designated rivals only. This improves the sport, enhances the most captivating month on the schedule and levels the playing field without any controversy. 
---
BRING BACK The Kickoff Classic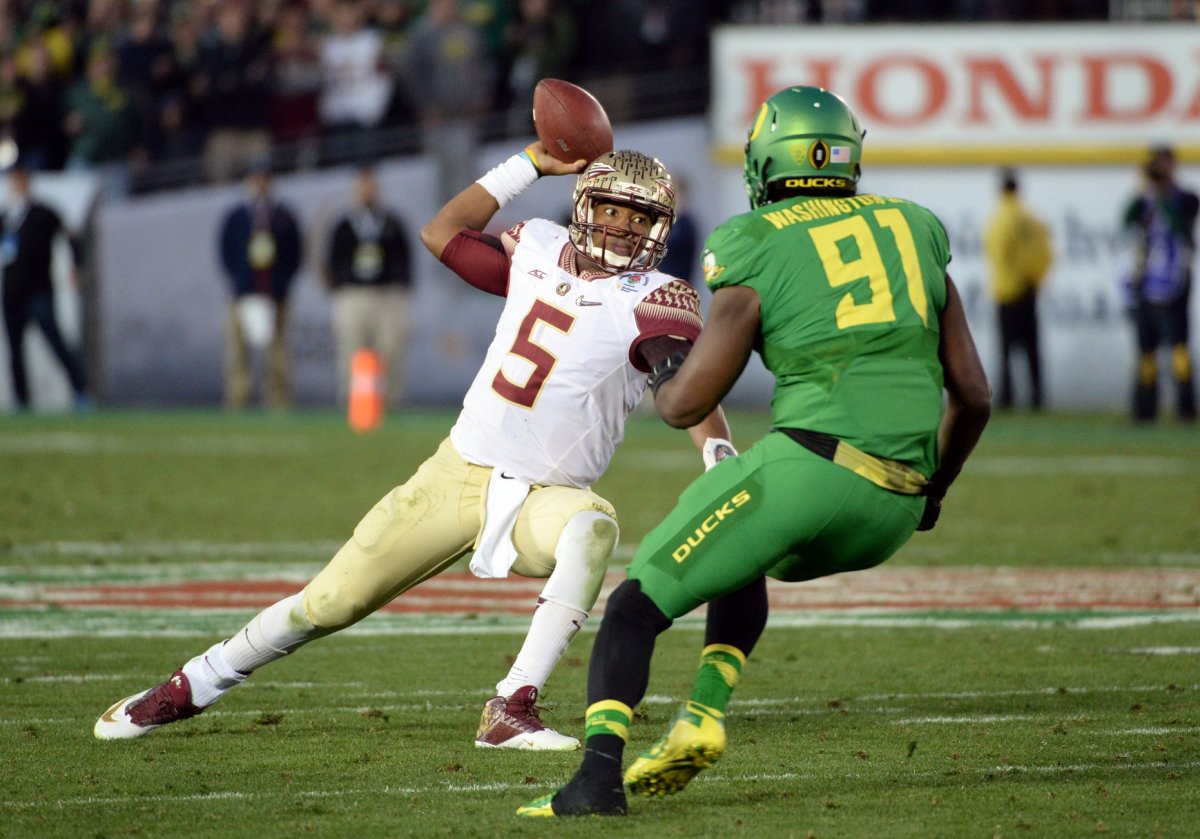 Your best ideas happen either on the toilet or in the shower, which means you should spend as much time in the bathroom as possible.
Take the CFP participants from the previous season and automatically have them kick off the following season to complete the round robin, albeit not under championship circumstances. For 2015 this would involve Ohio State playing Florida State and Alabama playing Oregon before everyone else gets started.
There's valid concern about too many games being played, but this can be remedied through moves like the cancellation of Chickenshit Saturday or simply postponing scheduled September cupcakes to future years, which would cause some dominoes nobody truly cares about to fall. How disrespectful; please think of Central Michigan's open date. No. Not with something like this on the table.
START EACH SEASON WITH A FINAL FOUR ENCORE.
This isn't complicated. ESPN owns college football anyway - it moves games around to accommodate for things like NASCAR telecasts already. Surely it can do the same thing to allow for a preseason Final Four that would garner gargantuan ratings. 
As for leveling the playing field, the reward for scheduling strong teams in August or September far outweighs the penalty for losing those games. There's no disadvantage for any program preparing for, being exposed by or playing in games like this. Plus, it will make millions - so it's actually kind of weird they don't do it already.
Now rinse the conditioner out of your hair. And consider a courtesy flush. Always.
---
EXTEND THE CLIMAX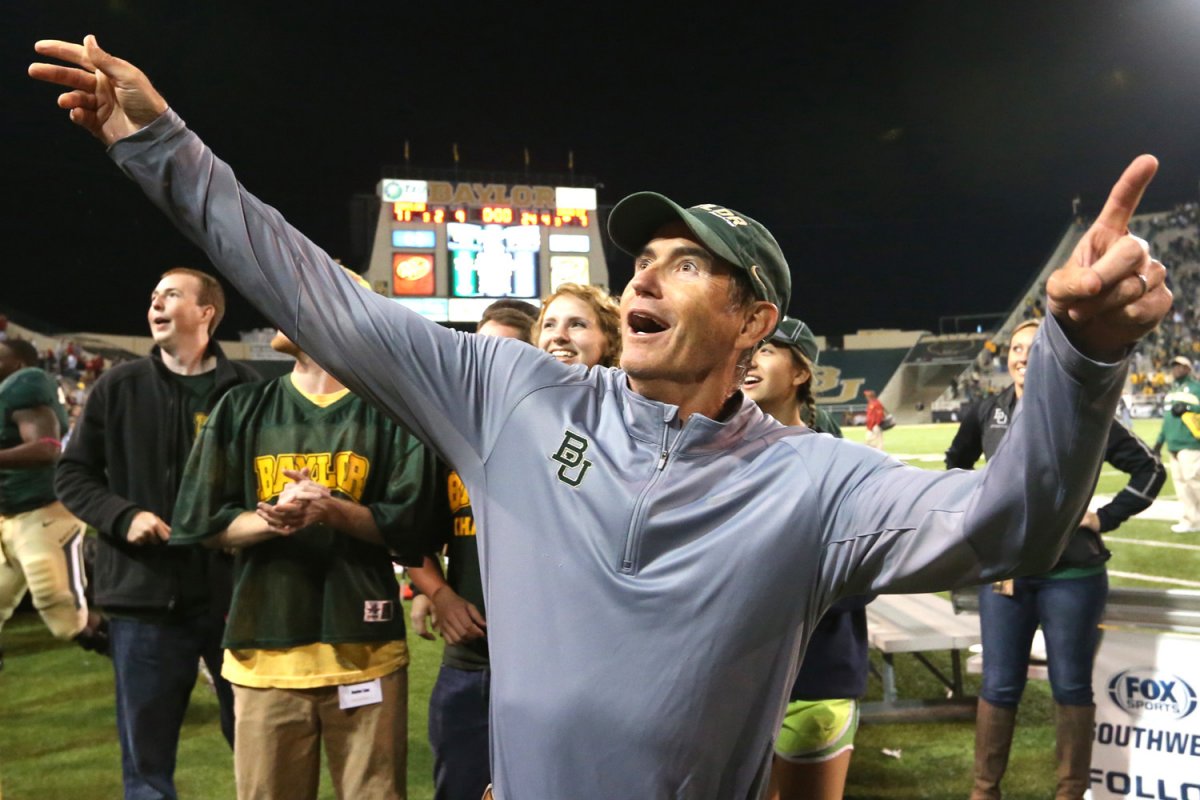 Playoff expansion creep began before the first CFP even went down. Very smart people have been sensibly arguing for six teams instead of four. There are even more saying it should double in size to include eight teams. Because if you're the ninth-best team at the end of the season, well that's your own damn fault.
Last year that would have been Mississippi, the early-season poster child beneficiary of the SEC's circular logic. Let's reign in who makes it into this thing, because as grumpy old man-ish as it sounds, college football's regular season is king. There is no other sport whose scheduled slate even comes close to being as good.
As important as preserving the sanctity of the regular season is, perpetuating the rich college football tradition of complaining and - as Saban deftly demonstrated in Destin yesterday - playing the victim must be protected (more on that in a bit). If Alabama and the SEC with all of their geographical and institutional advantages are complaining about college football being inequitable then we are living in a golden age of fairness.
Someone SHOULD get screwed - and it CAN'T be THE 9th-RANKED team BECAUSE IT ALREADY SCREWED ITSELF.
Someone should always be getting screwed, and it shouldn't be the ninth-best team. It should be someone almost worthy, like literally right outside the top five.
It should be the sixth-best team. Have #4 and #5 play each other for the right to face #1 in the CFP, on campus. This past season TCU Baylor would have visited Columbus.
A five-game playoff puts all of the Power Five champions (the term is used loosely, because the Big XII is stupid) in position to grab a spot. One of them, a worthy non-champion or Notre Dame will still end up on the outside looking in - and they'll wish the playoff included just one more spot.
And that's college football's version of perfect. Don't be dissatisfied; just be better.
---
WHINING IS TRADITION. CHERISH IT.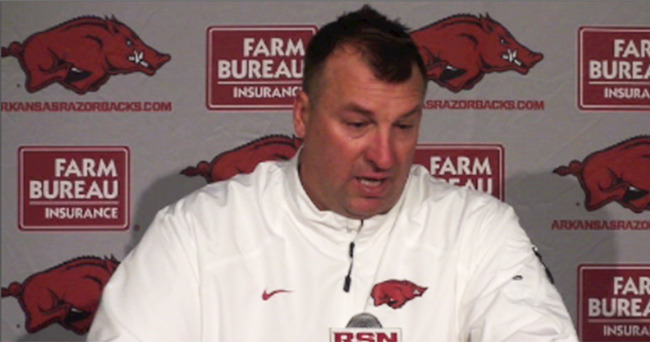 College football is far from perfect, which is part of what makes it so marvelous. The NFL is perfect. The NBA is perfect. The NHL is perfect. We already have enough sterile perfection to consume. College football is rife with delicious flaws everyone can taste and endlessly bitch about, mostly when it affects their team.
Changes should be intended to improve the health of the sport. For example, there are morons in charge of this thing who stubbornly decided to put this year's Final Four on New Year's Eve. That's unconscionably stupid and it benefits nobody. No one is cheering for that.
At the same time there are some inequities that make college football better. Can you imagine a world where the rationale for a shitty Notre Dame season doesn't include some gripe about academics being a barrier? That ritual is practically as sacred as Script Ohio.
Equity is 32 NFL teams engineered to go 8-8 while playing in temperature-controlled domes.
Many schools sell recruits as college being a 40-year decision instead of a three or four year one, and today there are numerous recruits Ohio State cannot get in because they can't meet its academic requirements. As someone who grew up in an era where my ability to fog a mirror combined with my Ohio residency were all I needed to be accepted at OSU, this isn't a gripe; it's a new tradition.
Everyone is different, and college football has evolved through schools exploiting differentiation and avoiding commoditization. The Crimson Tide abruptly becoming a tempo team is a current example. We don't want true, static equity. That's 32 NFL teams engineered to go 8-8 while playing in temperature-controlled domes.
College football programs level the playing field themselves, whether it's been Alabama's $7MM coach erasing his recruiting mistakes during past summers, Kansas State fielding a junior college all-star team, Michigan tucking most of its players into academic safe harbors or Ohio State exploiting the second-largest city in America that's fully-invested in college football to its advantage (it gets better, Austin).
Only the Big XII has the odds stacked against it systemically, and that's something it can remedy whenever it chooses to. In the meantime, Saban may want to rewatch the Sugar Bowl tape to see if graduate transfers and satellite camps are the real reason the coffee breaks at the SEC's spring meetings are lame again.