Good evening.
In less than a week, players from Ohio will join others from around the world to take on the Michigan Wolverines. And they will be fighting the greatest football battle in the history of mankind.
Buckeye fans. That should have new meaning for all of us today. We can't be consumed by our petty differences anymore, or lying about having always loved C.J. Stroud. We will be united in our common interests.
Perhaps it's fate that this is Thanksgiving week, and you will once again be arguing with family members before the real fight begins. Not from tyranny, oppression, or persecution, but to be able to make mean jokes about Michigan fans for another calendar year.
We are fighting for our right to live. To exist. And should we win the day, the week of Thanksgiving will no longer be known as an American holiday, but as the week when the world declared in one voice: "We will not go quietly into Ann Arbor! We will not vanish without a stadium O-H-I-O! We're going to live on! We're going to survive! Today we celebrate HATE!"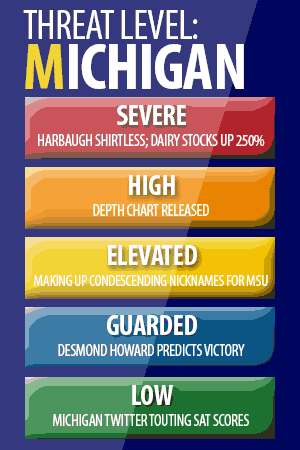 THE OFFENSE
Oh yeah, Michigan beat the absolute doo doo out of Maryland on Saturday, 59-18. It was the Joanie Loves Chachi to the Happy Days that was Ohio State's destruction of Michigan State. Michigan State, of course, is a team that beat Michigan and Maryland is a team that lost to Ohio State by even more than they lost to Michigan, but I digress.
Everything went right for Michigan offensively against the Terrapins, even when it didn't. Cade McNamara is the football equivalent of a King of Queens rerun you've seen three times, and was again on Saturday as he passed for 259 yards on 21 completions. A big chunk of those yards came on a nifty catch and run to Donovan Edwards for a touchdown late in the third quarter. And honestly, wideout play was huge against Maryland, as both Edwards (170 receiving yards) and Mike Sainristil had some incredible receptions for points.
With Blake Corum's absence, Hassan Haskins continues to be fine and that's about it, but one ominous note for Ohio State fans is Maryland's inability to get Michigan off the field, especially on third down. Overall: over 500 yards of offense facilitated by excellent individual performances, and the awkward and seemingly random appearances of J.J. McCarthy ending up paying off this time (dude was 5/5 for 58 yards and a touchdown).
THE DEFENSE
It's not by chance that the Wolverines were playing with a short field for most of the game. Maryland was only 3-14 on third down as Aidan Hutchinson and David Ojabo continued their reign of terror in passing situations. Terrapin quarterback Taulia Tagovailoa had an awful night, repeatedly airmailing easy throws and throwing up his arms while screaming "STOP IT I'M TELLING MOM" anytime a Michigan defender got within a few yards of him.
That said, Maryland did have a couple of impressive second half touchdown drives of around 75 yards, which is just enough boogers in the gelatin mold to make Michigan fans nervous about The Game (beyond, you know, every other reason they'd have to be nervous about it). I personally don't think those drives are indicative of much beyond "the Wolverines were bored coming out of the half" but it's notable that it is in fact possible to pick up gigantic chunks of yardage on Michigan given the right circumstances.
THE SPECIAL TEAMS
I'm only mentioning this because it was the coolest thing that Michigan has done all season:
The Wolverines were up by three touchdowns before this admittedly badass flex, and it ended the game right then and there.
INDEPENDENCE DAY (1996)
Roland Emmerich's magnum opus, my favorite thing about Independence Day is its glee in blowing up major American cities and symbols of freedom and then daring the audience to not lose themselves in how kickass it all looks. Sorry kids, Los Angeles and Harry Connick, Jr. had to go to make Will Smith angry enough to punch an alien in the face.
Jeff Goldblum's lazy romance subplot aside, this movie freaking moves, hopping from one set piece to the next approximately every five minutes. Some disaster movies function most efficiently as a slow burn but Emmerich is smart enough to crank this thing up to 11 from the jump, and it stays there for pretty much the whole film. Independence Day also knows its limits, because when you're just about sick of the antics, Bill Pullman drops one of the best, dumbest monologues in movie history right before Smith and Goldblum fire a pirate nuke at some extraterrestrial muppets to take us home on a high note.
Independence Day was the perfect 90's summer blockbuster, and we'll probably never see the likes of it again.
THREAT LEVEL
I'll give it to you straight: Michigan's win against Maryland was their most complete performance of the season thus far. Anyone who might be reading these chicken scratches looking for signs of an already-defeated Wolverine team flailing at the end of the season won't find them here. If they play as well against Ohio State as they did on Saturday, they absolutely have a legitimate chance to beat the Buckeyes.
In the past, I've bumped Threat Level up as high as it'd go against Michigan, because it's Michigan and I have years of psychic trauma associated with this rivalry that I've yet to fully put to rest. But to be honest, had The Game happened last season, I would've tried to figure out something lower than LOW because there was absolutely no way in hell that Ryan Day and company were winning by anything less than 60 points.
This season is not last season. One of the most interesting college football stories of 2021 is how massively Jim Harbaugh has improved his team; not by shooting for the stars but instead simply learning to be consistently competent. That competence should be rewarded with an honest assessment. Thus: the Threat Level is HIGH.