Eeeehhhhh.
I'm fine with being Wrong About Football. If my sense of self-worth rested on my ability to understand and predict football things on a consistent basis, I would be depressed for a whole new and unique set of reasons than usual.
What I can't abide is the idea that being Wrong About Football, specifically Michigan football, means that I'm supposed to reevaluate my whole approach to who they are as a program and a team. The empirical evidence in watching the Wolverines take the Minnesota Golden Gophers to the woodshed suggests that oh heck, maybe Michigan is good and I was wrong about them being a not good team that was going to get the boat rowed all over their asses.
But I'm a stubborn man. There were mitigating factors. Harbaugh is still Harbaugh. Joe Milton wasn't the starter for the past several years for a reason. Uh... the running game isn't... that... uh...
BOOOO MICHIGAN SUCKS BOOOOOOOOOOO
THREAT LEVEL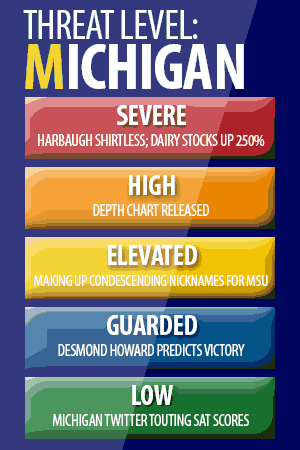 I did mention mitigating factors. Minnesota injuries meant that they didn't have two offensive line starters or one of their starting linebackers available, but the weird part was their total absence of a functional kicking game, like, at all, because all of them were "unavailable" due to various "issues." In olden times that meant a failed drug test or a bad grades but in 2020 it means COVID.
"I'm not going to get into specifics into why they missed the game; you can probably imagine," Fleck said. "It kind of hit the specialists pretty hard, and it hit them at different times. If somebody ever tests positive, they are out three weeks."
So Goldy coach P.J. Fleck tried some fake punts and pooch kicks, none of which worked out all that much and directly led to Michigan points.
Still, Michigan won 49-24. Kickers and punters testing hot in the middle of a pandemic doesn't help, but the truth is that the Wolverines looked really good in all phases of the game.
It starts with Milton; aside from having an absolute cannon of an arm, he's mobile in ways that Shea Patterson wasn't. While Patterson could move a little, it never seemed to be in the purpose of anything. He'd wiggle and waggle and then keel over under the weight of multiple defensive linemen. Milton (against Minnesota, at least) kept a clear eye on the first down marker and was the kind of dangerous that reminded you of hell, I'll say it, a Cardale Jones. 225 yards passing on 15/22 attempts and 52 yards on the ground with a couple of touchdowns is not a bad way to finish your first college football start. Nico Collins isn't around, but Ronnie Bell might end up being a decent enough replacement as WR1.
The Michigan running game will absolutely be enhanced by Milton's running abilities, although I'm sure fans in Ann Arbor are extrapolating two long-ass runs from their RBs into a shared Heisman or whatever. I'm still not ready to anoint either Hassan Haskins or Zach Charbonnet as competent unless reeling off 60+ yard runs ends up being a regular thing for them. Outside of those admittedly kickass carries, neither player did much of anything.
The defense was generally very good, although a huge part of Minnesota's troubles was missing a chunk of their offensive line as Tanner Morgan ran for his life most of the game. He was sacked five times, twice by Kwity Paye, who is going to be a problem for the rest of the Big Ten this season. Linebacker Cam McGrone also had a great game, and in general everyone was as advertised. Keep an eye on Michael Barrett as the season goes on, because he's going to get that sweet, sweet Jabril Peppers hype. 
Are they good? Maybe! In any event, Michigan was more entertaining to watch against Minnesota than they have been in years. If the past several seasons have been Your Body Is A Wonderland played on a kazoo, this was something more like Rock 'n Roll Train played by your 17 year old nephew in a basement concert for his friends. That is to say: not too bad, but consider the audience.
Oh, and Jake Moody missed all three of his field goal attempts. Ha!
The Threat Level is GUARDED.