"Oh no, not again."
Last season, I seriously considered hanging up the Threat Level. Sure, I'll forever be trapped in the hell that is an obligation to watch Michigan football, but I figured the somewhat tortured framing device that is Threat Level: Michigan might've run its course. But then COVID and cancelations and uncancelations happened and we've got ourselves a super weird eight game season, so hey. What the hell. Let's do it.
Eight games to see if Michigan can find a competent quarterback. Eight games to see how long it takes the defense to stage a mutiny against the offense. Eight games to see if Jim Harbaugh can pull together the disparate threads of his brain to create a truly magical coaching performance and finally manage to get himself shitcanned.
But still... I've got to watch these idiots fumble around for two thirds of a normal season. Hence:
"Curiously enough, the only thing that went through the mind of the bowl of petunias as it fell was Oh no, not again. Many people have speculated that if we knew exactly why the bowl of petunias had thought that we would know a lot more about the nature of the Universe than we do now."
I am that bowl of petunias, hurtling towards the ground. Let's see what foolishness we can get up to in the meantime.
THREAT LEVEL
If you haven't been paying much attention to Michigan football in the last several months, that's fine. I'm not sure anyone else has, either.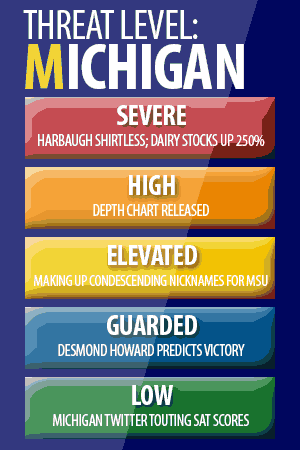 Joe Milton is the quarterback. Shea Patterson is long gone to the land of wind and ghosts and Dylan McCaffrey dipsy doodled the hell out of Ann Arbor, leaving Milton the most viable option. Milton can apparently throw the ball a billion yards, but it remains to be seen which team he'll end up throwing it to. Zach Charbonnet will probably get the bulk of the carries instead of Hassan Haskins, but it doesn't matter all that much because a "healthy Charbonnet could the program's best back since Mike Hart" isn't exactly the endorsement MGoBlog thinks it is. Both dudes are aggressively mediocre, averaging five yards per carry and impressing pretty much nobody. Oh, and wide receiver Nico Collins opted out. He was their best offensive weapon. And Michigan is replacing four starters on the offensive line.
Point is, if Michigan wants to win a majority of said eight games, they're going to rely on their defense a ton. The good news for Michigan fans is that the defense as a whole will be pretty legit; the linebackers especially should be solid, led by Cam McGrone, and while the defensive line is unproven it still has Kwity Paye. The only real weak link might be the secondary, but at least Michigan doesn't have to play almost literally every single one of the Big Ten's best passers... oh. They do? Oh...
Anyway, look, I'm just going to lay all of my cards out on the table: this should be Jim Harbaugh's last season as Michigan's head coach. They're going to lose three games (at least), and the fun part of this season, for me, will be watching Wolverine fans and admin try and figure out if it's worth it to keep this dude around and pay him a bajillion dollars to be basically just okay at his job.
Hey, remember how Ohio State beat Michigan by 29 points last season? That was kickass. The Threat Level is LOW.