Last week I insisted that if Michigan football wants to develop any kind of offensive identity or consistency, they need to take the ball out of Shea Patterson's wee porcelain doll hands and at least try and conjure a reasonable facsimile of a Running Team. My reasoning for this was that Patterson has been overall disappointing as Michigan's signal-caller, and given that the most functional part of their offense had been the running game, it might be smart for Harbaugh and Gattis to stick with what works. This turned out to be extremely dumb.
I also predicted that they wouldn't do that, which did turn out to be correct! Unfortunately for Michigan State.
THREAT LEVEL
Via a healthy mix of RPO's, play action, and some general shiftiness, Shea Patterson had (by far) his best game as a quarterback since his days at Daughters of the Confederacy Community College. In a 44-10 beatdown, Patterson threw for 384 yards and four touchdowns, befuddling a Michigan State secondary that I assume is good, because that makes for a more compelling narrative. Also Shea fumbled once, but he's legally required to and Michigan got it back so whatever.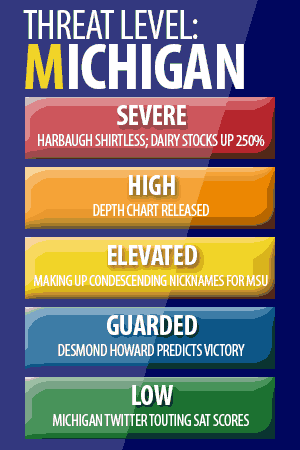 "Shea is back" is a fun storyline, I guess. It may or may not be true, given that Sparty also had given up 369 passing yards the previous week to Illinois' Brandon "Harbaugh Once Made Me a Third String Behind John O'Korn" Peters and has now lost five straight, but I'm actually more interested in Ronnie Bell.
Ronnie Bell, last seen dropping a tying touchdown pass in the late stages of the Penn State game, had a ridiculous nine catches for 150 yards. He was everywhere for the Wolverines, and while Donovan Peoples-Jones might get more attention for an admittedly fantastic catch-and-run for a touchdown, Bell has snapped himself out of the funk he was in since he Hamby'd it up in Happy Valley. The idea that Michigan might be able to both weaponize their talented wideouts and have a quarterback that can get them the ball with semi-regularity is a new but welcome one for the Michigan faithful.
So now that we're in Endgame, what does this actually mean for Ohio State? Probably nothing. For their part, judging by the amount of Muppets on MGoBlog, Michigan fans are really, really pumped about beating Mark Dantonio's crappy team. Which is fine: before the loss on Saturday, Michigan State had beaten the Wolverines eight out of their last 11 battles for the Cracker Barrel Doorstop Memorial Trophy. A rivalry win is a rivalry win, and I'm not going to hate on that.
But the real question as to whether Michigan has actually evolved into a team capable of running with Ohio State is still up in the air for me. They've definitely gotten better, albeit inconsistently and in fits and starts. If they can replicate this kind of dominance against Indiana I might have to dust off the ol' SEVERE gif.
Until then, credit for a big win. The Threat Level, for obvious reasons, is now ELEVATED.