So there are two ways we can go about this.
The first way is more generous to the Michigan Wolverines, which narrowly defeated Army 24-21 after looking like 100% certified ass for most of the game. This approach gently points out that playing a service academy is a special hell all on its own. Army or Navy or Air Force or NASA or Coast Guard or whoever, you know that they're going to run some goofy offense no one can adequately prepare for and chop block your knees into oblivion.
Michigan ass lol...aye doe I cant cap that triple option some BS we almost lost to Navy

— Jermale Hines (@Male_Hines7) September 7, 2019
Boy you said it Jermale. I'm sure it's even less fun to play against them than it is to watch other people play against them.
The second approach is less generous but more fun. It's also very simple: Michigan is bad, actually, and Jim Harbaugh's coaching staff is filled with gormless weiners that reflect the "aw screw it, we'll figure this out later" nature of the head coach. Guess which one I lean towards.
THREAT LEVEL
Hang on, I'm getting some breaking news here. That's right, in an Eleven Warriors dot com exclusive, we interrupt your regularly scheduled hot takes for a live look at Shea Patterson attempting to hold a football:
Wow. It's incredible, folks. Shea's tiny baby hands just keep on betraying him in his time of need, and right now, the Wolverines need him to stop putting the ball on the turf every third snap. What's really remarkable about the fact that Michigan turned the ball over three times against Army is that Army also turned the ball over three times. You would think that, given the opportunities, one of these teams would take advantage and put the other squad away, but nope! Overtime.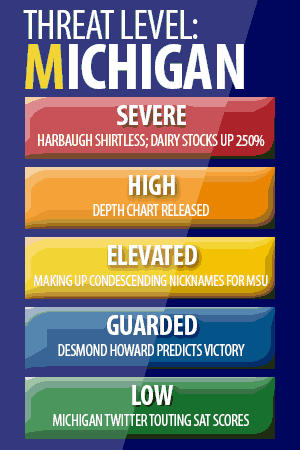 I groaned when Army's true freshman kicker did what true freshman kickers always do and failed to convert a critical field goal; the Wolverines have a weirdly great overtime record, and if you can't get them in regulation at the Big House, you're probably not going to get them after. Which is really a shame because Michigan did nothing at all to suggest that they deserved to win this particular football game.
So while Shea was on the sidelines frantically googling hand extension surgeons, Jim Harbaugh was busy throwing analyzing tea leaves in the bottom of a china cup to determine what play to call next.
For example, the Wolverines scored their first touchdown on an efficient, workmanlike 11 play drive that went 70 yards. Their next four drives had a combined 21 plays that totaled 67 yards and featured two lost fumbles and a three-and-out that went literally nowhere. In the fourth quarter Harbaugh called for seven consecutive Zach Charbonnet runs that gained a total of 21 yards.
Dylan McCaffrey came off the bench to throw a single pass in the third quarter. Neat.
My chief criticism of Michigan thus far is that their 2019 season right now looks like every other season under Harbaugh; a generally talented squad that wastes three hours of my time every Saturday by having zero concept of form or shape. Any games they win are by sheer innate talent and not through, say, careful planning or scheme or creativity or execution or pretty much anything that makes a team and not just a collection of dorks running around.
They are, as always, the quintessential trust fund team that was born on third and thinks they hit a triple, but actually they're playing football and there are no bases and the field is completely different and also the ball you're supposed to use is much larger and more oblong (which could account for the fumbles).
Next up, Michigan travels to Wisconsin. It's going to go poorly for them.
The Threat Level remains at GUARDED.