Michigan had this all figured out sometime in mid-November. After recovering from an opening loss to Notre Dame (which, at the time, seemed like one of those mythical Quality Losses that I keep hearing about), they had gone undefeated. That included a supposedly brutal four game stretch where they played the likes of Wisconsin (meh), Michigan State (super meh), and Penn State (not as meh but still fairly meh in the grand scheme of things).
Many Michigan fans and non-Michigan fans (including myself) were fooled by this display of pseudo-competence, until, of course, the Wolverines ran into an absolute buzzsaw against the Buckeyes. This will be a theme, as it was in Michigan's 45-15 loss against Florida in the Peach Bowl.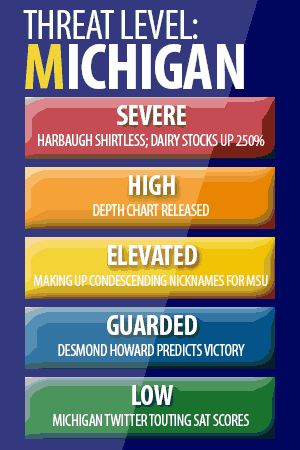 THREAT LEVEL
One might look at Michigan's bowl history and cringe, which would be appropriate because they've lost three in a row now, but really that's small potatoes compared to their five bowl losses in a row from 1975-1979 and their four from 2003-2006. In those nine games they lost seven damn Rose Bowls.
Other recent history has repeated itself. In 2016, a 10-1 Michigan team ranked in the top four (which, by the way, is a whole post by itself. How in the hell the Wolverines could manage to lose to an unranked Iowa team and not drop at all in the CFP rankings is beyond me) rolled into C-Bus and lost, and then went on to get beat by a team from Florida in a bowl game.
The primary difference between Michigan in 2016 and Michigan in 2018 is that the combined margin of defeat for the Wolverines two years ago was a mere four points. This season, Jim Harbaugh and company lost their final two games by a total of 49 points. Which, according to my calculations, is bad.
I don't really have the patience to break down all of the ways in which Michigan got beat on Saturday, but it suffices to say that a bad running game (amplified by the absence of Karan Higdon) and a really bad performance by the offensive line sealed their fate. And Florida being a better football team in terms of coaching and personnel also was a factor.
What's more interesting is this ridiculous exchange between Harbaugh and Dan Mullen before the game about Jordan branding, where the only logical explanation for how Harbaugh reacts is that he's got bad hearing and misinterpreted an offhanded remark as an insult. Or he's just deeply weird.
Anyway, The End! Michigan fans, the Willy Lomans of the college football world, briefly got to touch the brass ring of relevance before being plunged back down into the seething cauldron of also-rans that comprise 90% of college football. Single-sentence-paragraph-writer Jeff Seidel puts it thusly in the Detroit Free Press:
And that is the theme of this season.

Against the toughest competition, when the bright lights came on, everything was revealed.

Good, but not great.
Yep! See you next year! The Threat Level remains LOW.