One of the things about the Threat Level that is important to keep in mind is that it's a relative scale; we're not here to determine how likely it is that Michigan is going to win a Big Ten or national championship, we're here to assess just how dangerous the Michigan Wolverines are to the Ohio State Buckeyes on a week to week basis.
If Michigan happened to be a mediocre 4-3 team at this point in the season but Ohio State was 1-6 with a win against St. Agatha's School for the Infirm, then we bump the Threat Level up to SEVERE and batten down the hatches. And if that same 4-3 Michigan team is puttering their way through their schedule while a crazed Buckeye squad is annihilating multiple top ten teams by 35 points or more, well sir that's a Threat Level of LOW and we sleep easy for a few weeks.
Here's what we do have: a talented Ohio State team with a badass passing attack and a great defensive line is undefeated, but also features an increasingly dysfunctional running game, a secondary that's aspiring to basic competency, and an offensive line coming off its worst game of the season. Their best win is losing its luster and their second best win is sliding into the disposal.
Michigan has a loss (that's looking more understandable as the season goes on), but uncharacteristic of Harbaugh teams they are somehow getting... better? ...every week. They have a good quarterback, an improving offensive line and running game, and possibly the best defense in the country. And they just beat a ranked Big Ten team for the first time in two seasons, taking out No. 15 Wisconsin at home, 38-13.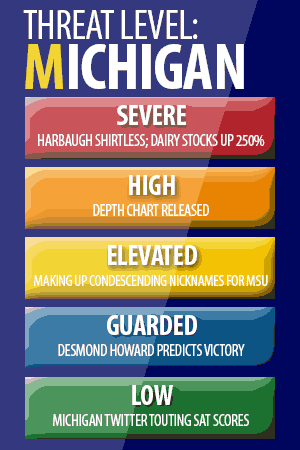 THREAT LEVEL
A few caveats; Wisconsin quarterback Alex Hornibrook was godawful in Ann Arbor (7/20, 100 yards, two interceptions), the game was at night, and Michigan's usual slow start isn't an issue only as long as their defense continues to be insanely great.
Which, as an aside... they are great. They ceded their overall spot to Miami last weekend, but they still have the best overall pass defense in the country and are allowing less than 110 yards of rushing per game.
And yes, the Wolverines did rack up 320 rushing yards themselves, but 150 of them came on three plays, including an 81 yarder from Shea Patterson (not that allows an Ohio State fan to sleep any easier). Michigan isn't typically a home run team, but was playing at Coors Field on Saturday. They probably can't rely on that being the norm going forward.
But the real story here is the Michigan offensive line, which is rapidly becoming a strength of the team; not in the sense that Patterson is keeping a pristine shirt, but more in the sense that they're asserting themselves in the rushing game and sustaining absurdly long drives that just suck the will out of opposing teams.
The end result was a second half where the Wolverines just sat on the chest of the Badgers until they passed out. A defensive touchdown coupled with drives of 75, 63, and 68 yards ended all doubt as to who the better team was.
This week the Threat Level is bumped up to somewhat skeptical HIGH. Next time, the Fighting Harbaughs have to go to East Lansing, where Sparty looks to continue their rivalry dominance. And while they very well might do just that, it's looking much harder than it was a few weeks ago.