I'll get to a semi-legitimate analysis of what all went wrong for Michigan against Notre Dame in a second, but I want to address what I view as a larger issue that has plagued the Michigan football program for over a decade now. Which is that I'm starting to suspect that they've been trapped in some kind of weird fugue state where they've forgotten what football is or at the very least have been experiencing some kind of existential crisis.
Including tonight's loss, the Michigan Wolverines haven't won a road game against a ranked opponent since 2006. pic.twitter.com/vXNNjPYorq

— ESPN Stats & Info (@ESPNStatsInfo) September 2, 2018
Because for four of the past eight years here at Eleven Warriors, I've been tasked with watching Michigan games and then giving a cute little report on them afterward. And increasingly I've noticed that the experience of watching a Michigan football game is unlike any other football-watching endeavor; something just seems off, like a movie with the audio lagging a second and a half behind the image, or a duck on a leash.
It really can't be explained away by "they're bad and watching Michigan football sucks." That's a true statement, but the weird mashed peas and wood-paneled basement malaise-y vibe is starting to wig me out. Jim Harbaugh was supposed to inject life into this moribund program and it feels like the darkness has consumed him too.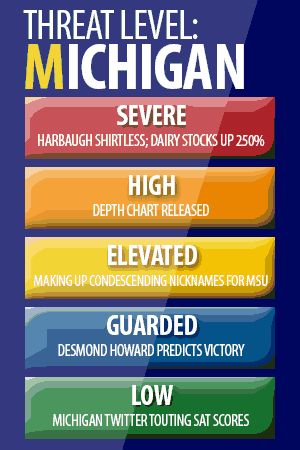 THREAT LEVEL
Oh yeah, Michigan lost to Notre Dame, 24-17. See above. Not a shock.
The best way to summarize this game is to write "I guess" at the end of every sentence you say about it.
Quarterback Shea Patterson was fine, I guess. The defense wasn't great, but played much better in the second half, I guess. Special teams was okay, I guess. Notre Dame quarterback Brandon Wimbush was mostly held in check. I guess.
And yet, Michigan still lost. The Wolverines outgained the Fighting Irish, possessed the ball longer, had almost exactly as many first downs, and none of that mattered because at no point in the game did it appear that Michigan might pull off the win.
Even worse, they didn't even manage to score an offensive touchdown until there was less than three minutes left to play in the game. Which brings us to the real culprit here: the offensive line. Patterson has been hyped enormously as a transfer, but he's not going to be able to get much of anything going being harassed as much as he was on Saturday. But his struggles with consistency proved to be a nice distraction from a truly awful running game that only gained 58 yards on 33 carries. Ed Warinner being an Ohio State double agent wouldn't make a lot of sense at this point, but it'd be more interesting than anything the Wolverines did last weekend.
Look, Notre Dame is a good team, but that's the point. We can probably project the rest of the season if we really feel like it: Michigan will win their next several games against bad-to-mediocre competition, and then promptly lose everything else against teams with a pulse. As per usual.
That wasn't supposed to be Jim Harbaugh's ceiling, but it sure as hell is starting to look like Michigan's.
The Threat Level has been downgraded to GUARDED.