So here we are. After many games and many more snarky jokes, the entire reason for this column existing is upon us.
Threat Level: Michigan was conceived as a way for Ohio State fans to keep a wary eye on the one, true foe of Buckeye football. You can't always be looking out for Voldemort 24/7, and I hope I gave you some comfort that at least one of us was out there at the proverbial lighthouse, scanning the horizon for trouble.
Because truly, this is the enemy that brings the dark and the night. This is the opponent who writhes in the inky black of our subconscious, squirming their way into our consciousness for an entire week, bringing with them dread and excitement and anxiety in ways that by all rights no team should have the power to do against an Ohio State football program.
But... there they are. Year after year after year, good or average or bad or really, really bad, Michigan football plants themselves like a brick wall between Ohio State and their ambitions. This time is no different. Win, and Ohio State's national championship hopes are alive. Lose, and well, a Big Ten championship might be in the cards, but not a whole lot beyond that.
Same as it ever was. The threat level is at SEVERE.
THREAT LEVEL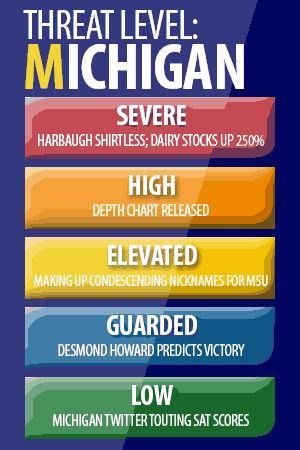 Last weekend was a bad one for Michigan football. Losing to Wisconsin on the road isn't the end of the world, but the way it happened and the conditions surrounding it put a rubber stamp on an incredibly disappointing season for the Wolverines.
First, let's address the fact that Michigan football hasn't beaten a team with a winning record in more than a calendar year. That's not just bad, that's a gigantic indictment of the team that Jim Harbaugh has built in his time at Michigan. While it's clear that in terms of recruiting and coaching personnel and being funny on Twitter he's well ahead of where Brady Hoke had the team, what his salary is based on and where he's essentially dead even with Hoke is in the realm of wins and losses. Until Michigan can win big games with any kind of consistency, Harbaugh is straining to justify his salary.
So yeah, getting beat 24-10 by an undefeated team on the road isn't the end of the world on the face of it, but when you a) lose whatever potential bright spot at quarterback you might've had to injury and have no idea when or if he'll be back, b) replace him with one of the worst Michigan quarterbacks since the Rich Rod days out of necessity (O'Korn, predictably, was super bad), and c) have a running game completely disappear (37 carries for 58 yards), there really isn't a whole lot to be positive about.
Defensively, the Wolverines got eaten alive by a good running back, and while Wisconsin's Alex Hornibrook didn't have a banner day passing the ball himself, he didn't end up needing to. It was clear after Peters went down that Michigan wasn't going to mount any kind of offensive threat.
So if you take all of this and roll it into a little ball and put the ball in your pocket and carry it around with you until Saturday, it might stave off your latent anxiety about The Game until kickoff, but you know and I know that anything less than the maximum threat level isn't appropriate for what's about to go down. Any team in this rivalry is capable of winning any game, and in a season where Kirk Ferentz and company can drop 55 on an unsuspecting Urban Meyer squad, Jim Harbaugh pulling a Thanksgiving miracle out of his ass isn't even close to the craziest thing that's happened in the last 100 or so years.
Keep a clear eye! It's Michigan week.