You're probably not going to love this, but despite the jokes and the fairly relentless dumping on the Wolverines by yours truly for the vast majority of this season, with just a few games to go both the Buckeyes and That Team Up North are similar in more ways than they are not.
Yeah, the College Football Playoff is still in play for Urban Meyer and the Buckeyes, and it'd take a minor miracle for Michigan to end up in Indianapolis for the Big Ten Championship game, but right now you're looking at two 8-2 teams with some serious deficiencies and some incredible advantages over their opponents. The difference as far as next week goes is that Ohio State gets to play Illinois while Michigan has to take on Wisconsin, but if both teams win then all of a sudden you've got one of the most intriguing matchups in The Game in a long, long time. Not because of national title implications, but because for once, both teams might be playing for pretty much the same thing.
In the meantime, Michigan took Maryland to the woodshed, despite stuff like this:
Maryland outgained Michigan 148 to 21 in the third quarter. Wolverines had one first down, completed one pass. It added up to three whole points for the Terps.

— Kyle Rowland (@KyleRowland) November 11, 2017
Up 28-0 at halftime and winning 35-10 by the end, the Wolverines were nonetheless pretty disengaged overall. But Brandon Peters was fine, the running attack was fine, and nobody turned the ball over. That's more than enough to trash the fighting D.J. Durkins.
THREAT LEVEL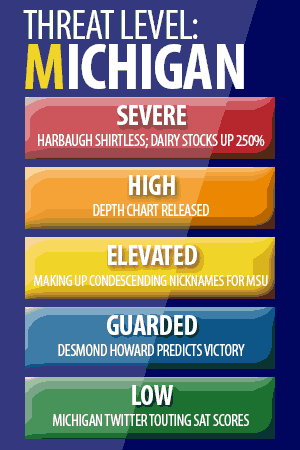 Brandon Peters is going to have to win a game, either against Wisconsin or Ohio State, but his reckoning is coming, and soon. 9/18 and 145 yards with a couple of touchdowns is fine against the Marylands of the world, but that's not exactly going to strike fear in the hearts of Buckeye or Badger fans. The biggest thing for Peters is that he avoided turnovers (as did the Wolverines as a whole), but next weekend will be a gigantic test.
The same goes for the running game. Higdon and Evans were fine, with a combined 130 yards on 25 carries, and it's clear that they've formed the core of Michigan's offensive identity at this point. But as with Peters, they have to be better than fine to close out the season. Michigan is officially a run-first team right now, and it's not a secret.
Defensively Michigan had an okay Saturday. They were able to effectively shut down the Terrapins' passing game, but their running game was surprisingly effective against what is supposed to be one of the better rush defenses in the country. That could be a bad sign against a Wisconsin team that's, well... Wisconsin.
The Game is as ever the only game that matters, but next week will be the test that proves whether or not Michigan has the ability to make it one to remember. Wisconsin has the best statistical running defense in the country, and an overall offense a damn sight better than 94th, which is where the Wolverines sit.
The Threat Level is skeptical of Michigan's ability to pull this thing off. Wisconsin is, garbage schedule aside, pretty damn good. A guarded ELEVATED will continue to suffice. Let's see how this plays out.