Let's talk about soft tissue injuries. That's what Michigan starting quarterback Wilton Speight is currently afflicted with, at least according to a weirdly offhanded remark by Jim Harbaugh after the Purdue game (which the Wolverines won 28-10, largely on the strength of gumption and grit and a crappy Purdue offense):
Starting quarterback Wilton Speight went down with an injury in the first quarter after taking an awkward hit on a sack and was out for the remainder of the game.

"I don't think it's anything structural. I think it's soft tissue," Michigan coach Jim Harbaugh said. "But we'll find out more. He's just working through something."
A "soft tissue injury" is essentially a bruise or sprain to a muscle or tendon or literally anything that isn't a bone, which means that Harbaugh's description of an important personnel issue was typically unhelpful and annoying. Speight might just have a boo-boo on his pinky toe or a traumatic concussion that has caused him to forget his middle name. Who knows!
What we do know is that John O'Korn, who filled in for Speight once he went down, performed significantly better than expected. Completing close to 70% of your passes will endear you to a fanbase used to somewhere barely north of 50% with Speight, so now we have a legitimate quarterback controversy in Ann Arbor! Which is fun.
THREAT LEVEL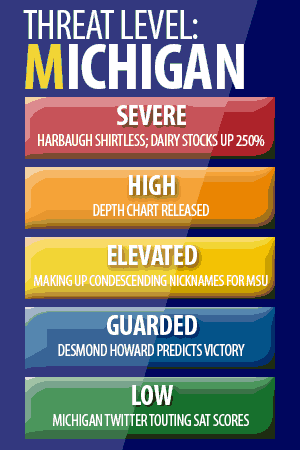 Harbaugh laughed at the prerequisite "who's gonna play next time" question, but if I'm pretending to be a neutral party for a few seconds here, O'Korn is clearly the best option going forward. He got better as the game went on, and two excellent 2nd half drives showed both his ability to make throws that Speight hasn't made all season, but also the ability to pick up yards with his feet if necessary, an improvement over Speight's "their vision is based on movement, if I stay still they can't see me" strategy. Well, maybe. He did it once. And actually finished with zero total rushing yards despite a drive-extending 12 yard scamper in the 4th quarter. But that's still better than the -16 yards Speight had in approximately five seconds of game time.
The rushing game is still weird. Last week I said that Ty Isaac was getting into a groove; nope! 10 rushing attempts for 20 yards. This week Chris Evans stepped up for the first time since a subpar performance against Florida, gaining 97 yards on 14 carries. Overall though, 139 yards on the ground isn't going to cut it forever.
Defensively they continued to be great blah blah blah. Eventually Michigan is going to have to prove their mettle against an offense respected by people outside of the MAC, but so far they've done nothing to make me think that they're anything but really, really good.
But here's the thing: next week is a big fat off week, meaning that Harbaugh and company will have two weeks to totally bungle a QB controversy. So until he makes a decision (15 minutes before game time against Michigan State), the rickety running game plus uncertainty at the most important position in sports means that the Threat Level remains at GUARDED.