Former Michigan cornerback Jourdan Lewis faces a domestic violence charge after the Washtenaw County Prosecutor's Office authorized it Wednesday. He stands accused of assaulting his 20-year-old girlfriend.
Jourdan Lewis was not arrested last night. Police responded to a DV complaint and released him at the scene. Charge came later Weds.

— Dan Murphy (@DanMurphyESPN) March 15, 2017
From mlive.com:
ANN ARBOR, MI -- The Washtenaw County Prosecutor's Office has authorized a domestic violence charge against former University of Michigan football player and projected top round NFL draft pick Jourdan Lewis, according to court records.

[...]

"It wasn't clear to the officers (Wednesday morning) if there was an assault, or who the aggressor was," he added.

Subsequent investigation led to a misdemeanor assault charge against Lewis, according to Lige.
Lewis is considered one of the best cornerbacks available in the draft. As of now, it's unclear how this charge would affect his draft stock. Lewis tweeted this moments after the news broke before deleting it an hour later: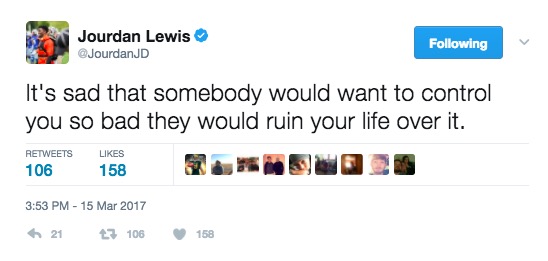 Lewis is considered innocent until proven guilty.