Deep down we all knew this was possible.
Hell, it's been possible since Urban Meyer was tapped to reupholster a fragmented seven-loss catastrophe on probation with no offensive tackles, coached quarterbacks or postseason opportunities. Continuing to lose was always possible.
Unfortunately, now it's happening: Your favorite sports team - which very recently won 24 consecutive games - has now lost three of four. Ohio State entered the locker room at halftime trailing in all four of those games.
The Buckeyes turned over their offensive line, their best running back of the century, lost a Heisman candidate late last month and is now a little younger than it probably wants to be. We can finally admit to having become enamored with recruiting stars and slick practice highlight videos.
Their marketing department has probably been a little too effective. Product development is what's lagging. Let's not confuse young offensive line with bad offensive line: Ohio State's is currently the latter (not to be confused with the 2011 line, which was both old and bad). This could change. Gulp.
Entering Week 3 it's very far from good enough, which exaggerates the Buckeyes' receivers who appear to be - and this is just a conservative, unscientific observation - grossly underperforming. We'll get to them later.
You've inexplicably - and possibly, prematurely - entered One Year Away mode in September and you can now look forward to relentless zone blitzes from every team Ohio State plays for the rest of 2014. The big problem is that deep down we care too much. It would be great if we didn't care at all, and we'll get to what that's like right now.
Lick those wounds. It's time to get Situational.
The B1G Proposal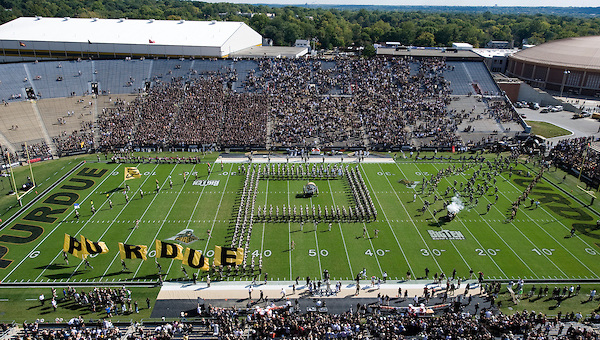 There are Big Ten teams who deep down don't give a solitary shit about winning football games. Their payout is the same regardless of how useless they are on Saturdays, and since compensation shapes behavior there's no real reason to ever really invest in improvement. If anything, they can cut their costs to further growth like every other big corporation that's grown tired of being innovative.
Jim Delany has successfully leveraged one of the most prestigious academic consortiums in the world into a patchwork athletic conference slash media giant that projectile vomits billions of dollars all over its stakeholders annually. The profits are stacked, admired and then chopped up and shared evenly. It's like measuring out ice cream scoops for children.
Some children, like all of the B1G schools with State in their names have taken their payouts and poured money into infrastructure and improving their football programs. At least they're trying. Others have cashed their checks and openly perpetuated the continuing embarrassment that is the B1G's inability to punch at its own weight.
Purdue's punishment for sucking every year EQUALS THE REWARD FOR WINNING THE BIG TEN.
Since BTN launched Purdue has managed to become the Big Ten's worst football and basketball program. It got both of its coaches on the cheap and doesn't appear to be all that interested in even pretending to be competitive. On the bright side, it's very well-equipped to launch its shitty football program into space.
Purdue's punishment for sucking is no punishment. Relegation into the MAC in exchange for its champion is a fun idea to bat around, but this is an academic consortium. Still, it's clear that there is some abuse to the revenue sharing where reinvestment is concerned. The rising tide of shared revenue is intended to raise all of the B1G's boats.
So instead of relegation, have the B1G doormat over a three-year aggregate forfeit a percentage of its BTN winnings each year to the other schools. Call it the Suck Tax. There's simply no carrot anymore for improvement in the Big Ten with all of that money guaranteed. That means you might as well go with the stick.
The ABSESSION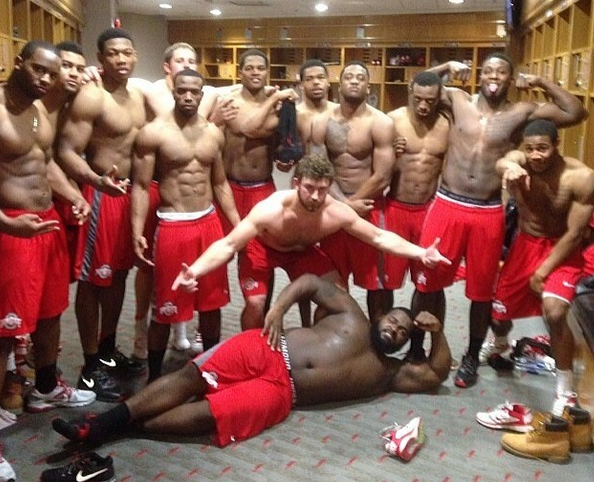 These Buckeyes love to make appearances. They're part of that Selfie Generation, but they've upgraded their contributions with more chiseled abs and fewer duck faces. Go ahead and follow any of them on Instagram - win or lose, you'll see these guys are chiefly concerned with how they look. Don't grumble, oldsters. Kids are gonna kid.
Clearly there are some football flaws beneath those sculpted exteriors: Ohio State has a shriveling offensive line incapable of conducting the kind of basic football play we bemoaned Jim Tressel for running into oblivion. For all the miracles Ed Warinner performed on the depthless line he inherited, the one that has since been built is shockingly vulnerable to even predictable pressure.
The big fellas can be run around or run through. At least they're versatile.
Ohio State hasn't had A threatening receiving duO since DeVier Posey and Dane Sanzenbacher.
While holding a block seems to be a challenge for the line, holding the ball is the struggle for the Buckeyes' enormous legion of highly-regarded wide receivers. Michael Thomas appears to be able to do everything well, while Devin Smith can run that one fly route he always runs and Evan Spencer can, um, block. Everyone else has buckets of speed, which without effective route running or hands is about as useful in a football game as...right, chiseled abs.
What we're left with one-sixth of the way through the season is an offense full of track stars and turnstiles. Sure, the defense repeatedly gagged on 3rd downs against Virginia Tech but they've demonstrated some competence. The offense appears to be incapable of threatening to stretch the field, and now's the part where you try to explain why Ohio State hasn't had legitimate receiving threat who routinely got open since DeVier Posey and Dane Sanzenbacher. (Devin needs a second pitch to be considered)
We've seen the physical transformations as part of that strength and marketing machine Ohio State has gotten so good at running. They're impressive, but a more profound metamorphosis would be the ability to gain five yards on a running play, keep a defense hedging against the pass or stop anybody on a 3rd down. 
Post that before-and-after picture on Instagram. Put the Valencia filter on it. It would get a million Likes.
The DEAD SIGNAL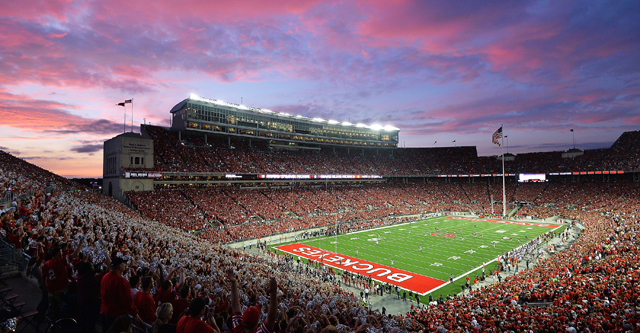 That charming pink sky above the most recognizable outdoor cathedral in America on Saturday was college football art at its best. Aesthetically speaking, the evening could not have been a better scene for for the calamity that ensued.
On the inside, it wasn't nearly as pretty. You may have heard Ohio Stadium will have cell phone charging stations beginning this Saturday, which will ensure that for a nominal fee patrons will have fully juiced mobile devices to go with zero cellular service in a packed stadium. Helpful!
I hear you, crotchety people - put down the dang phone and watch the game. Some of us simply prefer to monitor media coverage of what we're seeing without having to tolerate Paul Keels' feigned interest in the game. His standard play call:
[Velvety monotone speed-talking about nothing useful]

[player name]

[whoops, wrong player - it was someone else]

[that player's hometown and high school football coach's name] 

[cedes microphone to Lachey to provide any relevant comments]
Yeah, the Internet is better than listening to Keels because literally everything is.
But even if that wasn't the case, the people charged with Ohio Stadium's social media initiative continue to have their heads buried in the stadium's password-protected wifi. They either have no clue or don't care how the other 106,900 of us live.
Meanwhile, there are announcements all game long requesting fans to hashtag photos and tweets. There are pleas to text the stadium for information. Twitter handles are promoted, Instagram, Facebook - it's a full social media assault by the stadium within which mobile devices have been rendered useless.
As long as American cellular companies openly collude to suck and be expensive, the service in the stadium on Saturdays won't improve. There's no incentive for them to do so, so industry fortifying the Horseshoe signal has no payoff. It's up to Ohio State to install wifi and charge interested users through the nose for access, which they will pay. They always do.
That all being said, it would be irresponsible not to acknowledge that for the first time in the history of that multi-million dollar video board, Ohio Stadium is now showing multiple replays with relevant angles and freezing playback to clear any confusion about calls in question. Ignoring controversial calls for all those years was both maddening and stupid. That era has apparently ended.
That was wonderful, even if the game itself wasn't. Now they just need to turn on the Internet machine. Or, stop begging fans to use the Internet during games.
THE BOURBON
There is a bourbon for every situation. Sometimes the spirits and the events overlap, which means that where bourbon is concerned there can be more than one worthy choice.
This is the whiniest Situational in the history of Situationals so we need to take a break from feeling sorry for ourselves with some sweet indulgence; a word borne out of the 14th century, meaning: 
freeing from temporal punishment for sin, from the Latin indulgentia. Complaisance, fondness, remission from indulgentem (née. indulgens)
Or as we're redefining indulgence in this section: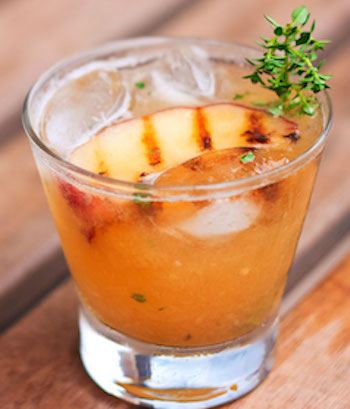 Grilled peaches soaked in bourbon and then used to garnish even more bourbon.
In simpler terms: We're going to make a Grilled Peach Bourbon Smash.
The first thing you're going to need here are peaches. Choose your preferred variety and slice them down the middle. Pour out some Ancient Age (currently the featured bourbon at preferred 11W Short North hangout Bakersfield) onto a small dish and then put your peach halves slice-side-down on it. Let those peaches drink for awhile. They've earned it.
Once they're saturated drop them slice-side-up on your hot grill and pour some extra bourbon into the little cup created by the pit. Sprinkle in some brown sugar and let it grill until the bourbon/sugar mix starts to look a little syrupy. Now flip them slice-side-down and grill until there are handsome grill markings like on the peach pictured to the right.
For each drink, muddle one peach half in a shaker with lemon juice and Ancient Age. Add ice and shake, then pour into a glass (rocks or up - it's America, you choose) and add the second peach half, neatly sliced, along with your thyme sprigs - just to show that you possess a level of sophistication that Ohio State's blocking scheme currently doesn't.
Grilled Peach Bourbon Smash 

| Ingredient | Quantity Per Drink |
| --- | --- |
| Peaches | one |
| Brown sugar | spoonful |
| Thyme | two sprigs |
| Bitters | three shakes |
| Lemon juice | one squeeze |
| Bourbon | 2oz in the drink + grilling the peach |
As an added bonus - if you're grilling more than one peach (and you should, because they're indulgent) take some of your extra grilled halves that aren't going into Grilled Peach Bourbon Smashes and fill that little cup with honey-infused mascarpone cheese and almond slivers - or, if you just read that and involuntarily mouthed whaaaaaat - use some ice cream instead. They both work.
Now you're drinking a delicious, rustic bourbon cocktail that took affordable but worthy bourbon - and upgraded it with fruit. You should eat more fruit anyway. Go ask mother; she agrees with me.
And now you're holding a drink that makes it impossible to whine about anything, let alone the ability to get one stupid yard on the ground against a double-eagle defensive front. Cheers!
THE PLAY-OFF
Last year I made my Ohio State hype video debut and grand finale at the same time with the release of Autumn's Here. The concept was two-fold: One, I hadn't seen a melancholy celebration of college football's interminable circle of life before (with all due respect to the hideous hip-hop and queefcore rock anthem-themed hype videos who own the genre). I took it upon myself to close that gap to benefit the quiet minority.
And two, the video was intended to serve as a companion piece to this article which borrowed that same drippy theme and ran the same day in the buildup to the 2013 season. 
I took the song Autumn's Here, which doesn't require too loose of an interpretation to be taken in a football direction and scripted out a progression of scenes from Pop Warner to Braxton Miller. The production and editing prowess of our buddy Matthew Gnepper transformed the concept into reality.
The feedback was overwhelmingly positive, and I haven't stopped hearing about it from people who find it on Youtube. Even Dr. Cox from Scrubs enjoyed it enough to share it one year after it was published:
http://t.co/FTOesz18Ak: Autumn's Here: http://t.co/ShVbgLDD8h via @YouTube

— John C. McGinley (@JohnCMcGinley) August 28, 2014
But my favorite byproduct of the project comes at least monthly throughout the offseason, when I'll receive a message asking, "love that video; hey, who sings the original song?" Because, you know, this is way too hard. 
The artist is Hawksley Workman, who is basically a more wistful and Canadian version of Morrissey. Here he is doing a solo acoustic version of the song I set my only football video to (note: there are no awesome college football highlights in this version)
We've covered dubstep, hip-hop, rock, mash-ups and virtually every non-country genre in The Playoff - and now we've finally hit guitar-driven somber unrequited love. If only Workman could write a song about wide receivers that could both get separation and catch passes. Gnepper and I would be equipped with the proper muse to produce an Autumn's Here video sequel. That probably won't happen.
That concludes The Situational. Go Bucks. Beat Kent State.