National Signing Day 2014 wrapped up less than two weeks ago, but that doesn't mean that many Big Ten schools haven't already started to build their next recruiting class. 
Indiana, Minnesota and Northwestern are the only three programs that have yet to land at least one verbal commitment for the 2015 class. On the contrary, Michigan and Nebraska are off to fast starts with four pledges apiece. The Buckeyes currently sit with three prospects committed. 
The Big Ten conference is looking to rebound from their down year on the recruiting trail. While Ohio State finished with one of the nation's top recruiting classes, the next highest B1G school finished 20th. Six of the 14 schools' recruiting classes finished outside of 247Sports' top 50.
Let's take a quick look at how each team has done with their 2015 classes, so far. 
Nebraska

After finishing with an average 2014 recruiting class, Bo Pelini and the Cornhuskers have already secured commitments from four prospects. 
Eric Lee, a highly regarded corner from Colorado, headlines the early class for Nebraska. Four-star safety Avery Anderson also joined the fold during the past two weeks. Bo Pelini also tapped into Kansas to land four-star offensive tackle Christian Gaylord. Athlete Kendall Bussey also selected Nebraska over offers from Missouri, Mississippi State and others. 
It's very early in the recruiting cycle, but Nebraska owns the top class in the Big Ten and the 14th best in the nation. 
Michigan

The Wolverines got off to a quick start in 2015, but have already lost a pair of five-star commitments in Damien Harris and George Campbell. 
One of Ohio's top prospects, four-star cornerback Shaun Crawford, committed to Michigan early in the process. He would later receive an Ohio State offer. Four-star safety Tyree Kinnel committed to the Wolverines over offers from Arkansas, Kentucky, Michigan State and others. Massillon's Andrew David, a two star kicker, is the third Ohio prospect to select Michigan. Offensive tackle Jon Runyan Jr. is the lone three-star commitment. 
Brady Hoke and the Wolverines currently have the nation's 17th ranked class for 2015. 
Ohio State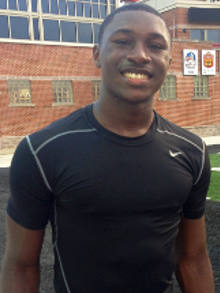 Eric Glover-Williams was asked to be the face of Ohio State's recruiting class and he responded by being the first commitment. Urban Meyer has picked up two surprise commitments since landing EGW. While it was known that four-star corner Jamel Dean loved the Buckeyes, many were surprised by the timing of his commitment. Hard hitting safety Ben Edwards recently surprised many by picking the Buckeyes over Auburn. 
While this class ranks 21st, expect Urban Meyer to finish with another top five ranked recruiting class. 
Michigan State

The Spartans are hoping to capitalize on a Rose Bowl win with recruiting success. One of their top junior commitments, quarterback Jayru Campbell, was arrested which could put his future in serious jeopardy. 
Four-star offensive tackle Kyonto Stallworth committed to the Spartans over Florida, Tennessee and UCLA while three-star corner Tyson Smith has also secured his spot in MSU's class. 
Mark Dantonio currently has his 2015 class ranked 22nd in the nation. 
Penn State

James Franklin has been recruiting well since taking over in Happy Valley and that continued with three pledges on Saturday. Four-star offensive lineman Ryan Bates selected the Nittany Lions over quite a few offers including one from Ohio State. Kamonte Carter, a four-star defensive end also pledges to Penn State, when he committed over offers from Kentucky, Maryland, Michigan State, Nebraska and numerous others. 
Two-star safety Jarvis Miller was the first verbal of the class despite his two-star status and lack of offers. He is one of the three members of the nation's 23rd ranked recruiting class. 
Rutgers

After a rough recruiting cycle with de-commit totals in the teens, Rutgers will look to rebound with a stronger class. James Franklin and Urban Meyer will look to make that difficult for the Scarlet Knights. 
Four-star running back Saquon Barkley committed nearly five months ago, but his crystal ball is 100% in favor of him flipping to Penn State. Pro-style quarterback Michael Dare recently committed to the Scarlet Knights, but who knows if his commitment will stick. 
The Scarlet Knights own the nation's 31st best recruiting class at this very early stage. 
Iowa

The Hawkeyes appear to have landed their potential quarterback of the future in Jack Beneventi. Before committing to Iowa, Beneventi had offers from Illinois, Louisville, Notre Dame and Western Michigan. 
In-state three-star lineman Jacob Newborg committed months ago. He did not hold any other offers at the time. 
The nation's 34th ranked recruiting class belongs to Kirk Ferentz and the Iowa Hawkeyes. 
Maryland

The Terrapins only have one commitment, but it comes from a good prospect. Four-star lineman E.J. Donahue selected the Terps months ago over Rutgers and West Virginia. 
Randy Edsall finished out the 2014 class strong, despite missing out on five-star Jalen Tabor and others. It's too early to accurately judge, but Maryland currently holds the 42nd ranked recruiting class. 
Purdue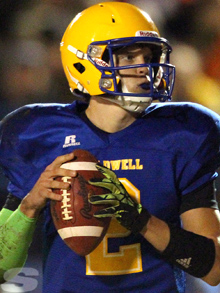 The Boilermakers are off to a good start in 2015 after a rough first year for Darrell Hazell. Three-star signal-caller Elijah Sindelar pledged to Purdue over offers from Illinois, Kentucky and Toledo. Sindelar is one of my favorite quarterbacks in this class, which makes this a steal for Purdue. 
With only one verbal, Purdue's class ranks 44th in the nation. 
Wisconsin

Much like Purdue, Wisconsin has already landed their quarterback for their upcoming class. Dual threat three-star Austin Kafentzis committed to the Badgers in June. He held offers from BYU, Hawaii and Utah. 
Gary Andersen owns the 47th ranked recruiting in the nation, although one would expect the Badgers to climb the list as things progress. 
Illinois

Add the Illini to the list of schools that has already landed their quarterback for the 2015 class. Pro-style quarterback Jimmy Fitzgerald selected Illinois over FIU, Harvard, Western Michigan and Yale. 
Tim Beckman and company rank 49th out of the 62 schools that have received a commitment.