The Big Ten earned a conference-best eight bids into the 2019 NCAA Tournament – edging out the seven spots earned by both the ACC and SEC – but the league remains on the hunt for its first national title since Michigan State turned the trick beating Florida way back in 2000. 
Despite the lack of a national crown since in nearly two decades, the conference is typically fairly deep, putting at least six teams into the field in seven of the last eight years.
Over the last seven years, the league has also tallied six Final Four appearances including three national runner up finishes.  
Michigan reached the title tilt before falling to eventual champions in 2018 (Villanova) and 2013 (Louisville) and Wisconsin made it to the championship game in 2015 before losing to Duke. 
Nineteen Sweet 16 appearances also dot the Big Ten's resume over that same seven-year stretch. 
Looking at total won-loss record over the same span, the Big Ten had either the second or third-best winning percentage in six of the last seven tournaments. 
Since the field expanded to 64 teams back in 1985, the Big Ten boasts the third-best winning percentage (60.6%), trailing the ACC (66.3%) and Big East (61.8%).
RECENT BIG TEN CONFERENCE RESULTS IN NCAA TOURNAMENT

| YEAR | BIDS | RECORD | WIN PCT | BEST FOUR SEEDS | BEST FINISHES |
| --- | --- | --- | --- | --- | --- |
| 2019 | 8 | ?-? | ??? | (2) MSU, (2) MICH, (3) PUR, (5) WISC | ???? |
| 2018 | 4 | 9-4 | .692 (2ND) | (2) PUR, (3) MICH, (3) MSU, (5) OSU | PUR: SWEET 16 | MICH: CG |
| 2017 | 7 | 8-7 | .533 (7TH) | (4) PUR, (5) MINN, (6) MD, (7) MICH | PUR, MICH, WISC: SWEET 16 |
| 2016 | 7 | 8-7 | .533 (3RD) | (2) MSU, (5) IU, (5) MD, (7) WISC | IU, MD, WISC: SWEET 16 |
| 2015 | 7 | 12-7 | .632 (3RD) | (1) WISC, (4) MD, (7) MSU, (7) IOWA | MSU: FINAL 4 | WISC: CG |
| 2014 | 6 | 10-6 | .625 (3RD) | (2) WISC, (2) MICH, (4) MSU, (6) OSU | MICH, MSU: ELITE 8 | WISC: FINAL 4 |
| 2013 | 7 | 14-7 | .667 (2ND) | (1) IU, (2) OSU, (3) MSU, (4) MICH | OSU: ELITE 8 | MICH: CG |
| 2012 | 6 | 11-6 | .647 (3RD) | (1) MSU, (2) OSU, (4)WISC, (4) MICH, (4) IU | WISC, IU, MSU: SWEET 16 | OSU: FINAL 4 |
Looking at the list of Big Ten teams dancing in 2019, Michigan State and Michigan – a pair of No. 2 seeds – lead the pack with Purdue (No. 3), Wisconsin (No. 5) and Maryland (No. 6) set to do battle with higher seeded teams in the first round. 
Meanwhile, Minnesota (No. 10), Iowa (No. 10) and Ohio State (No. 11) are double-digit seeds. 
So how will each Big Ten team fare and do any have a chance to actually cut down the nets and end the conference's title drought? Hey, it's March so who the hell knows but here's a snapshot of each as they get ready for tip-off. 
B1G TEAMS IN NCAA TOURNAMENT

| TEAM | SEED | 1ST ROUND OPPONENT |
| --- | --- | --- |
| MICHIGAN ST. | 2 | BRADLEY |
| MICHIGAN | 2 | MONTANA |
| PURDUE | 3 | OLD DOMINION |
| WISCONSIN | 5 | OREGON |
| MARYLAND | 6 | BELMONT/TEMPLE |
| MINNESOTA | 10 | LOUISVILLE |
| IOWA | 10 | CINCINNATI |
| OHIO STATE | 11 | IOWA STATE |
MICHIGAN STATE - 2 SEED - EAST REGION
Tom Izzo's squad shared the regular season conference crown then swept through the B1G tournament only to see their reward come in the form of the No. 2 seed opposite the overall No. 1 seed in Duke despite their standing as the Dance's overall 6th-seed. 
Point guard Cassius Winston gives the Spartans a chance in just about any contest and their overall commitment to team defense makes them a tough out even on nights when the shots aren't falling. 
Michigan State is an 18.5-point favorite over No. 15 seed Bradley ahead of Thursday afternoon's tip-off and will need to knock off the winner of Louisville (7) versus Minnesota (10) to advance to the Sweet 16. From there, the high seeds would be LSU (3) or Maryland (6) for a trip to the Elite Eight before they would likely run into Duke with a trip to the Final Four on the line. Can they get past the Dookies? I mean, of course they could but the Blue Devils would certainly enter the game as the favorites. 
MICHIGAN - 2 SEED - WEST REGION
Despite losing to Michigan State three times in three weeks, the Wolverines earned the No. 2 seed in the West region opposite Gonzaga, the lowest-ranked No.1  seed. 
Make no mistake, the Wolverines, like Michigan State can play lockdown defense and are well-coached plus they return a bunch of guys from last year's national runner-up in addition to the annoying yet really good freshman sensation Ignas Brazdeikis.
Michigan opens with Montana on Thursday night as a 15-point favorite and a Sunday matchup likely awaits with the winner of the Nevada (7) / Florida (10) tilt. 
If they reach the Sweet 16, Texas Tech (3) or Buffalo (6) would be the highest seeds keeping them from the Elite Eight. 
PURDUE - 3 SEED - SOUTH REGION
Matt Painter's squad comes in having lost two of its last three games – both the Minnesota – as a No. 3 seed installed as a 12.5-point favorite over No. 14 seed Old Dominion. That said, the betting public is largely taking the points and some talking heads have the Boilers on upset alert. 
Purdue does rely heavily on Carsen Edwards to carry the scoring load which can put them at risk if he's not approaching his 23.0 points per game average. 
Looking for a third-straight Sweet 16 appearance (at minimum), the Boilers would face Villanova (6) or St. Mary's (11) on Saturday. Just one man's opinion, but if it's the defending national champion Wildcats, that could signal an early exit for Edwards and company. 
WISCONSIN - 5 SEED - SOUTH REGION
The Badgers find themselves in a dreaded 5-seed / 12-seed matchup against Oregon. The Ducks were extremely on the bubble but won their last four regular season games then won four more on the Pac-12 tournament crown. 
Which team controls the tempo will be key to who advances to a Sunday date with either Kansas State (4) or UC Irvine (13). A lot of folks are high on the Anteaters after they shredded the Big West (15-1) on the way to a 30-5 overall record. 
Bottom line, it's a pretty tough draw for the Badgers and if they do emerge from the weekend, they'll likely have to face No. 1 seed Virginia next. 
MARYLAND - 6 SEED - EAST REGION
The Terps finished fifth in the Big Ten and despite a lot of talent, I'm not sure they're always a well-coached team which makes it hard to predict how they might fare in the Dance. 
Anthony Cowan Jr. is a stud point guard scoring 16.0 per game and Bruno Fernando gives the Terps a big time post presence (13.7 ppg, 10.4 rpg) but somehow this team lost three of four ahead of the tournament including disappointing showings against the likes of Penn State and Nebraska.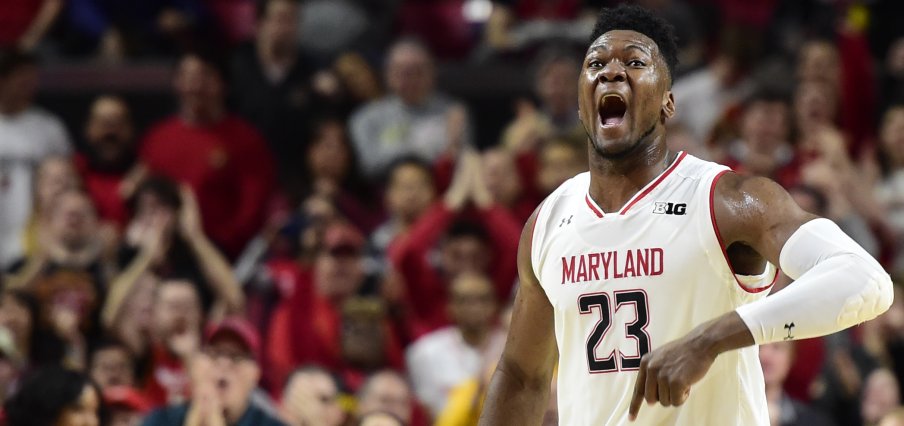 The Terps could be in trouble right from the jump if Belmont lives up to the hype bestowed on them but thousands of people that have seem them play anywhere from zero to one time. 
Belmont will be brimming with confidence after dispatching Temple in the First Four but I get the feeling (which means you should bet the opposite) that they're so trendy that they've already jumped the shark and Maryland at least makes it to the second against LSU (3) or even what is expected to be a tough out in Yale (14). 
MINNESOTA - 10 SEED - EAST REGION
The Gophers finished just one game ahead of Ohio State in the Big Ten regular season standings and beat Purdue twice down the stretch to secure a bid. 
In what would be a fairly rare occurrence, if the Gophers get by 7-seed Louisville on Thursday, they'd face conference foe Michigan State in the second round. The two teams met just once in the regular season with Sparty doling out a 79-55 beatdown which tells you all you need to know about Minnesota's chances of making the Sweet 16 for the first time since 1997. 
Before we get ahead of ourselves, the Gophers are a 5.5-point underdog against the Cardinals in their Thursday afternoon opener. 
IOWA - 10 SEED - SOUTH REGION
I can't believe I'm typing this but LET'S GO FRAN! Iowa's head coach isn't a favorite of mine but when compared to Cincinnati and its head coach Mick Cronin, I'm happy to drive the Hawkeyes bandwagon. 
Cronin's own comments exemplify Cincinnati's ongoing inferiority complex when it comes to Columbus and Ohio State and I'd love nothing more than for the 7th-seeded Bearcats to spit the bit as 3.5-point favorites in Nationwide Arena on Friday afternoon. 
Should a Hawkeyes squad that lost five of its last six manage to turn back the Bearcats, they'll run into No. 2 seed Tennessee on Sunday so it could be a short stint for an Iowa team that isn't lacking for offensive firepower but just hasn't been very good over the last month. 
OHIO STATE - 11 SEED - MIDWEST REGION
Speaking of teams limping into the tournament, the Buckeyes secured one of the last at-large bids after losing four of their last five games and seven of the last 10. 
Still, hat tip to Chris Holtmann for getting this team in the field where it will face an athletic Iowa State team on a three-game winning streak. The Cyclones have been up and down all season but do boast a host of athletic wings that will look to simply outscore the Buckeyes. 
Should Holtmann and company pull the upset, the winner of Houston (3) and Georgia State (14) would await. It's simply not a great draw, Bob. 
BOTTOM LINE
Putting at least one Big Ten team in the Final Four for the sixth time in eight years will likely be up to Michigan State or Michigan. 
According to FiveThirtyEight, the Spartans have a 22% chance to reach the Final Four while Michigan clocks in at 17%. Purdue stands at 10% with Wisconsin and Maryland both at 4%. 
For comparison sake, Duke has a 52% shot to make the Final Four with Gonzaga (50%) and Virginia (49%) close behind.   
But hey, they don't call it March Madness for nothing.