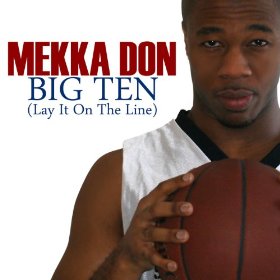 The soundtrack for the BTN's coverage of the men's basketball tournament will be powered by Buckeye beats.
Former Ohio State football player and Columbus native Emeka Onyejekwe signed a multi-song deal with the BTN to provide music for the 2013 Big Ten Tournament:
Mekka Don, an independent hip-hop artist and former NCAA athlete (Ohio State football), has inked a multi-song licensing deal with the Big Ten Network to provide music for the upcoming Big Ten Tournament games and coverage.  The Big Ten Tournament begins on March 14th on the Big Ten Network.

Mekka Don, who has licensed music to several other outlets including ESPN, the Big East Network, Fox Sports Ohio and others says, "I am really excited to be a part of this.  Being a former athlete, I definitely understand how music can add to the overall sporting experience.  Shout out to the Big Ten!"
You can grab his new single "Big Ten (Lay it on the Line)" on iTunes and Amazon.