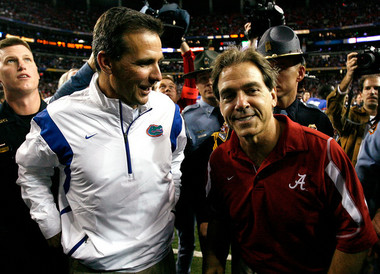 From the day he took the Ohio State job, Meyer looked like the best candidate out there to end the SEC's national championship streak. After all, he was the one who started it with Florida in 2006.

Expect him to get his chance. Just don't expect him to admit that he's "declaring war on Alabama." Even if he is.

"No, absolutely not," he said to the Alabama question. "We have one rival, and that rival was dictated many, many years ago. One rival, and that rival is clear."

Please. Michigan was no match for Ohio State last season. Or for Alabama, either.

The Wolverines were nothing more than a sparring partner for the Buckeyes and the Crimson Tide. At least until their inevitable heavyweight championship bout to come.