Well, another Christmas in February National Signing Day has come and gone. For the last day or so we've seen some crazy recruiting stories, had some pleasant surprises, and heard all kinds of good things about our incoming Buckeyes.
History and the law of averages tell us that not every prized recruit lives up to his lofty potential, and several low-expectation guys become indispensable to their teams every year.
Nevertheless, there's no better time of year for projecting future stars and predicting quality of depth (a.k.a. wild speculation).
Herein, we'll take a look at Ohio State's "Dream '14" recruiting class by position, ranking how the Buckeyes made out from top to bottom.
1) Linebacker

One of Ohio State's major problem areas the last two season was addressed spectacularly by Urban Meyer's coaching staff. The consensus No. 1 linebacker class in the nation consists of Kyle Berger, Dante Booker, Sam Hubbard, Raekwon McMillan.
McMillan, a five-star early enrollee from Hinesville, Ga., is considered the crown jewel of the 2014 class at this point. Nearly everyone who interviewed him yesterday raved about his maturity and demeanor, and Meyer likened him to a junior in his physical development. He seems a shoo-in for early playing time, but it will be up to him what he does with it.
Berger will be coming off a torn ACL, but the consensus four-star signee should be ready to go this fall, as his injury occurred in preseason.   Akron product Booker could make the move to defensive line, but his size and speed make him a great outside linebacker prospect. Hubbard, a former Notre Dame lacrosse commit, is very athletic and Meyer is high on him.
2) Defensive Back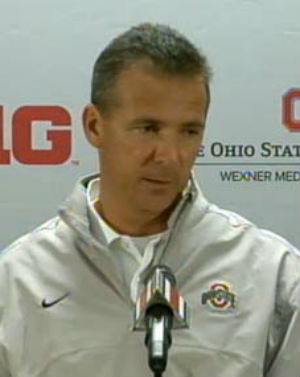 Let's include both safeties and cornerbacks in this position grouping, because until Chris Ash gets them on campus, we're not sure where they'll end up. And at least one may end up playing star.
Marshon Lattimore from Glenville High in Cleveland is a stellar athlete who will get a long look at cornerback. He's a gifted athlete and hasn't specialized in any one particular spot, but he'll play somewhere and probably very early. Damon Webb is another corner prospect who may play early due to his polished coverage skills which are beyond most high schoolers. Personally, I am expecting big things from the Cass Tech product.
Speaking of high expectations, Erick Smith, a high school teammate of Lattimore, may actually see the field before his fellow Tarblooder. Smith has a great understanding of the game and always seems to be around the ball. Smith projects as a safety but has enough versatility to play multiple positions. Pennsylvania native Malik Hooker is an intriguing prospect with perhaps the most upside and athletic ability of anyone in the class. 
This is, simply put, a crazy good recruiting class in the back seven for Ohio State.
3) Wide Receiver

It's like Meyer went down a checklist of the team's weaknesses and started filling the holes one by one. The Buckeyes will have to replace their best receiver — Philly Brown, and it wasn't even close — and a seasoned veteran in Chris Fields.
Meyer went into Florida and swiped prize recruit Johnnie Dixon from Alabama and Miami. Dixon adds size and speed to the OSU receiving corps. Not many receivers get on the field as freshmen for Ohio State, but Dixon will compete for time. Speaking of freshmen who will get a long look, Curtis Samuel out of New York is wicked fast. He's also an early enrollee, so he's got a leg up on the competition.
Indiana native Terry McLaurin only adds to the speed at wideout. His work rate caused his stock to rise and McLaurin went from three stars to four across the board in 2013, en route to becoming Indiana's Mr. Football. He'll fit into the class nicely. New Jersey's Noah Brown adds a big body to the team — one of the few attributes Meyer has had trouble adding to the position group until now.
Parris Campbell out of Akron's St. Vincent-St. Mary's, appears headed to the slot, so we'll add his name to this group. He's another speedy guy, and speed kills. Between the 2013 class and this bunch, the future of the wide receiver position is in great shape.
4) Offensive Line

Despite some misses with some of the better-known names, I'm pretty high on this bunch of offensive linemen. Despite some last-minute looking in East Lansing, Jamarco Jones reaffirmed his commitment to Buckeye Nation on National Signing Day Eve. A Chicago product, Jones is the most heralded of the O-line prospects.
Demetrius Knox is the line prospect that intrigues me most. Scouts and recruiting experts have raved about his one-on-one blocking ability, and he may find his way onto the field early. Marcelys Jones from Glenville High School is a behemoth with a ton (no pun intended) of upside. He's a work in progress, but he could become a valuable Buckeye in years to come.
Brady Taylor (Columbus) and Kyle Trout (Lancaster) are a little less heralded than the other incoming offensive linemen, but they seem like the type of homegrown kids that will work hard and make their mark on the program in years to come. One or both may end up redshirting in 2014, but look for them in the two-deep in the not-too-distant future.
5) Defensive Line

It wasn't much of an area of need with the current depth, but Meyer still bolstered the defensive line with some nice additions.
Although the Malik McDowell saga didn't result in a commitment (yet?), the Buckeyes got a sack machine in Darius Slade on National Signing Day. The Montclair, N.J. native has 37 sacks over the last two seasons and was a favorite of Larry Johnson Sr. while the coach was at Penn State. Johnson convinced Meyer to go after Slade and thus he is now a Buckeye, because Urban Meyer.
Virginia native Jalyn Holmes is another sack machine waiting in the wings. The Buckeyes fought off Florida State for the services of the 6-foot-5, 255-pound defensive end. Like Slade, Holmes is adept at getting to the quarterback. Dylan Thompson rounds out the trio of out-of-state D-line recruits for 2014. The Lombard, Ill. product led the state in sacks at the Class 5A level, with 13.
Larry Johnson Sr. has some new toys to send after the opposition with this group.
Other

It's hard to rank a position group with one recruit. Ohio State added a very talented, big-legged kicker in Sean Nuernberger. The dude booted a 57-yard field goal as a high school senior and averaged better than 40 yards per punt. Just wait until Kerry Coombs gets him trained up.
Quarterback Stephen Collier is less heralded than many of the other dual-threat signal callers coming out of high school this year, but Meyer and his staff are high on him and he fits the system well. Collier performed well at The Opening and led his high school squad to the playoffs. He's a hard worker and will eventually be able to push redshirt freshman-to-be J.T. Barrett.
---
The fact is that no one knows which members of the class of 2014 will turn out to be All-B1G or a complete bust. That's the fun about National Signing Day — the wild speculation mentioned above. Still, it's hard not to get excited about one of the country's best classes.