From now until Selection Sunday, every Ohio State result will be closely analyzed as if it's a homicide victim in a morgue. That's the unglamorous life of a team fighting for seeding.
The Buckeyes helped their case by winning at Wisconsin on Saturday. It, at least momentarily, halted a free fall. Five losses in six games with consecutive road contests against ranked opponents didn't sound like a recipe for success. But Game No. 1 now resides in the win column.
That's not to say Ohio State is no longer in a dangerous position, though. There is still a losing conference record. If Iowa completes the season sweep Tuesday night, the Buckeyes are right back where they were Saturday morning – two games under .500 in the Big Ten. An 8-10 record will not result in an NCAA Tournament berth. Not for a team that was once 15-0 and is thin on marquee wins.
But it's hard to discount Ohio State's most recent on-court appearance. Despite Wisconsin's own struggles, the Buckeyes went into one of the nation's toughest venues and came out with a win in what was arguably the most must-win game of Thad Matta's tenure. And they did it by rallying from a seven-point deficit with under eight minutes remaining.
Aaron Craft stepped up, Amir Williams contributed in key situations and the bench – Amedeo Della Valle, Trey McDonald and Shannon Scott – was superb.
"We really came together," Williams told reporters in Madison. "We couldn't get down at a time like that. Teams are going to have runs against us, and we just have to find a way to come together and get stops at the defensive end and try our best to execute on the offensive end."
The final 10 minutes turned into a black hole for Ohio State during its losing streak. It was consistently within striking distance or even leading throughout the past six games, and on several occasions completely collapsed. The reversal against the Badgers came from shooting nearly 50 percent in the second half and shoring up deficiencies that were exposed on defense.
But it doesn't mean life is suddenly easy for the Buckeyes.
| # | Name | YR | HT/WT | PTS | REB | AST | P | # | Name | YR | HT/WT | PTS | REB | AST |
| --- | --- | --- | --- | --- | --- | --- | --- | --- | --- | --- | --- | --- | --- | --- |
| 4 | A. Craft | SR | 6-2/195 | 9.1 | 3.5 | 4.8 | G | 10 | M. Gesell | SO | 6-1/190 | 7.1 | 2.0 | 3.6 |
| 32 | L. Smith Jr. | SR | 6-4/210 | 11.8 | 5.1 | 1.5 | G | 4 | R. Devyn Marble | SR | 6-6/200 | 16.3 | 3.7 | 3.0 |
| 12 | S. Thompson | JR | 6-7/200 | 7.1 | 2.9 | 1.0 | F | 30 | A. White | JR | 6-9/220 | 13.5 | 6.5 | 2.2 |
| 10 | L. Ross | JR | 6-8/220 | 14.1 | 5.5 | 0.7 | F | 1 | M. Basabe | SR | 6-7/220 | 6.8 | 3.0 | 1.3 |
| 23 | A. Williams | JR | 6-11/250 | 9.0 | 6.5 | 0.3 | C | 34 | A. Woodbury | SO | 7-1/240 | 5.7 | 4.0 | 1.0 |
Opponent Breakdown

This season remains a return to the national spotlight for Iowa. But it could dim depending on the outcome of this week's games. The Hawkeyes host Ohio State and Michigan, and any number of results could happen. Winning both games, though, would thrust Iowa into the thick of the Big Ten title race.
Nine Big Ten teams have lost at least five conference games. It's started a line of questioning about how good and deep the league really is this season. The only teams without five losses are Michigan and Michigan State (one) and the three-loss Hawkeyes. A three-horse race could become an Affirmed-Alydar showdown if Iowa doesn't win its home games this week.
"I kind of like how we've separated ourselves," junior forward Aaron White told reporters after Iowa's win at Illinois. "But we're also chasing the two Michigan teams."
At stake is respectability and seeding in the NCAA Tournament. While the Hawkeyes sport a 17-5 record, they still lack a truly signature win. It appeared a victory over Ohio State was it until the Buckeyes fell off the Earth. A peek at Iowa's schedule reveals they've beaten most everyone they should and lost the difficult games.
That's what makes the coming week one of vital importance. The Hawkeyes are built for a March run. All the necessary ingredients are in place, it's a matter of them proving their worth in the regular season and carrying it over to the tournament. Once ranked in the top 10, the Hawkeyes have dipped to 17th this week.
"I don't really look at that," head coach Fran McCaffery said. "I understand why everybody does. For me, it's just on to the next: Ohio State. We're going to end up where we end up. I don't want to look at the record, and where we stand, and where we're ranked. I don't care about that. It's Ohio State. They just beat Wisconsin on the road."
These two teams are in opposite positions than the previous game, aside from the obvious home-road team situation. Iowa is now the favorite and coming off a tough loss to Michigan State. Ohio State enters looking for a big-time win after some excruciating losses. And the recent trend lies with road teams. Incredibly, they won six of eight games between last Tuesday and Saturday.
"Top to bottom, there's no league like this one," McCaffery said. "And you'd better be ready every night."
Buckeye Breakdown

There wasn't much thought given to changing the starting lineup by Thad Matta after losing in overtime to Penn State. As the losses mounted, Matta believed the starting five had little to do with the final result. It was more about poor shooting, a floundering defense and coming up short during critical moments. There was plenty of evidence saying Matta was right.
But when Shannon Scott came to him and said he was open to coming off the bench, Matta and his assistants took a look at the possibilities. They finally opted to switch Sam Thompson for Scott. However, Matta told reporters after the Wisconsin game Scott was not demoted. It was more a combined effort by Scott and Matta to get Thompson, who played well as the Buckeyes lost, more minutes. Instead, it was Scott who seemed more energized.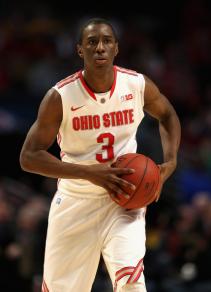 In 22 minutes, Thompson only scored two points, while Scott finished with nine points, four rebounds, three assists and a steal. It was Scott's best offensive output since early January.
The defensive showing from Ohio State also was something not visible since early January. Wisconsin went from up eight with just under eight minutes remaining to making one field goal the rest of the game. During those final minutes, the Badgers missed all five attempts from beyond the arc and only converted 5-of-11 free throws.
"We had very good activity," Matta said. "I thought guys were reading things and we were pressuring the ball where we needed it. Probably the biggest thing was that we gave quick help and got back and challenged what we needed to challenge."
The most telling sign of a return to form on defense and the team-first mentality wasn't Scott's benching of himself. It was LaQuinton Ross's help defense in the final seconds. He came forward to help Aaron Craft pressure Traevon Jackson, who could only dish to Sam Dekker for an off-balance desperation 3 at the buzzer.
But forget about any talk of creeping into the Big Ten championship hunt, even if the Buckeyes have plenty of games left with teams ahead of them in the standings.
"I think that got us in trouble a little bit earlier," Craft said. "Our biggest focus now is enjoying this. There's not too much over-thinking going on. It's to find a way to be better than Iowa. That's our only thought."
Etc

Iowa leads the all-time series with Ohio State 74-71. Thad Matta is 11-5 against the Hawkeyes as the Buckeyes' head coach. 
Aaron Craft is 10 field goals shy of 400 for his career, which would make him just the sixth Ohio State player to tally 400 career field goals and play 4,000 or more minutes. The others are William Buford, Jon Diebler, David Lighty, Jamar Butler and Herb Williams.